U.S. on Pace to See More Migrants at Southern Border Than Any Time in Past 20 Years
The U.S. is set to see more migrants arriving at the southern border than in any time in the past two decades, according to Secretary of Homeland Security Alejandro Mayorkas.
Thousands of immigrants, including many unaccompanied minors, have been arriving at the southern border with Mexico since January. President Joe Biden over the weekend deployed the Federal Emergency Management Agency (FEMA) to help care for the unaccompanied children, as his administration is under pressure from Republicans as well as progressives.
"We are on pace to encounter more individuals on the southwest border than we have in the last 20 years. We are expelling most single adults and families. We are not expelling unaccompanied children," Mayorkas said in a Wednesday statement addressing the unfolding situation.
"We are securing our border, executing the Centers for Disease Control and Prevention's (CDC) public health authority to safeguard the American public and the migrants themselves, and protecting the children. We have more work to do," he said.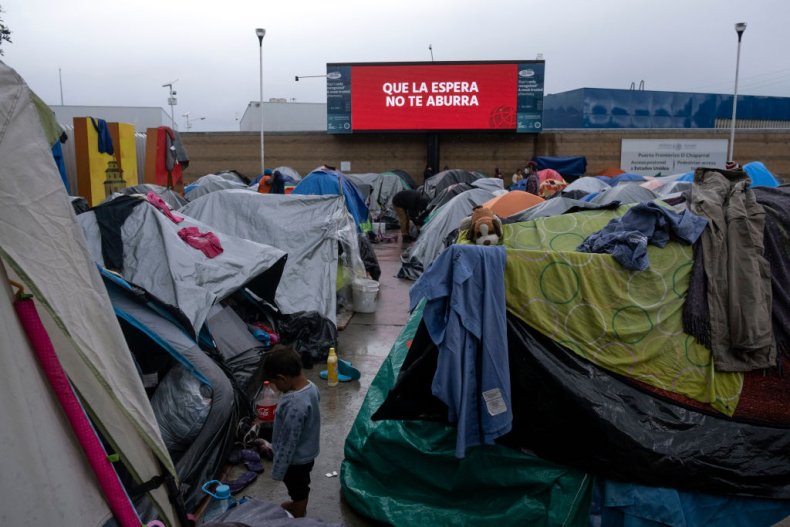 Mayorkas stressed that the U.S. has faced several other significant immigration surges in recent years. "This is not new. We have experienced migration surges before—in 2019, 2014, and before then as well. Since April 2020, the number of encounters at the southwest border has been steadily increasing," he said.
The Homeland Security secretary explained that single adults and families are being expelled and are not allowed to remain in the U.S. But he highlighted the high number of unaccompanied minors, which the administration will not deport.
"An unaccompanied child is brought to a Border Patrol facility and processed for transfer to the Department of Health and Human Services. Customs and Border Protection is a pass-through and is required to transfer the child to HHS within 72 hours of apprehension. HHS holds the child for testing and quarantine, and shelters the child until the child is placed with a sponsor here in the United States. In more than 80 percent of cases, the child has a family member in the United States," Mayorkas said.
"In more than 40 percent of cases, that family member is a parent or legal guardian. These are children being reunited with their families who will care for them," he added. More than 4,000 children are reportedly being held in detention centers run by the Border Patrol.
Mayorkas also highlighted his own experience as an immigrant. "I came to this country as an infant, brought by parents who understood the hope and promise of America. Today, young children are arriving at our border with that same hope. We can do this," he said.
Republicans have repeatedly attacked the Biden administration for its response to the situation, describing it as a "crisis." They have argued that the surge is due to the changes the new administration is making to immigration policies. Meanwhile, progressives have raised concerns about the conditions in which migrant children are being kept before being transferred to guardians or other caretakers.
The White House has defended its response to the surge in migrants, arguing that former President Donald Trump's administration gutted the immigration system. The Biden administration has insisted that it's rebuilding the system while simultaneously dealing with a surge outside of its control. The White House has also pushed back against labeling the surge a "crisis," as Republicans have described it.
"We recognize this is a big problem," White House press secretary Jen Psaki told CNN on Monday.
"[We] always get into the fun of labels around here, but I would say our focus is on solutions," Psaki said. "Clearly, the numbers are enormous. This is a big challenge, and it certainly is a reflection of using every lever of the federal government to help address that," she added.
Newsweek reached out to the White House for comment but did not immediately receive a response.
This is a developing story and will be updated with additional information.