Pressure is building on President Joe Biden and Vice President Kamala Harris to visit the Southern U.S. border, with a surge of migrants and unaccompanied minors attempting to cross into the country.
The number of those migrants trying to reach the border has already hit a 20-year high, while the amount of unaccompanied children crossing over increased by 63 percent in February. Leaked photos and reports have shown that facilities at the border are overcrowded.
Republican lawmakers have blamed the surge on Biden's immigration plan, which largely reversed the hardline policies of former President Donald Trump.
Officials have accused the Democratic president of undervaluing the gravity of the "crisis," and criticized him for not visiting the area.
Ronna McDaniel, chairwoman of the Republican National Committee, tweeted Wednesday: "When will Joe Biden and Kamala Harris visit the border to see the crisis they are creating? The administration keeps saying there is no planned trip, and when Harris was asked she laughed."
McDaniel's statement came after video footage showed Harris laughing on Tuesday, after she was asked if she had immediate plans to visit the frontier. "Not today," Harris said, before adding: "I have before and I'm sure I will again."
Similarly, Colorado Republican Representative Lauren Boebert tweeted Wednesday that the border is "devolving into more chaos," while the administration has not yet made plans to visit.
"Our border is devolving into more chaos as the days go by. Joe Biden has yet to announce plans to visit and Kamala Harris cackled at the thought. This regime won't fix the border crisis, because this is how they WANT our border!" she tweeted.
Texas Republican Representative Ronny Jackson added Saturday that Biden refuses to visit the border because he "wanted" the immigration crisis to happen.
"Joe Biden won't visit the border to see the crisis HE CREATED and that he WANTED. The Biden Border Crisis can end if this administration wanted it to, but they obviously DON'T!" he wrote.
And on Sunday, Republican House Minority Leader Kevin McCarthy of California tweeted that Biden was to blame for the "entire border crisis," and now "refuses to visit the border communities most affected."
Biden, who vowed during his campaign to take a more humanitarian approach to immigration and reverse Trump's policies, has been left to grapple with the growing border issue in his first few months in office.
On Sunday, the president said that "at some point" he will visit the southern border but did not give a specific time frame. However, Homeland Security Secretary Alejandro Mayorkas has made multiple trips to the border and Biden assured reporters that he is staying up to date on the issue.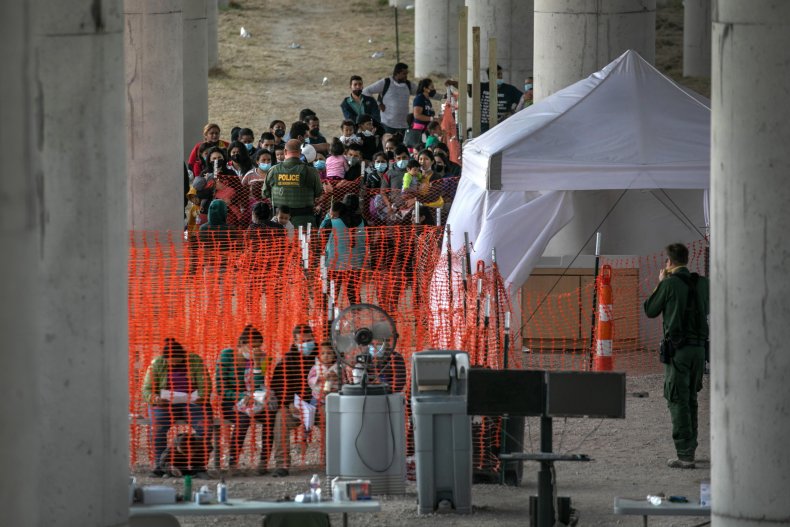 So far, the administration has refused to call the situation a "crisis," arguing that it's a "challenge" they are working to address.
Biden has also blamed the surge on lingering affects of Trump's border policies, and said this week his team could do "a lot more" to address the problems.
"We're in the process of doing it now, including making sure that we re-establish what existed before, which was they can stay in place and make their case from their home country," he added on Sunday, Reuters reported.
Last week, the president urged migrants to avoid traveling north to the U.S. and to instead apply for legal asylum from their home countries.
"I can say quite clearly: Don't come over," Biden said in an interview with ABC News. "What we're in the process of getting set up, and it's not going to take a whole long time, is to be able to apply for asylum in place. So don't leave your town or city or community. We're going to make sure we have facilities in those cities and towns...to say you can apply for asylum from where you are right now."
Newsweek reached out to the White House for additional comment but did not hear back in time for publication.