Vice President Kamala Harris is under fire from opponents on the right after laughing while taking questions from reporters about what Republicans are terming a "crisis" at the southern border.
Harris spoke with journalists outside Air Force One in Florida on Monday to answer questions about the border, where President Joe Biden is grappling with a surge in new arrivals, particularly of unaccompanied minors. Harris was in Florida as part of a tour around the country to promote the American Rescue Plan COVID relief bill.
Asked if she "plans to visit" the frontier, Harris paused before responding, "Not today," and laughing with the reporters. Harris then added: "I have before and I'm sure I will again."
A video of the exchange quickly spread around social media, eliciting fury from Republicans who suggested the vice president was not treating the border situation with the gravity it deserves.
House Minority Leader, Rep. Kevin McCarthy (R-CA), wrote on Twitter: "While VP Harris laughs off a humanitarian crisis of epic proportions, Republicans are focused on securing the border and responding to the needs of our Border Patrol agents on the front lines."
Rep. Debbie Lesko (R-AZ) was similarly outraged on her Twitter page. "First, the Biden Administration refused to admit the situation at the border is a crisis, NOW Kamala Harris thinks this is a laughing matter," Lesko wrote. "It isn't a laughing matter for the border communities being deluged by illegal immigrants."
Rep. Andy Biggs (R-AZ) said Harris' actions were "outrageous," condemning what he called "flippant disregard for American lives and livelihoods that are negatively impacted by the surge of illegal aliens at our border."
Newsweek has contacted the vice president's office to request comment on the video.
The graphic below, provided by Statista, illustrates the number of unaccompanied children detained at the southern border.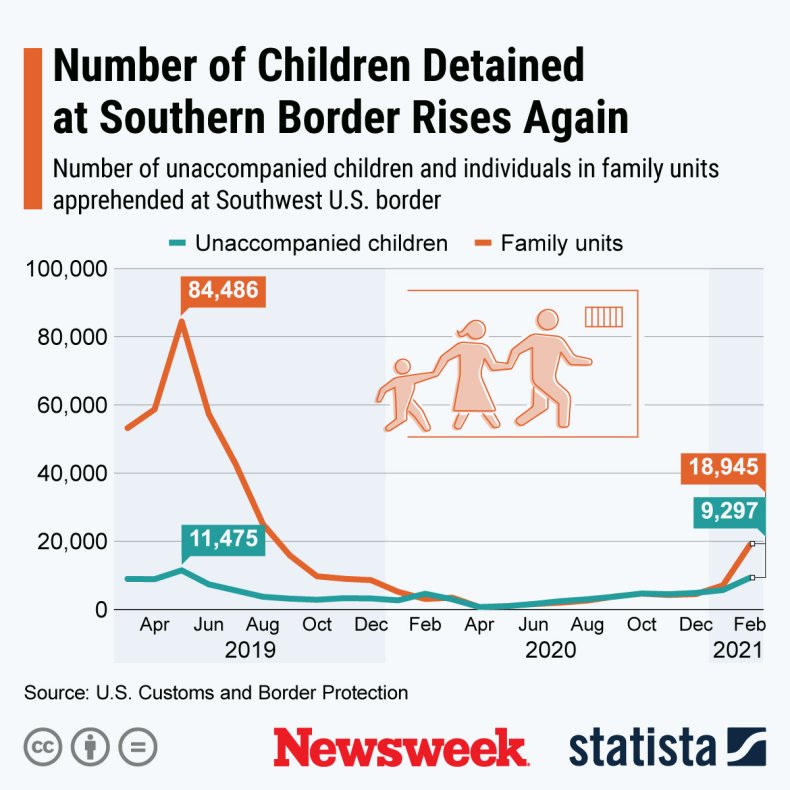 Republicans have jumped on Biden's border troubles, citing the surge in new arrivals as evidence of his failed immigration policies and vindication of former President Donald Trump's hard-line border strategy.
The border remains one of the most emotive issues in America's partisan divide, and the recent pressure there has offered the GOP a potent attack line and distraction from the party's internal conflicts and refusal to support broad coronavirus relief measures.
Biden officials, meanwhile, are refusing to call the situation a "crisis" despite border personnel and facilities being overwhelmed.
Leaked photos from inside one detention facility for children show serious overcrowding and have put further pressure on the administration, which has already drafted in Federal Emergency Management Agency support.
Biden last week urged migrants not to travel north during an interview with ABC News, but Republicans said his intervention was too little, too late. The president said this week he is planning to visit the border "at some point."
The Biden administration has blamed Trump's border policies for the situation at the frontier. The president said this week his team could do "a lot more" to address the problems.
He added: "We're in the process of doing it now, including making sure that we reestablish what existed before, which was they can stay in place and make their case from their home country."