Up to 50,000 Afghans could be arriving in the U.S. under a rarely used humanitarian program that allows people to enter the country without visas.
Refugee resettlement agencies were told to prepare to receive as many as 50,000 Afghans arriving on "humanitarian parole" in a meeting with government officials last week, Jenny Yang, a senior vice president of advocacy and policy at World Relief, told Newsweek.
Homeland Security Secretary Alejandro Mayorkas is granting "humanitarian parole" to some of the Afghans being evacuated out of Kabul who don't have permission to enter the U.S., a senior administration official confirmed to reporters on a call Tuesday.
The official did not specify how many Afghans would benefit, but among them will be those who helped the U.S. during the 20-year war whose applications for special immigrant visas have not been fully approved.
A grant of humanitarian parole allows people otherwise inadmissible to the U.S. to enter the country for a temporary period for urgent humanitarian reasons. During that time, they can complete their applications to change their legal status.
"The challenging part for parolees is that they come on this temporary parolee status, and then they have to adjust status," Yang explained.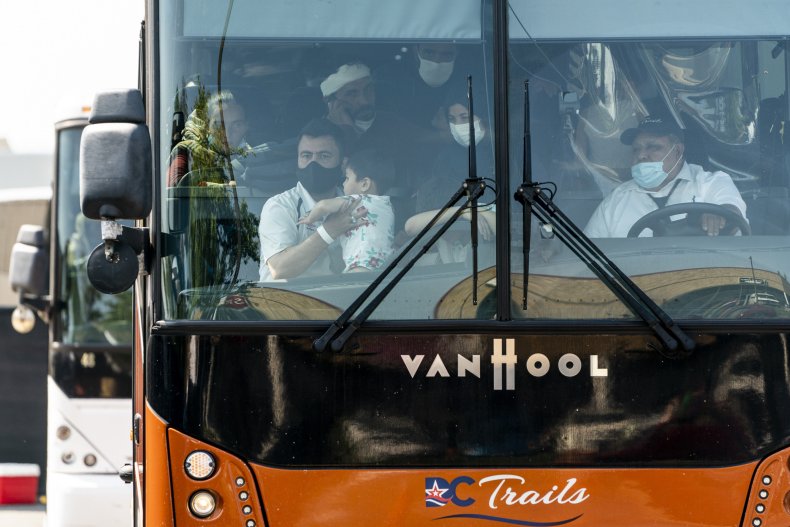 The move comes as the U.S. races to ensure all Americans and at-risk Afghans are evacuated ahead of the August 31 deadline set by President Joe Biden to withdraw troops from Afghanistan.
And, a group of senators has urged the administration to create a "humanitarian parole" category for female journalists and other groups of people at risk of persecution in the country after it fell to the Taliban earlier this month.
On Tuesday, Biden said he had discussed the obligation the U.S. and its allies have to support refugees fleeing Afghanistan during a Group of Seven meeting earlier in the day.
"The United States will be a leader in these efforts and will look to the international community and to our partners to do the same," he said. "We're conducting thorough security screening in the intermediate stops for anyone who is not a U.S. citizen or a lawful permanent resident of the United States.
"Anyone arriving in the United States will have undergone a background check. And we must all work together to resettle thousands of Afghans who ultimately qualify for refugee status."
But some lawmakers have called for higher numbers of visas to be granted to Afghan refugees.
"I believe we need to move and the administration needs to move as quickly as possible and as expansively as possible ensuring that we are raising the amount of refugee visas to whatever amount necessary," New York Rep. Alexandria Ocasio-Cortez said earlier this week. "I would say the rock bottom is 200,000."
A State Department spokesperson declined to comment on the number of Afghans who could arrive in the country on humanitarian parole.
"We refer you to the Department of Homeland Security for information on parole and admission to the United States," the spokesperson told Newsweek.
The Department of Homeland Security and the White House have been contacted for comment.