60 Percent of Deer Tested in Michigan Have Been Exposed to SARS-CoV-2
New data from the United States Department of Agriculture [USDA] suggests that white-tailed deer across certain U.S. states have been exposed to SARS-CoV-2, the virus that causes COVID-19. The news comes as scientists attempt to learn more about how the virus affects different species of mammals, in addition to humans.
It's been well documented that animals, from house cats to tigers, are at risk of catching COVID-19. However, the CDC noted "the risk of animals spreading COVID-19 to people is considered to be low"—rather, concern comes from "some situations" where infected humans have spread the virus to their susceptible pet dogs and cats. Still, they say, "more studies are needed to understand if and how different animals could be affected by COVID-19."
The USDA's Animal and Plant Health Inspection Service [APHIS] is contributing to that body of work, as they recently "analyzed serum samples from free-ranging white-tailed deer for antibodies to SARS-CoV-2." According to their findings, scientists believe "certain white-tailed deer populations in Illinois, Michigan, New York, and Pennsylvania" have indeed been exposed to the virus.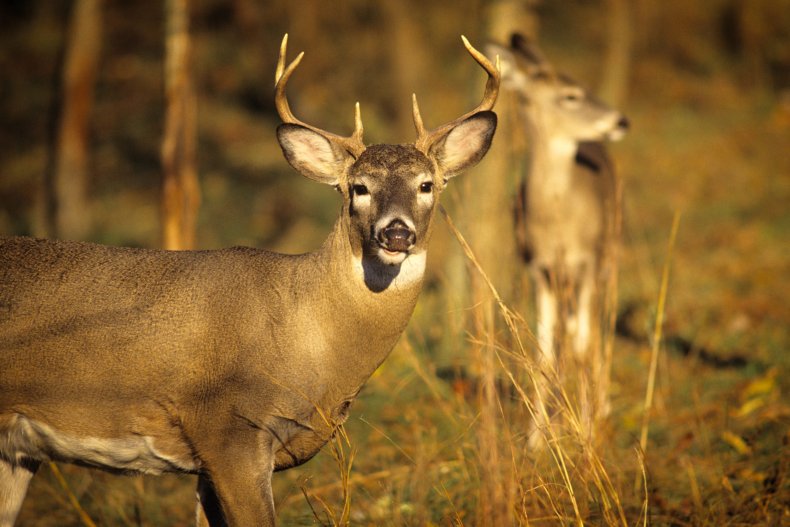 The agency added in its report that while "antibodies to SARS-CoV-2 were detected in 33 percent of the 481 samples collected from January 2020 through 2021," none of the deer showed any signs of illness associated with the virus or COVID-19. Additionally, they noted the study was only intended to "to determine exposure of deer to SARS-CoV-2 in their natural environment"—not to determine whether or not deer are "replicating and shedding SARS-CoV-2" within their own populations.
While antibodies were detected in deer across all four states, the percentage of exposed deer varied widely. Only 7 percent of samples from Illinois showed virus exposure, whereas New York had 18 percent, Pennsylvania had 34 percent, and Michigan, with the highest, had 60 percent of white-tail deer samples indicating SARS-CoV-2 exposure.
The results were "not unexpected" explained the agency, given that "white-tailed deer are susceptible to the virus, are abundant in the United States, [and] often come into close contact with people." That being said, they aren't entirely sure what the means of transmission was for the deer that did come in contact with the SARS-CoV-2 virus: "It's possible they were exposed through people, the environment, other deer, or another animal species," explained the agency.
While the results do indicate that deer can contract the virus, the USDA clarified that "there is no evidence that animals, including deer, are playing a significant role in the spread of SARS-CoV-2 to people."
They added: "Based on the available information, the risk of animals spreading COVID-19 to people is low."
Newsweek has contacted APHIS for further comment.