60 Seattle Bars, Restaurants Requiring COVID Vaccine to Eat, Drink
At least 60 restaurants and bars in Seattle are now requiring customers to provide proof of COVID-19 vaccination before they can eat or drink there.
The Seattle Times reported Friday evening that the list of establishments that have introduced a vaccine requirement is growing as the highly contagious Delta variant spreads throughout the state.
"No shirt, no shoes, no vaccine, no entry," said Linda Derschang, the owner of three restaurants in the area—Linda's Tavern and Oddfellows Cafe + Bar on Capitol Hill and King's Hardware in Ballard—who spoke with the Times.
"This is about protecting our staff and protecting our guests," she added.
The increase in Seattle restaurants imposing vaccine requirements also comes after at least nine bars in the city shut down last weekend because staff tested positive for COVID-19 or came in contact with the virus, according to the newspaper.
Adam Heimstadt, the owner of Unicorn, a bar in the city that shut down last week when employees contracted COVID-19, urged bars to require proof of vaccination for entry.
"We need to all join together to require a vaccine card. It's the only way. If someplace does not do it, the people are just going to go to that bar and possibly get someone sick," Heimstadt said.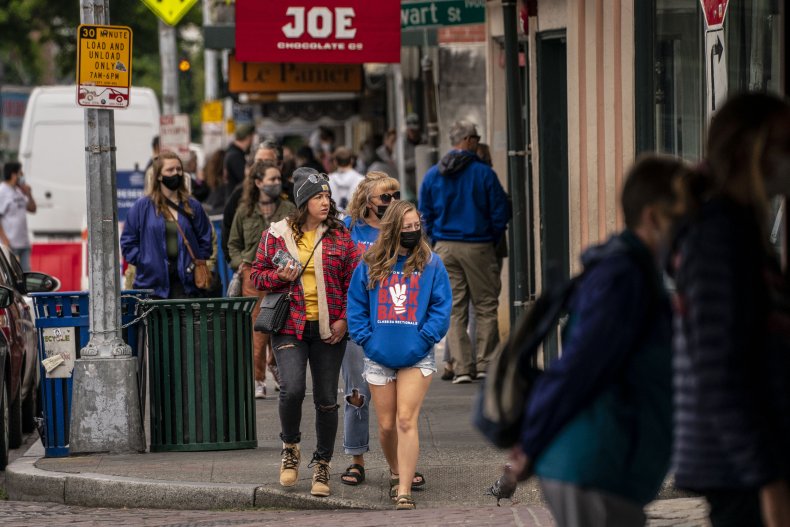 In recent weeks, King County Washington, where Seattle is located, has seen an uptick in COVID-19 cases.
Earlier this month, King County health officials recommended that residents wear masks in indoor public spaces, regardless of vaccination status.
Days later, the Centers for Disease Control and Prevention (CDC) updated its guidance on masking, urging fully vaccinated people to wear masks indoors in areas of the country where COVID-19 transmission is high.
But some restaurants are making their own, differing rules surrounding vaccine requirements, like allowing diners without proof of vaccination to eat outdoors, for example.
Seattles' restaurants aren't alone in imposing new requirements.
Some restaurants in Los Angeles, which has seen a recent surge in COVID-19 cases, are beginning to require diners to offer proof of vaccination or negative COVID-19 tests, Eater reported Friday.
Several restaurants in New Orleans have now also started requiring patrons to present proof of vaccination for indoor dining, according to the New Orleans Times-Picayune.
In New York City, Mayor Bill de Blasio said Friday that he was considering imposing a requirement for diners to provide proof of vaccination at city restaurants.
"We've got to show people this is the only way forward to get vaccinated. And if you don't get around to getting vaccinated, you're going to miss out on a lot of things that matter in life," de Blasio told CNN.