64% of Americans Approve of the Murder Charges Filed Against Derek Chauvin in George Floyd Case
A 64 percent majority of American approve of the murder charges that prosecutors filed against former Minneapolis police officer Derek Chauvin, with most agreeing that he should be convicted of murdering George Floyd, according to a new poll.
The poll released by The Economist/YouGov on Friday found that 49 percent "strongly approved" of the charges, while another 15 percent "somewhat approved." Only 20 percent disapproved of the murder charges, evenly divided between those who strongly and somewhat disapproved.
An overwhelming 82 percent majority said they had heard about the trial in the news, with the other 18 percent saying they had heard "nothing at all."
White men were less likely than other groups to approve of the murder charges, although a majority of 55 percent without college degrees and 61 percent with degrees still approved. Respondents who said they voted for former President Donald Trump in the 2020 election were the group most likely to disapprove of the charges—but opinions were almost evenly split, with 41 percent disapproving and 42 percent approving.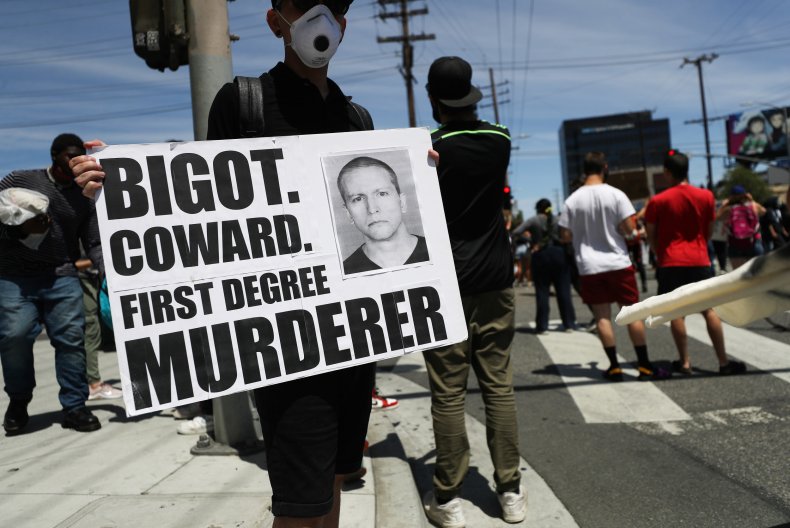 A 57 percent majority said that they believed Chauvin should be convicted of murder, with 18 percent saying he should be acquitted and 25 percent being unsure. Only 5 percent of Black respondents said that he should be found not guilty, with 79 percent agreeing that Chauvin should be convicted. Trump voters were the most likely to say that Chauvin should be found not guilty, with a 40 percent plurality hoping for acquittal, while only 2 percent of those who voted for President Joe Biden agreed.
When asked whether they believed that Chauvin would be convicted of murder, respondents were divided between believing that he would be convicted and being unsure. A 41 percent plurality said they were "not sure," with 40 percent saying that they believed he would be convicted and 18 percent expecting he would be acquitted. Opinions were relatively similar along demographic lines, although confidence that Chauvin would be convicted did increase somewhat with age.
The poll was conducted online among 1,500 U.S. adults between April 3 and April 6. It has a margin of error of 2.8 percent.
Chauvin is currently standing trial on second-degree unintentional murder, third-degree murder and second-degree manslaughter charges in connection with Floyd's May 25, 2020 death. Prosecutors allege that Chauvin was directly responsible for Floyd's death, while Chauvin's defense attorney claims that drugs and underlying conditions were to blame for the death.
Video showing the former officer kneeling on Floyd's neck for more than nine minutes quickly went viral last year and sparked worldwide Black Lives Matter protests within days.
Newsweek reached out to prosecutors and Chauvin's defense attorney for comment.