With 66% of U.S. in Drought, NOAA Expects 'Enhanced' Wildfire Season
Drought conditions affecting two-thirds of the U.S. are expected to "continue and expand," according to the National Ocean and Atmospheric Administration (NOAA)'s spring outlook report released Thursday.
"We are predicting prolonged and widespread drought," National Weather Service Deputy Director Mary Erickson said to the Associated Press. "It's definitely something we're watching and very concerned about.
According to the U.S. Drought Monitor, 66 percent of the country is experiencing "abnormally dry" conditions, the highest for this time of year since 2002, and this dryness could lead to bad season for wildfires.
NOAA says drought levels this spring are estimated it affect 74 million people, with April, May and June expected to be drier than normal in large portions of the U.S. The states expected to be hit hardest are Florida, Texas, Oklahoma, Kansas, Nebraska, Colorado, Wyoming and South Dakota, with water supply below normal in the desert Southwest, southern Oregon and southern Idaho, according to NOAA's report.
Meanwhile, the Midwest, Great Lakes, Mid-Atlantic, Northwest and Hawaii are expected to receive above-normal precipitation amounts. No area is predicted to have greater than a 50 percent chance of major flooding, though.
"The Southwest U.S., which is already experiencing widespread severe to exceptional drought, will remain the hardest hit region in the U.S., and water supply will continue to be a concern this spring in these drought-affected areas," Erickson said in a statement.
Dry conditions expected in the upcoming months are likely to bring an "enhanced wildfire season," Jon Gottschalck, chief of NOAA's prediction branch said to the Associated Press. Although, the fires are predicted to be less severe than those in 2020.
For more reporting from Newsweek, see below.
Drought levels in Colorado saw a recent reprieve after an extreme winter storm last weekend, potentially curtailing summer wildfires.
This month brought the fourth largest snowstorm in Denver's history, leading to a 17 percent reduction in drought conditions in some areas of the state east of the Continental Divide. According to the U.S. Drought Monitor, 99 percent of the state was experiencing at least moderate drought levels, and the Front Range, a mountain range in the central portion of the state, had severe or extreme drought before last weekend's storm.
"This is good news for wildfires in the areas where the heaviest snow fell," Greg Hanson, a warning coordination meteorologist at the National Weather Service in Denver and Boulder told Newsweek.
Hanson said Colorado needs another large snowstorm in the spring to help "double down" and would like to see consistent rain through the summer to keep moisture levels up.
"We do not want an extreme storm, because one big storm with heavy rainfall would mostly run off and could cause flooding," Hanson said. "This is particularly true in the areas that experienced fire last year and previous years. The burned-over ground cannot tolerate even moderate rainfall if it happens quickly and [is] very susceptible to flash flooding. It's a fine line: We need enough rain but not too much. Normal is good."
Hanson said that climate change has caused the increased risk of wildfires each year as persistent drought and warmer temperatures increase evaporation and transpiration, drying fire fuels. Wildfire is a "normal feature" in any healthy forest, he said, but drought and dead fuels, such as grasses and vegetation, can still combine to make seriously extreme blazes.
"While we can't rule out wildfires this summer, the net effect should be to delay the onset of large wildfires to later in the summer."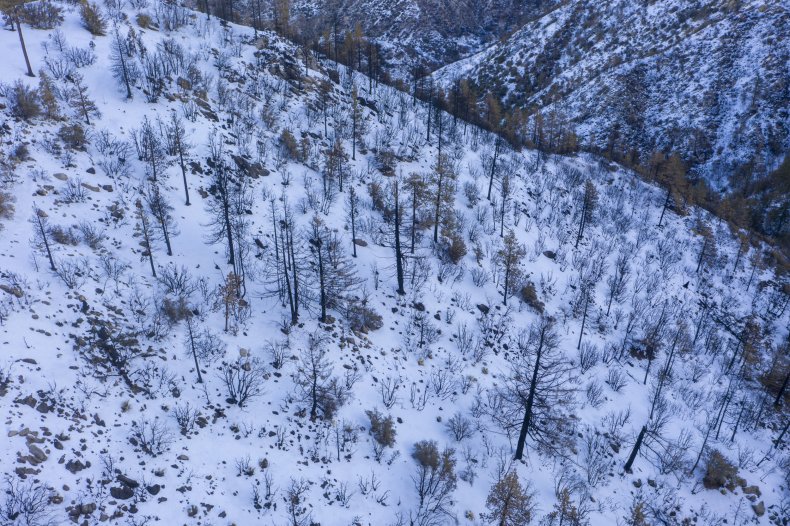 For more reporting from the Associated Press, see below.
Several factors go into worsening drought levels, NOAA said in Thursday's report. A La Nina cooling of parts of the central Pacific continues to bring dry weather for much of the country, while in the Southwest heavy summer monsoon rains failed to materialize. Meteorologists also say the California megadrought is associated with long-term climate change.
More than 44 percent of the nation is in moderate or worse drought, and nearly 18 percent is in extreme or exceptional drought — all of it west of the Mississippi River. Climate scientists are calling what's happening in the West a "megadrought" that started in 1999.
"The nearly West-wide drought is already quite severe in its breadth and intensity, and unfortunately it doesn't appear likely that there will be much relief this spring," said UCLA climate scientist Daniel Swain, who writes the Weather West blog and isn't part of the NOAA outlook. "Winter precipitation has been much below average across much of California, and summer precipitation reached record low levels in 2020 across the desert Southwest."
With the Sierra Nevada snowpack only 60 percent of normal levels, U.S. Department of Agriculture meteorologist Brad Rippey said, "There will be some water cutbacks and allocation cutbacks in California and perhaps other areas of the Southwest" for agriculture and other uses. It will probably hit nut crops in the Golden State.
Winter and spring wheat crops also have been hit hard by the Western drought with 78 percent of the spring wheat production area in drought conditions, Rippey said.