Blizzard Reduced Colorado Drought Levels by 17%, Could Ease Summer Wildfires
An extreme winter storm reduced drought levels in Colorado, potentially decreasing the scale of dangerous summer wildfires in the state.
This month brought the fourth largest snowstorm in Denver's history, leading to a 17 percent reduction in drought conditions in some areas of the state east of the Continental Divide. According to the U.S. Drought Monitor, 99 percent of the state was experiencing at least moderate drought levels, and the Front Range, a mountain range in the central portion of the state, had severe or extreme drought before last weekend's storm.
An update released Thursday showed that last weekend's blizzard brought some recovery for the state's drought levels, and wetter conditions could mean a reduced risk of wildfires in the warmer months, CBS 4 Denver reported.
"This is good news for wildfires in the areas where the heaviest snow fell," Greg Hanson, a warning coordination meteorologist at the National Weather Service in Denver and Boulder, told Newsweek.
Hanson added that across Colorado, the improvements to drought levels were limited and that other factors could still cause fires. The western slopes of the state are still "under the gun" for wildfire risk and water supplies, he said, but the central and northeast areas as well as the lakes certainly benefited.
Major improvement along the eastern side of the state to "abnormally dry" levels means drought recovery from pre-storm levels, but consistent storms are still needed for full drought recovery, according to CBS 4. Hanson said Colorado needs another large snowstorm in the spring to help "double down" and would like to see consistent rain through the summer to keep moisture levels up.
"We do not want an extreme storm, because one big storm with heavy rainfall would mostly run off and could cause flooding," Hanson said. "This is particularly true in the areas that experienced fire last year and previous years. The burned-over ground cannot tolerate even moderate rainfall if it happens quickly and [is] very susceptible to flash flooding. It's a fine line: We need enough rain but not too much. Normal is good."
Hanson also said that the western part of the state is still "highly susceptible" to wildfires and that even if rain or thunderstorms come to Colorado, lightning could still start flames. "While we can't rule out wildfires this summer, the net effect should be to delay the onset of large wildfires to later in the summer," he said.
Last weekend's storm was abnormal in a few ways. Not only did the storm bring about 20 inches more snow than normal for mid-March, but the snowfall was extremely wet. Denver saw about 20 percent more inches of liquid precipitation than annual averages, or about 2.88 inches. Areas in the eastern part of the state received at least 6 inches of snow, and more than 3 feet fell in Colorado's foothills.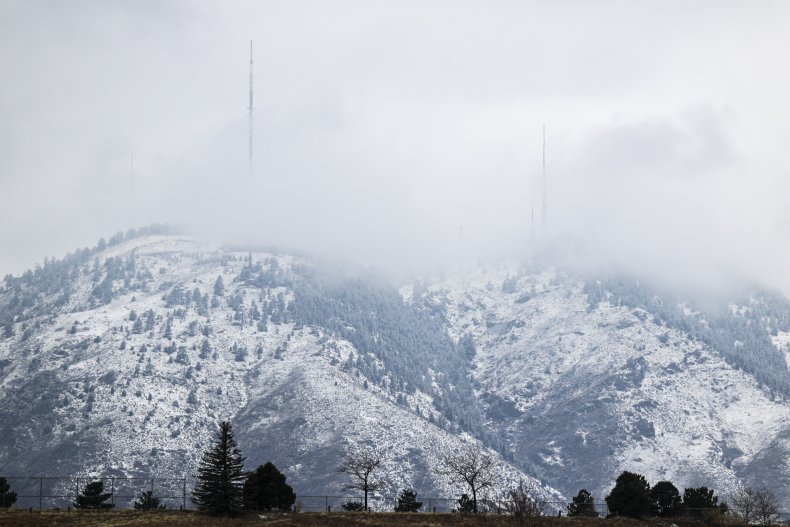 CBS 4 reported that because droughts take months to develop, dryness across the state will likely persist in the region for months. Specifically, the area west of the Continental Divide remained in the severe or extreme category because it received less snowfall.
But the melted snow will account for about 2 to 4 inches of water for more than half of the state, KUSA-TV reported. And this increase of liquid cover could reduce the risk of fires. A resident of the Colorado foothills told KUSA that "we don't need those fires anymore" and that residents who had been "breathing smoke for weeks" may look for some relief this summer after the snowfall.
Wildfires have been more frequent and more severe in Colorado. The Elephant Butte Fire about 30 miles west of Denver caused the evacuation of over 1,000 homes last June. The East Troublesome Fire in October was the fourth biggest fire in Colorado history. The Cameron Peak Fire took over 207,000 acres and became the biggest fire in the state's history last fall.
CBS News reported that Colorado tripled the average burned area in October through the 2010s, and experts attributed runoff and increasingly consistent drought conditions in the state to the increased number of blazes.
Hanson said that climate change has caused the increased risk of wildfires each year as persistent drought and warmer temperatures increase evaporation and transpiration, drying fire fuels. Wildfire is a "normal feature" in any healthy forest, he said, but drought and dead fuels, such as grasses and vegetation, can still combine to make seriously extreme blazes.
Despite higher liquid levels caused by storms like the most recent one, CBS News found that heat waves vaporize water, depriving land of moisture to stimulate soil and vegetation. Last year was the eighth warmest and second driest period for Colorado in June through August. The Colorado Sun said Colorado's wildfire season is about 78 to 84 days longer, compared with the late 1970s and 1980s.
"There are large swaths of forest that have been killed off by bark beetles, and that standing dead timber was a fuel source for the explosive growth of the East Troublesome and Cameron Peak fires last summer," Hanson said. In the case of this month's storm, he said a slower melt would allow fuels to absorb water better, whereas warm temperatures will mean a fast melt and more runs off.
This story has been updated with comments from the National Weather Service's Greg Hanson.