More than two-thirds of Americans approve of President Joe Biden's coronavirus response during his first week in office, according to a new ABC News/ Ipsos poll released Sunday.
The survey noted that 69 percent of Americans back Biden's COVID-19 response, including 97 percent of Democrats, 40 percent of Republicans, and 70 percent of independents.
In comparison, the highest approval rate that former President Donald Trump received for his handling of the pandemic was in mid-March of 2020, when 55 percent of Americans approved of his response. This included just 30 percent of Democrats.
The new study was conducted from January 22 to January 23 and randomly sampled 504 adults. The results have a margin of error of 5 points.
During his first day in office on January 20, Biden signed an executive order that enacted a face mask mandate and social distancing requirements in federal buildings and on federal land.
According to the new poll, the president's mask mandate was supported by 81 percent of the Americans surveyed. Nearly all Democrats surveyed (99 percent) backed the mandate. The majority of Republicans (59 percent) and independents (83 percent) also supported the federal mask order.
Biden also halted the U.S. withdrawal from the World Health Organization (WHO) during his first night in office, after the Trump administration accused the organization of being under the "total control" of China.
About 70 percent of those surveyed said they supported Biden's decision to rejoin the WHO.
Biden has also promised to open up COVID-19 vaccinations to more priority groups that the Trump administration had previously recommended, and to release more vaccines when they are available.
Ultimately, the president has a goal to administer 100 million shots in his first 100 days in office.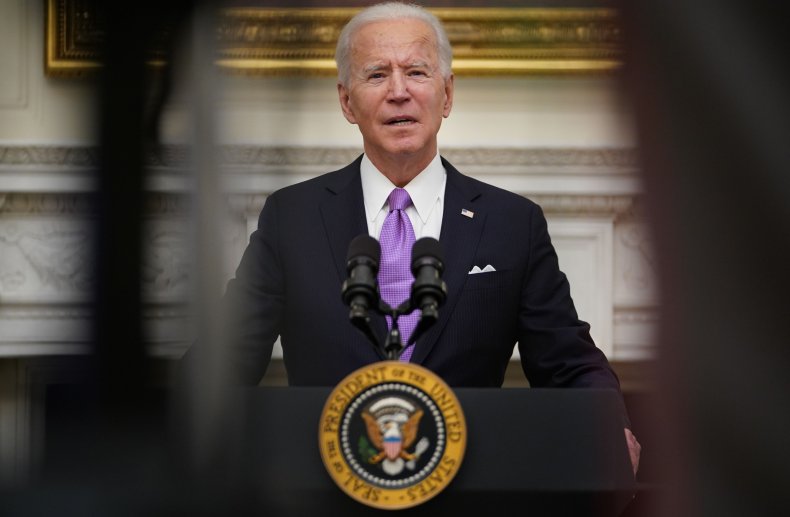 The poll also found that 57 percent of those surveyed are confident Biden will make progress to unify the country.
"We can see each other not as adversaries, but as neighbors. We can treat each other with dignity and respect. We can join forces, stop the shouting and lower the temperature. For without unity, there is no peace—only bitterness and fury. No progress—only exhausting outrage. No nation—only a state of chaos," Biden said during his inauguration speech on January 20.
"This is our historic moment of crisis and challenge," the president added. "And unity is the path forward. And we must meet this moment as the United States of America."
Newsweek reached out to the White House, but didn't hear back in time for publication.
Uncommon Knowledge
Newsweek is committed to challenging conventional wisdom and finding connections in the search for common ground.
Newsweek is committed to challenging conventional wisdom and finding connections in the search for common ground.