7 Officers Involved In Daniel Prude's Arrest Suspended as Investigation Into His Death Begins
Mayor Lovely Warren of Rochester, New York, said Thursday that seven officers involved in the arrest of Daniel Prude in March have been suspended.
Prude, a 41-year-old Black man, died on March 30 following an interaction with Rochester police officers. His death was ruled a homicide by Monroe County Medical Examiner's Office.
"I have never shied away from taking action in holding our police or anyone that fails in their duties in our community accountable," Warren said during a news conference. "That is why I am suspending the officers in question today."
Prude's family called for justice in his death earlier this week after body camera footage of his arrest was released. Near the end of the 12 minutes of footage, officers could be seen holding Prude's face to the ground after earlier putting a spit hood over his head. The medical examiner's office mentioned "complications of asphyxia in the setting of physical restraint" in its report on Prude's death.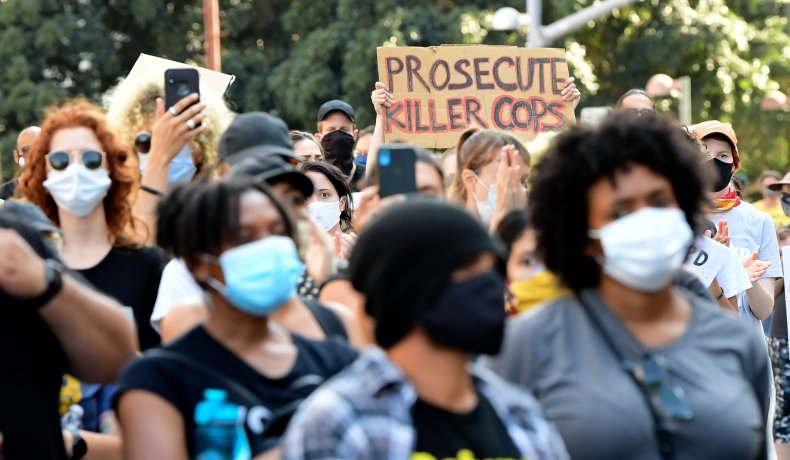 "Mr. Prude was naked, defenseless, unarmed and experiencing a mental health crisis," a local racial justice speaker with Free the People ROC said during a news conference on Wednesday.
Prude's brother, Joe, said at the Wednesday news conference that he had initiated the call with police in March to help his brother, "not for my brother to be lynched."
Earlier Thursday, the Rochester City Council sent a letter to Warren's office requesting that the officers involved in Prude's arrest be placed on administrative leave pending the outcome of an investigation that New York Attorney General Letitia James' office announced on Wednesday. The city council also requested additional funding for mental health services in its letter "to make changes to our system, and to ensure that no other life is needlessly lost."
Warren acknowledged on Thursday that her decision to suspend the officers was "against the advice" of the city council. "I understand that the union may sue the city for this," Warren said. "They shall feel free to do so."
The mayor said she planned to work with Rochester Police Department Chief La'Ron Singletary to "rectify the wrong that was done here." She went on to say that she was "personally and professionally" disappointed in Singletary for the lack of information she initially received about Prude's death.
"Experiencing and ultimately dying from a drug overdose in police custody, as I was told by the chief, is entirely different than what I witnessed on the video provided to me by the law department," Warren said. Any video depicting future in-custody deaths or use-of-force incidents must be sent to her office within 24 hours, she said.
The footage of Prude's arrest sparked protests Wednesday and Thursday, as demonstrators and government officials called for answers as to why the officers had not been disciplined.
"What I saw was deeply disturbing and I demand answers," New York Governor Andrew Cuomo said in a statement. "For the sake of Mr. Prude's family and the greater Rochester community I am calling for this case to be concluded as expeditiously as possible."
James released a statement on Thursday that said her office is "working diligently to ensure a swift but thorough investigation" and encouraged the Rochester Police Department to conduct an internal investigation of its own.
Newsweek reached out to the Rochester Police Department for comment, but did not receive a response in time for publication.
Update 5:39 p.m. ET: This story has been updated with additional information and background.