Daniel Prude's Brother Says Police Were Called to Help, Not to 'Lynch' Him
The family of an unarmed Black man who died after being placed in a spit hood and restrained face down by police for two minutes while suffering an apparent mental health crisis in New York state have condemned the actions of the officers.
Daniel Prude, 41, died on March 30 when he was taken off life support seven days after his encounter with Rochester Police.
The incident was brought to public attention when his family and local racial justice group Free the People ROC held a press conference on Wednesday at which body camera footage from the officers involved was released.
The 41-year-old, originally from Chicago, was traveling to Rochester to visit his brother Joe Prude but was kicked off a train in Depew "due to his unruly behavior," according to an internal affairs investigator's report. Officers took him into custody for a mental health evaluation on March 22, and he was later released.
Speaking at the press conference, Joe Prude said he called police for help at 3 a.m. when his brother left his house, several hours after the first encounter with police.
"I placed a phone call for my brother to get help. Not for my brother to get lynched," Joe Prude said. "How did you see him and not directly say, 'The man is defenseless, buck naked on the ground. He's cuffed up already.' How many more brothers gotta die for society to understand that this needs to stop?"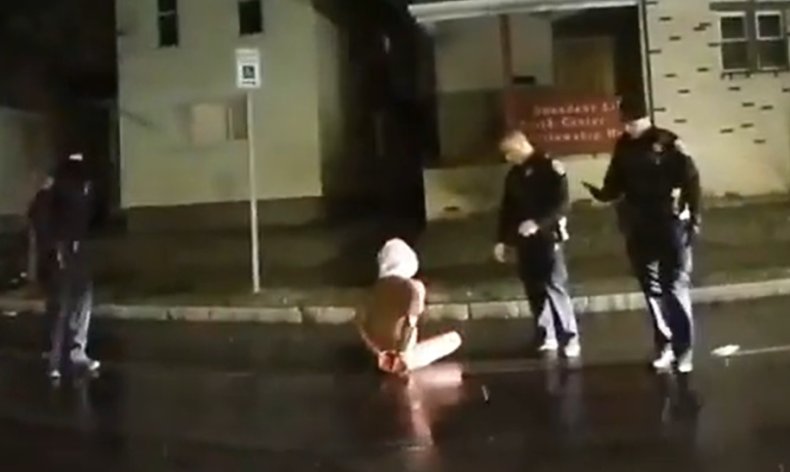 The edited 12 minutes of body camera footage begins with an officer approaching the naked Daniel Prude with a stun gun and demanding he lie on the ground with his hands behind his back to be handcuffed.
Five officers crowd around Prude as he repeatedly calls out, "Jesus Christ I pray, amen" while on the ground as light snow falls. Later Prude shouts at one officer, "Give me the gun or I'm going to sue your ass."
Prude asks officers to hand him one of their guns several more times while shouting obscenities and other incoherent phrases.
At around the 3:30 minute mark, one officer places a spit hood on Prude in order to protect them. The incident occurred as New York was in its early days of the coronavirus pandemic.
Officers are heard laughing at Prude as he demands the hood be taken off and starts rolling around on the ground.
Prude can then be heard repeatedly spitting from inside his hood. After becoming more agitated, the officers place Prude's face to the ground, with his yelling and crying becoming muffled.
The footage shows one officer using both his hands to keep Prude face down. Paramedics arrive at the scene with police still holding Prude on the ground.
One officer explains that he's "freezing" as "he's been out here for around 30 minutes."
Another officer adds: "He feels pretty cold." Prude does not appear to be responsive at this point, but one officer asks if he is puking as they see water pouring from his mouth.
Medics can then be seen performing CPR on Prude before he's loaded into the ambulance.
An autopsy report from the Monroe County Medical Examiner's Office ruled Prude's death a homicide, with "complications of asphyxia in the setting of physical restraint" listed as a cause of death.
The report lists excited delirium and acute intoxication brought on by phencyclidine, or PCP, as contributing factors.
The release of the footage sparked protesters to descend upon the Public Safety Building in Rochester to express their anger at the actions of police.
Free the People ROC and Prude's family are calling for the officers involved to face criminal charges over the incident.
During a press conference responding to the footage, City of Rochester Police Chief La'Ron Singletary admitted that the department did not send a press release detailing the incident at the time, but an internal and criminal investigation was launched.
"This is not a cover-up," said Singletary. "Let me be clear when I say that: This is not a cover-up whatsoever."
Mayor Lovely Warren would not speculate on the officer's actions, or Prude's cause of death.
"One of the things that bothers me in these cases is when you start talking about the victim or the person arrested, because people think you are trying to cast a bad light on them," said Warren. "So, I am not going to get into this."
Prude's death occurred two months before Minneapolis man George Floyd died while being detained by police in an incident which sparked nationwide protests.
In the wake of Floyd's death in May, there were nationwide calls for the defunding of police departments so the money could be better used to help social services. One argument for the defunding of police is that officers should not be used to deal with people suffering mental health crises as they are not sufficiently trained to do so.
In a statement, Free the People ROC said Prude's death is a key example of what can happen when police respond to people with mental health problems.
"It is abhorrent that Rochester has no capacity to respond to mental health crises in any way other than state-sanctioned force and coercion," a spokesperson said.
"There is no place for police, who are fundamentally violence workers, in responding to a mental health emergency."
In April, the investigation into Prude's death was taken over by Attorney General Letitia James' office, who will decide whether or not to prosecute the officers involved.
In a statement to Newsweek, James said: "The death of Daniel Prude was a tragedy, and I extend my deepest condolences to his family.
"I share the community's concerns about ensuring a fair and independent investigation into his death and support their right to protest. Pursuant to Executive Order 147, the Special Investigations and Prosecutions Unit of my office is already actively investigating this incident.
"As with every investigation, we will follow the facts of this case and ensure a complete and thorough examination of all relevant parties.
"We will work tirelessly to provide the transparency and accountability that all our communities deserve."