Seven Senate Democrats Request Ethics Probe Into Ted Cruz, Josh Hawley After Capitol Riot
Seven Democrats in the Senate requested an ethics investigation Thursday into Republican Senators Ted Cruz of Texas and Josh Hawley of Missouri in connection with their challenges to the Electoral College vote certification the day a deadly riot broke out at the Capitol.
Cruz and Hawley voiced objections to the election results in battleground states on as both chambers of Congress convened January 6 to certify the results of the presidential election. Both Republicans have supported former President Donald Trump, who was impeached for a second time in the House on January 13 for incitement of insurrection in connection with the riot.
In a letter addressed to the Senate Committee on Ethics, the seven Democratic senators told committee Chairman Chris Coons of Delaware, a Democrat, and Vice Chairman James Lankford of Oklahoma, a Republican, that Cruz and Hawley "amplified claims of election fraud that had resulted in threats of violence against state and local officials around the country" upon announcing their decisions to object to the election results.
"The Senate Ethics Committee should investigate their conduct to fully understand their role," the letter said. "The actions of which we know demand an investigation and a determination whether disciplinary action is warranted. Until then, a cloud of uncertainty will hang over them and over this body."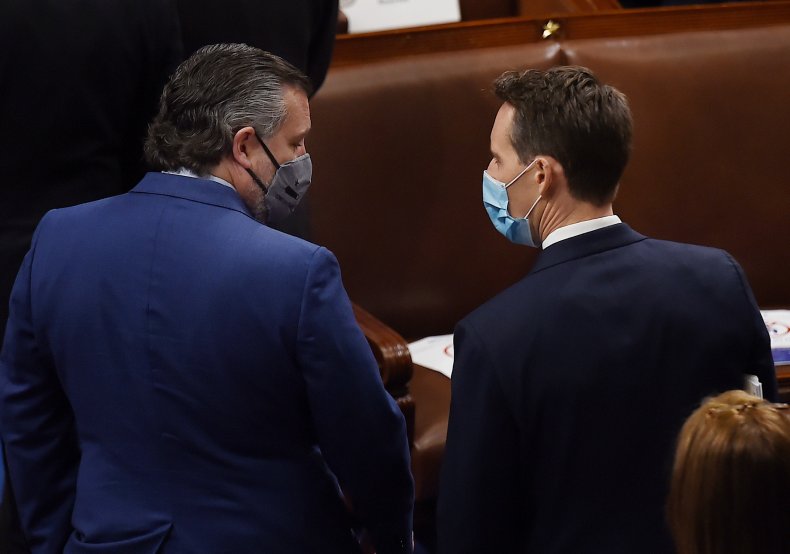 After rioters breached the Capitol on January 6, lawmakers were forced into a lockdown as law enforcement officials worked to regain control of the building. Four civilians and one police officer died in the day's violence.
Once it was safe for congressional lawmakers to re-enter the chambers, efforts to certify the election results resumed. While some GOP senators reversed their decisions to support objection efforts, Cruz and Hawley continued objecting to the results in Arizona and Pennsylvania, both of which President Joe Biden won.
"By proceeding with their objections to the electors after the violent attack, Senators Cruz and Hawley lent legitimacy to the mob's cause and made future violence more likely," the letter said.
The letter also provided an overview of the events on January 6 and included specific allegations about Cruz and Hawley. It alleged they "lent legitimacy to President Trump's false statements about election fraud" and said they used their objections to fundraise before and after the riots took place.
The letter was signed by Senators Sheldon Whitehouse of Rhode Island, Ron Wyden of Oregon, Tina Smith of Minnesota, Richard Blumenthal of Connecticut, Mazie Hirono of Hawaii, Tim Kaine of Virginia and Sherrod Brown of Ohio.
Cruz and Hawley have both faced calls to resign following the events on January 6, including one from Coons.
In a statement to Newsweek, Hawley said the investigation request was a "flagrant abuse of the Senate ethics process."
"Joe Biden and the Democrats talk about unity but are brazenly trying to silence dissent," the statement said. "This latest effort is a flagrant abuse of the Senate ethics process and a flagrant attempt to exact partisan revenge. Democrats appear intent on weaponizing every tool at their disposal—including pushing an unconstitutional impeachment process—to further divide the country. Missourians will not be canceled by these partisan attacks."
A spokesperson for Cruz also criticized the investigation request and said it stood in contrast with the call for unity Biden made during his inaugural address on Wednesday.
"It is unfortunate that some congressional Democrats are disregarding President Biden's call for unity and are instead playing political games by filing frivolous ethics complaints against their colleagues," the spokesperson said in a statement to Newsweek.
"Senator Cruz debated a question of law and policy on the floor of the Senate, he did so expressly supported by 11 other senators, and he utilized a process to raise the objection that has been explicitly authorized by federal law for nearly 150 years. Congressional Democrats have used the same process to object to electors after every single Republican election victory in the 21st century, objecting in 2001, 2005 and 2017."
The spokesperson added that Cruz has been "consistent, forceful and unequivocal condemning political violence whether from the left or from the right. He did so last summer as Democratic officials stood by while cities like Portland, Seattle and Minneapolis burned. And Senator Cruz immediately condemned the January 6 terrorist attack on the Capitol, calling for everyone who stormed the Capitol to be prosecuted to the fullest extent of the law."
This story was updated on January 22 to include comments from a spokesperson for Senator Ted Cruz.