President Donald Trump often cites the historic nature of his presidency and on Wednesday he made history by becoming the first president to be impeached twice.
The House of Representatives impeached Trump on Wednesday and unlike in 2019, when no Republicans voted in favor of impeachment, this time around members of the president's own party joined Democrats in voting against him. While the goal of both Trump's impeachments has been to remove him from office, Democrats will need to get Republican senators on board to oust the president from office during the final days of his term.
In 2019, Trump joined two other presidents—Andrew Johnson and Bill Clinton—as one of three presidents to be impeached. Similarly to Trump, neither Jackson nor Clinton was removed from office after their impeachment.
Ten Republicans voted in favor of impeaching Trump, twice the number of Democrats who voted to impeach Clinton. Representative Dan Newhouse, a Republican who said he would vote to impeach Trump, said a vote against impeachment is a vote to "validate the unacceptable violence" witnessed on January 6 and a condoning of Trump's inaction.
"He did not strongly condemn the attack nor did he call in reinforcements when our officers were overwhelmed. Our country needed a leader, and President Trump did not fulfill his oath of office," Newhouse said in a statement.
Democrats first attempted to pressure Vice President Mike Pence to invoke the 25th Amendment to oust Trump from office but Speaker Nancy Pelosi told CBS News' 60 Minutes impeaching him could block the president from running for office again. However, that's not power the House has.
Under Article I of the Constitution, barring a public official who is impeached from holding office in the future falls on the Senate. After convicting a president by a two-thirds vote in the Senate, senators can vote to bar him from running for office again, a punishment that requires support from 51 senators.
The article of impeachment—incitement of insurrection—was introduced formally on Monday by House Majority Leader Steny Hoyer. It targeted Trump for his attempt to persuade Georgia Secretary of State Brad Raffensperger to "find" enough votes to turn the state in his favor and for the speech he gave on January 6 before a mob stormed the Capitol.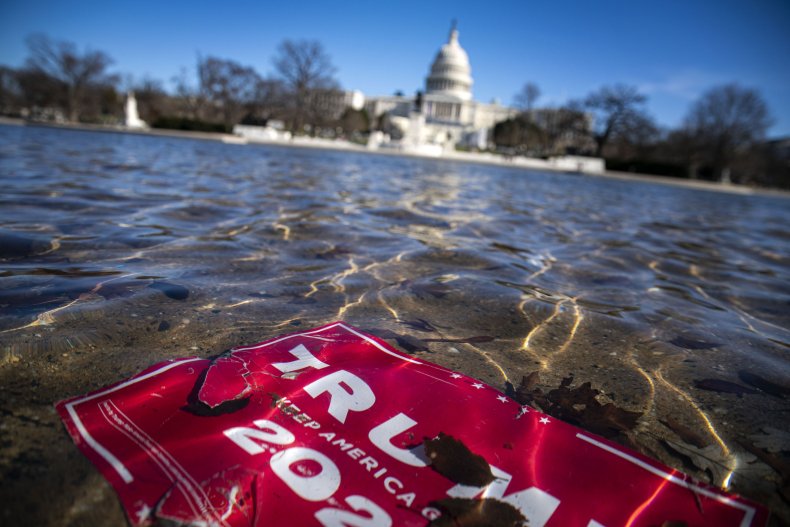 The president's taken heavy criticism for comments he made on January 6 even from members of his own party. On January 7, Senator Lindsey Graham, a staunch ally of the president, said the mob could have easily blown up the Capitol, killed legislators and destroyed the government.
"It breaks my heart that my friend, a president of consequence would allow yesterday to happen and it will be a major part of his presidency. It was a self-inflicted wound. It was going too far," Graham said.
Graham, who has "no regrets" about helping Trump, said impeaching him will do "far more harm than good," so it's unlikely the South Carolina senator will vote against the president. However, at least three Senators in his party have left the door open to convicting Trump.
Senator Lisa Murkowski told the Anchorage Daily News she wants Trump "out" because he's "caused enough damage" and Senator Ben Sasse told CBS This Morning he would consider "whatever articles" the House moves.
"I do think the president committed impeachable offenses," Senator Pat Toomey told Fox News' The Journal Editorial Report. "I'm not sure it's desirable to attempt to force him out, what, a day or two or three prior to the day on which he's going to be finished anyway ... so I'm not clear that's the best path forward."
Over the course of American history, the Senate has only blacklisted three officials from holding office again and each time it involved a federal judge, not a president. A Senate trial could begin on President-elect Joe Biden's Inauguration Day, according to a memo from Senate Majority Leader Mitch McConnell.
Trump called the impeachment process against him a "continuation of the greatest and most vicious witch hunt in the history of our country" during an event in Texas on Tuesday.
"It is causing tremendous anger and division and pain—far greater than most people will ever understand, which is very dangerous for the USA, especially at this very tender time," Trump said.
If Democrats can get the 17 Republicans needed to convict Trump, they'll have an easier time barring him from office in the future. With a 50-50 split in the Senate, they'll only need to convince one Republican to keep him from running for president in 2024 or any other office in the future, forcing the president to possibly pass the torch to one of his children, who haven't ruled out a run of their own.
Correction: An earlier version of this story mistakenly said that Andrew Jackson was impeached. It's been corrected to say Andrew Johnson was impeached.