$70 Million Picasso Damaged and Pulled From Auction
A painting by Pablo Picasso valued at $70 million has been pulled from auction after being accidentally damaged.
The self-portrait, named Le Marin (The Sailor) was set to go to the highest bidder at New York auction house Christie's, along with another work by the artist—a 1964 portrait of a woman with a cat named Femme au chat assise dans un fauteuil. Both are owned by a casino magnate and were due to be part of a Christie's exhibition closing on Tuesday, but the auction house has now announced Le Marin will not be showcased.
"Pablo Picasso's Le Marin... was accidentally damaged Friday during the final stages of preparation for Christie's May 12-15 exhibition," a statement from the auction house issued on Monday said. "Two outside conservators have now been consulted and have made recommendations for the successful restoration of the painting."
Related: Facebook sued in France for painting showing a woman's crotch
The painting is believed to date back to 1943, created in France while the country was under Nazi occupation. Its valuation meant it could potentially be one of the five most expensive Picasso works to be auctioned.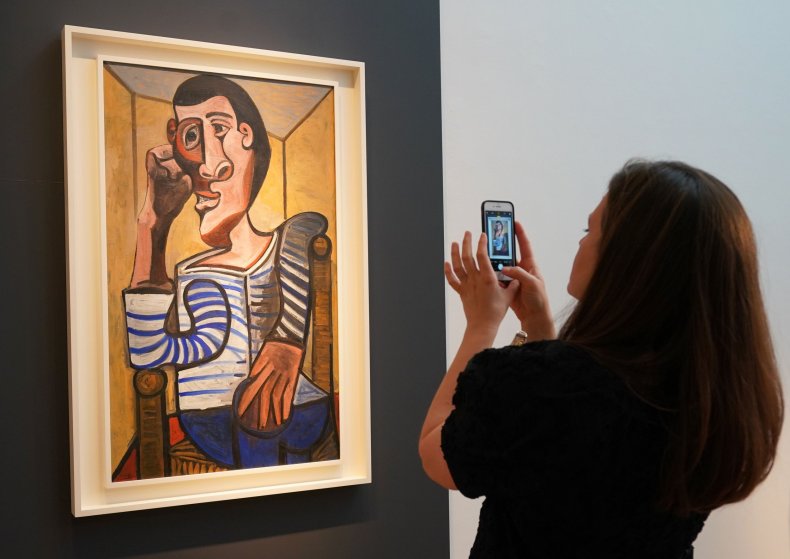 Christie's did not specify what the nature or cause of the damage to the work was, but assured it has a "very high standard of care" for the objects sold on its premises.
Shortly after the incident, the other Picasso work was also reportedly withdrawn by mutual agreement and both works of art are still in the possession of casino magnate Steve Wynn, Bloomberg reported. Le Marin is estimated as the more valuable piece, but together they could have fetched Wynn a total of $105 million.
Wynn has already faced a similar problem in 2006, when he accidentally put his elbow into a third Picasso painting he owned called Le Rêve. Wynn suffers from a disease that affects his peripheral vision and the hit reportedly caused a six-inch tear. It was worth $139 million, before the damage, however Wynn eventually managed to sell it for a record-sum of $155 million to hedge fund manager Steve Cohen in 2013.