70-Pound Dog Thrown Into the Air by Dust Devil in Viral Video
This dog's "unexpected flight" from last week has gone viral online after a massive gust of wind managed to send him into the air.
A Virginia family was shocked when Duke, their 70-pound Labrador Retriever, was thrown into the air by a sudden dust devil on Tuesday.
Duke's owner, Brittany Wampler, told Newsweek that while she was at work, her children—Hunter, Avereigh and Logan—took the family dog outside to play in their Weyers Cave neighborhood.
"The weather wasn't initially anything to be concerned over, but the gust came through and they turned to see the dust devil form," she said. "It picked Duke up and put him back down a couple of times before disappearing."
Later that evening when she came home, Wampler's "three very adamant kids" filled her in on the day's startling events.
The siblings all remained steadfast in their description of the events: "that a dust devil picked Duke up and spun him around and threw him over our underground dog fence."
Wampler told Newsweek that she later decided to look into any home security or doorbell footage to see if the incident was caught on video.
"I reached out to a neighbor with the doorbell camera and unfortunately theirs didn't catch it," she said. "So I kept thinking about it and hearing that all my kids were unwavering in their story, I [remembered] another camera angle that perhaps caught it and it sure enough did."
Indeed, a nearby camera caught the moment. As one of the children turns away from Duke, the dog tries to across the lawn but gets picked up into the air. The dust devil even spins him around a few times midair before he is able to get his paws back on the ground.
Wampler told Newsweek that she and her family incessantly watched the footage, shocked that her children were not exaggerating when they said Duke had gone "airborne."
"I literally immediately showed my husband and kids and we watched it several times in a row, in slow motion even," she said.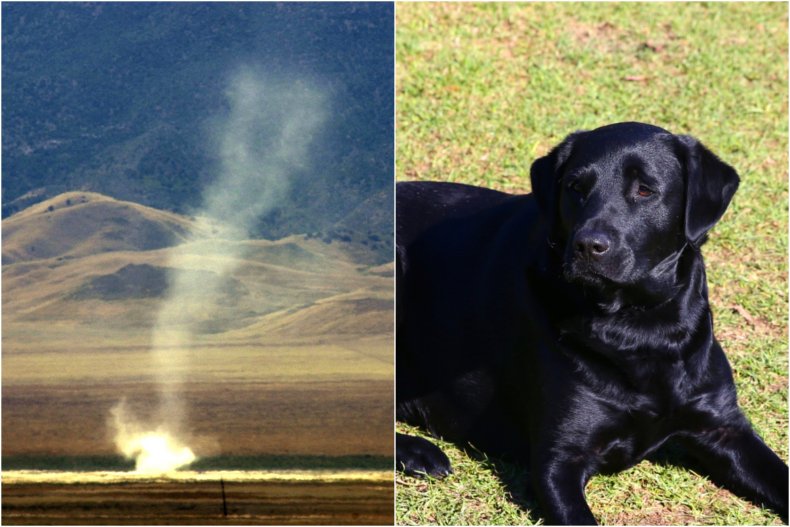 The next day, Wampler told Newsweek that she reached out to her local meteorologists "to see if a dust devil could actually pick up a dog."
Sure enough, a report from WHSV confirmed that when the right weather conditions come together, a dust devil can be strong enough to lift heavy objects—or in this case, dogs—that land in its path.
The outlet noted that dust devils form when dry, warm air with little wind heats up and rises. The low pressure it creates encourages air to fill the void, and if the wind pattern picks up, a dust devil can become very powerful.
Wampler joked that the family has since christened the pup as "Duke the Flying Dog," and he fortunately shows no signs of lingering stress from his unexpected flight.
"Duke is a go-getter and up for adventure, but I don't think he was a fan," Wampler told Newsweek. "He...has been quite the celebrity—shocked about [going] viral of course."
Duke is not the first victim of a dust devil sweeping through unsuspecting neighborhoods. Last May, hundreds of tumbleweeds were picked up along a Washington highway and created a viral "tornado" on Twitter. In 2018, one particularly powerful dust devil launched several portable toilets into the Colorado sky.