Nearly Twice As Many Countries Support China's Human Rights Policies Than Are Against It
A joint statement by 39 countries expressing "grave concerns" about China's human rights policies in Xinjiang and Hong Kong was swiftly overwhelmed by a series of rebuttals by nearly double the amount of signatories at the United Nations on Tuesday.
After German Ambassador Christoph Heusgen addressed the U.N. General Assembly Third Committee on behalf of countries including the United States and United Kingdom, China's permanent representative Zhang Jun—backed by the likes of Pakistan, Cuba and Russia—fired back a lengthy response, accusing major Western nations of "selective blindness and double standards."
In his letter, Heusgen's called on Beijing to allow independent observers into Xinjiang, where human rights watchdogs say the autonomous region's ethnic Uigurs are being detained in large numbers inside so-called "re-education" camps.
Heusgen also made mention of Tibet and the Hong Kong National Security Law, elements of which he said "do not conform to China's international legal obligations," and would "allow for certain cases to be transferred for prosecution to the Chinese mainland."
"In June 2020, 50 U.N. Special Procedures mandate holders issued an exceptional letter of concern, calling on the People's Republic of China to respect human rights. We share their grave concerns," the German envoy said.
He added: "On Xinjiang, we are gravely concerned about the existence of a large network of 'political re-education' camps where credible reports indicate that over a million people have been arbitrarily detained.
"We have seen an increasing number of reports of gross human rights violations. There are severe restrictions on freedom of religion or belief and the freedoms of movement, association, and expression as well as on Uyghur culture.
"Widespread surveillance disproportionately continues to target Uyghurs and other minorities and more reports are emerging of forced labour and forced birth control including sterilization."
Heusgen ended by saying: "We call on China to allow immediate, meaningful and unfettered access to Xinjiang for independent observers including the U.N. High Commissioner for Human Rights and her Office, and relevant special procedure mandate holders; to urgently implement CERD's eight recommendations related to Xinjiang, including by refraining from the arbitrary detention of Uyghurs and members of other minorities.
"In view of our concerns about the human rights situation in Xinjiang, we call on all countries to respect the principle of non-refoulement. We also call on China to uphold autonomy, rights and freedoms in Hong Kong, and to respect the independence of the Hong Kong judiciary."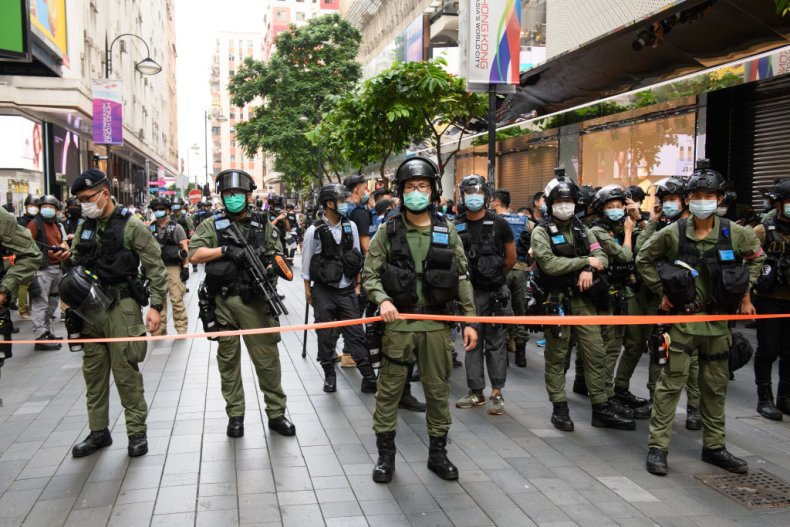 The Chinese ambassador, whose response echoed those of recent statements by Chinese officials in Washington, said the U.S., U.K. and Germany were "provoking antagonism."
Zhang said: "They abuse the U.N. platform, politicize human rights issues, and provoke political confrontation. They spread false information and political virus, smear China, and interfere in China's internal affairs. China firmly opposes and rejects that."
Counter attacks
The Chinese ambassador did not address in detail the concerns mentioned in Heusgen's statement about the treatment of Uigurs in China, instead calling "cliché" depictions of alleged human rights abuses "completely untrue."
"China's achievements in human rights development are widely recognized and not to be denied by your lies and deception," he said. "China's adoption of effective measures to combat terrorism, safeguard national security and promote economic and social development is firmly supported by all Chinese people and can stand the test of time and history."
He also turned to historically popular counter arguments, including alluding to America's involvement in military conflicts in the Middle East, as well as the recent Black Lives Matter protests over racial injustice and the U.S. handling of the COVID-19 pandemic.
Zhang added: "Upholding international fairness and justice, China opposes interference in internal affairs and speaks out for developing countries in defense of justice.
"China resolutely safeguards its national sovereignty, security and development interests. Be it promoting the development of western regions such as Xinjiang, or maintaining the prosperity and stability of the Hong Kong Special Administrative Region, is for the purposes of maintaining the rule of law, national security and the interests of the people, and is consistent with the well-established and common practice of the international community. No matter what you say or do, we will unswervingly move forward along this path."
Overwhelming support
The envoy's speech was followed by supporting addresses by Pakistan on behalf of 55 countries; Cuba, speaking for 45 signatories; and a joint statement by Kuwait for three Gulf nations.
Additionally, Ambassador Xolisa Mabhongo of South Africa issued a statement in support of Beijing's "one-China policy," saying: "We hope that all conversations and discussions regarding Hong Kong and Xinjiang will respect the sovereignty and territorial integrity of China."
Burhan Gafoor, Singapore's U.N. representative, was also critical of Heusgen's 39-nation joint address, noting: "Our view is that no country, or grouping of countries, has the right to impose its views on human rights on other countries or societies.
"In particular, the Third Committee cannot be used as a platform or a pretext to table resolutions that impose the views of one group of countries on other countries, especially if there is no international consensus against such policy.
"We also disagree with the practices of some member states, increasingly issuing joint statements to target the policies of other countries and to interfere in their internal affairs. Such an approach, in our view, is divisive and counterproductive, because it does not build trust and does not help to resolve the underlying issues."
Voices of support for China's policies, which came in the form of other signatories like Syria, North Korea and Venezuela, reportedly numbered nearly 70.
A growing list
The Communist Party's policies in Xinjiang and its tightening grip over Hong Kong add to a long list of concerns for the U.S. and its allies, with the Trump administration in particular engaged in an ongoing trade war and tit-for-tat criticisms over each other's handling of the coronavirus pandemic.
China's expansion into the South China Sea and military exercises near Taiwan continue ahead of the island's own National Day celebrations on Saturday, while closer to home tensions at its southern border with India remain.