China Calls Mike Pompeo Criticism 'Reckless Smearing' at U.S. Meeting with Asia Security Partners
A Chinese official has told Newsweek that the People's Republic rejects comments made by the top U.S. diplomat during meetings with his counterparts from Asia security partners Australia, India and Japan.
Secretary of State Mike Pompeo lashed out at the Chinese Communist Party during the Tokyo meeting, saying cooperation among the Quadrilateral Security Dialogue "is more critical now than ever that we collaborate to protect our people and partners from the CCP's exploitation, corruption, and coercion."
But a spokesperson at the Beijing's embassy in Washington dismissed this portrayal of China in the region.
"China is committed to the path of peaceful development and firmly safeguards its sovereignty, security and development interests," the spokesperson told Newsweek.
"At the same time, it is committed to resolving differences with other countries through dialogue and consultation," the spokesperson added. "This is what we say and also what we do. We do not accept reckless smearing and groundless accusations against China."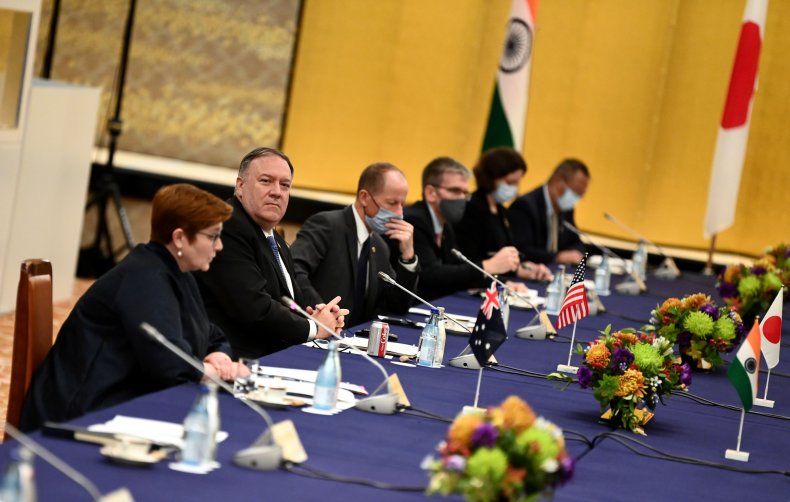 The Quadrilateral Security Dialogue brings together Washington, Canberra, New Delhi and Tokyo to ensure a "free and open Indo-Pacific," and is largely seen as tackling regional moves by Beijing. Representatives of the four powers reaffirmed their mission following Tuesday's talks.
Pompeo, joined by Japanese Prime Minister Yoshihide Suga, Indian External Affairs Minister Subrahmanyam Jaishankar and Australian Foreign Minister Marise Payne, "reviewed recent strategic developments across the Indo-Pacific and discussed ways to enhance Quad cooperation on maritime security, cybersecurity and data flows, quality infrastructure, counterterrorism and other areas," according to State Department Principal Deputy Spokesperson Cale Brown.
They also reaffirmed support to the Association of Southeast Asian Nations (ASEAN), a regional grouping that the U.S. has accused China of attempting to pressure.
"It's important that we cooperate and work together, have a shared picture, if you will, of the challenge," Pompeo told Japanese state broadcaster NHK. "It's important that we do this not only amongst the four countries, but that we share this with ASEAN countries, countries throughout the region, so they too understand the challenges presented by the Chinese Communist Party."
Pompeo characterized the global competition as "not a rivalry between the United States and China," but one "for the soul of the world."
But China has emphasized a need for cooperation among nations rather than confrontation.
"Any multilateral or plurilateral cooperation should be conducted in the spirit of openness, inclusiveness and transparency, not by forming exclusive blocs," the Chinese embassy spokesperson told Newsweek. "It should be conducive to mutual understanding and trust between regional countries, instead of being targeted at any third party or detrimental to its interests."
The spokesperson called on countries involved in the Quadrilateral Security Dialogue to consider this in their policies.
"We hope that the countries concerned will bear in mind the common interests of regional countries and act in a way that contributes to regional peace, stability and development, not to the contrary," the spokesperson said.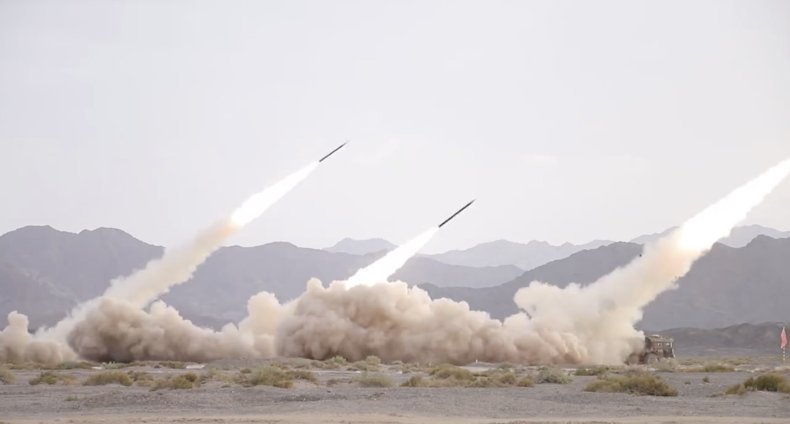 The international feud between Washington and Beijing has gripped the region, exacerbating security concerns amid dueling accusations on trade, human rights and the handling of the COVID-19 pandemic. China's relations with Australia, India and Japan have also suffered.
Beijing and Canberra have exchanged harsh words amid a rise in politician tensions, while Chinese vessels have stepped up challenges to Japan's control over the East China Sea's Pinnacle Islands—known to China as Diaoyu and to Japan as Senkaku—and Chinese and Indian troops have drawn blood at their disputed border in the Himalayas. The U.S. has also weighed in on the side of ASEAN countries in their claims to the South China Sea.
The issue of Taiwan is also in the spotlight amid deteriorating U.S.-China ties. The self-ruling island is claimed by Beijing but increasingly backed by Washington, something Chinese officials consider a violation of their country's sovereignty.
On Tuesday, the People's Liberation Army Eastern Theater Command released another video promoting Chinese military power. The clip showed day and night artillery drills of the 71st Army Group, one of the forces tasked with protecting China's eastern shores and projecting power into the contested seas beyond them.