72% of Americans, Including Over Half of Republicans, Support $2 Trillion Stimulus Package: Poll
More than 70 percent of Americans, including over half of Republicans, support a new $2 trillion stimulus package, according to a new survey.
In the latest New York Times/Siena College poll, 72 percent of likely voters backed a $2 trillion stimulus package to extend unemployment benefits, send stimulus checks and provide financial support to state and local governments. Just 21 percent opposed.
Among Republicans, a majority—56 percent—supported a relief bill with a $2 trillion price tag, 34 percent opposed and 9 percent were unsure. Support among Democrats were closer to unanimous, with 91 percent in support, 6 percent opposing and 3 percent unsure.
The poll surveyed 987 likely voters between October 15 and 18. Its margin of error is plus or minus 3.4 percent.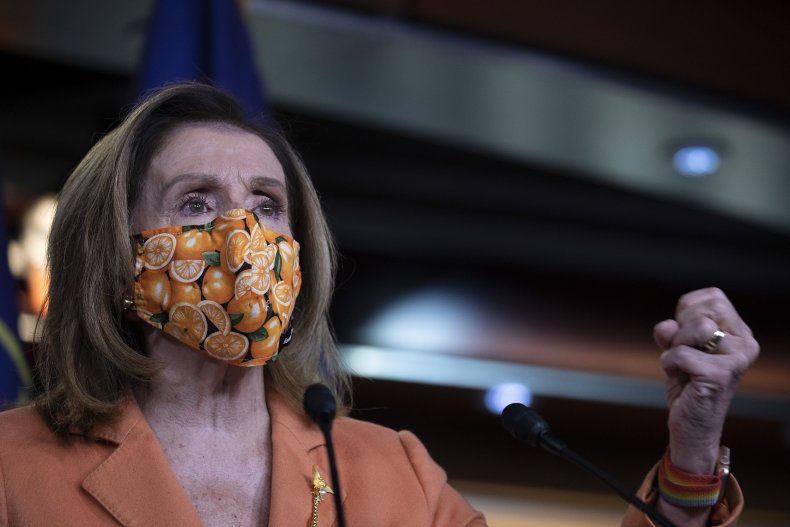 As the months-long stimulus deadlock continues, Americans have grown increasingly frustrated at lawmakers over their inability to reach a deal to provide further relief amid the pandemic. Most of the benefits secured under the bipartisan $2 trillion CARES Act, which was passed in March, lapsed at the end of July, and the chances of another round of relief before Election Day is narrowing.
House Speaker Nancy Pelosi on Tuesday extended her self-imposed deadline for an agreement that can be voted on before November 3. She recently indicated that Democrats and the Trump administration were "on a path" to a massive agreement following ongoing talks this week with Treasury Secretary Steve Mnuchin.
Earlier today, Pelosi indicated that a compromise bill was being drafted and expressed optimism about reaching a deal.
"Hopefully by the end of today, we'll know where we all are," she said.
The Democratic leader, however, admitted that both sides are still at odds on the amount of aid to allocate for states and local governments, a COVID liability shield for businesses, and refundable tax credits for the working class and families with children.
Senate Majority Leader Mitch McConnell has committed to giving any stimulus deal supported by both Trump and Pelosi a vote on the Senate floor, although he did not specify whether the vote would happen before the upcoming presidential election.
The White House offered $1.8 trillion earlier this month, but the proposal was immediately rejected by Pelosi and some Senate Republicans. Democrats criticized the offer as insufficient to address the needs of Americans struggling under the economic hardships of the pandemic, while Republicans criticized the offer as too expensive and out of touch with conservative values.
With weeks left until Election Day, President Donald Trump on Tuesday said he would spend even more money than what Pelosi has asked for. "Not every Republican agrees with me, but they will. I would rather go bigger than her number," Trump told Fox News. "I would be willing to go more, because I think the government, we get the money back."
Newsweek reached out to Republican Senate Majority Leader Mitch McConnell for comment.