McConnell Vows to Give Any Stimulus Deal Supported by Trump and Pelosi a Senate Vote
Senate Majority Leader Mitch McConnell has committed giving any stimulus deal supported by President Donald Trump and House Speaker Nancy Pelosi a vote on the Senate floor.
Pelosi and Treasury Secretary Steve Mnuchin are currently negotiating to reach a relief deal that can be voted on before Election Day. The House Speaker recently extended her self-imposed Tuesday deadline, saying that she and the Trump administration are "on a path" to a massive deal. Pelosi has now given both sides until the end of this week to finalize and write a bill if it is to be voted on before November 3.
"If a presidentially supported bill clears the House at some point we'll bring it to the floor," McConnell told reporters on Tuesday. He did not indicate whether the vote would come before the upcoming presidential election.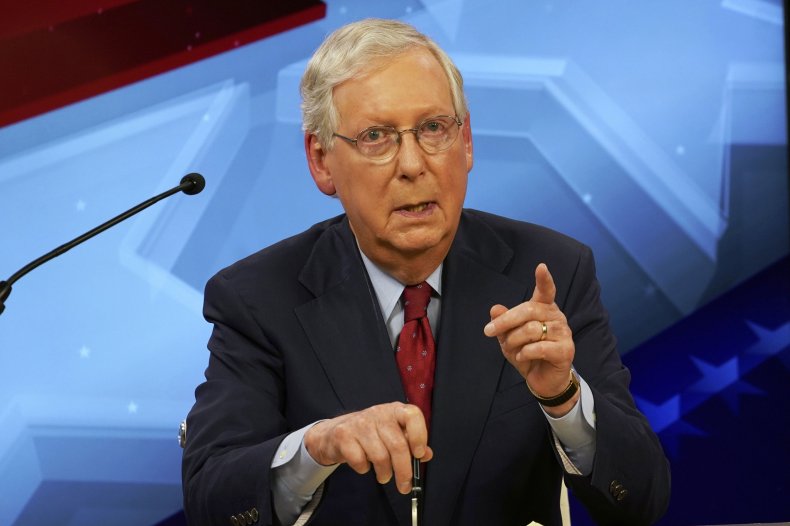 The Senate intends to hold a vote on another Republican-led $500 billion COVID stimulus bill on Wednesday. Democrats blocked an earlier $500 GOP bill last month and are expected to dismiss the latest one due to its low price tag.
The White House offered $1.8 trillion after Senate Republicans refused to support Pelosi's latest $2.2 trillion proposal. On Tuesday, Pelosi said her party and the Trump administration were still at odds over the amount of aid to allocate for state and local governments, a COVID liability shield for businesses, and refundable tax credits for the working class and families with dependents.
She revealed that a compromise bill was being drafted and expressed optimism about reaching an agreement.
"We all want to get an agreement because people need it and it's urgent and our economy needs it," the Democrat told Bloomberg TV. "Hopefully by the end of today we'll know where we all are."
"We're starting to write the bill, and then we can have the negotiation," she added. "But I'm optimistic. You know legislation's tough."
Trump has also been publicly pushing for another relief package to be passed quickly. After Senate Republicans held out for months for a smaller bill, the president on Tuesday said he would spend even more than what Pelosi has pushed for.
"Not every Republican agrees with me, but they will. I would rather go bigger than her number," Trump told Fox News. "I would be willing to go more, because I think the government, we get the money back."
"It gets the money back anyway, and it's better than unemployment and all the costs associated with the alternative," the president added.
Newsweek reached out to McConnell's office for further information.