Senate to Vote This Week on Additional PPP Funds and Stimulus Package, McConnell Says
Senate Majority Leader Mitch McConnell (R-Ky.) announced Saturday that this week, the Senate would vote on additional funding for the Paycheck Protection Program (PPP) and a $500 billion version of the stimulus package.
McConnell said that the Senate will vote on additional PPP funds on Tuesday, and the stimulus package on Wednesday. The bill will include an expansion of unemployment benefits, over $100 billion for school safety, and additional funding for testing, contact tracing and Operation Warp Speed, the program to fast-track a vaccine for COVID-19. However, another stimulus check for Americans does not appear to be in the bill.
"These are just some of the urgent needs that Washington should meet immediately while debates continue over the rest. This is half a trillion dollars of good that Congress can do right now," McConnell said. "It is heartless for Democrats to continue their total blockade of any aid whatsoever unless Speaker Pelosi gets her way on countless non-COVID-related demands."
Newsweek reached out to House Speaker Nancy Pelosi's office for comment.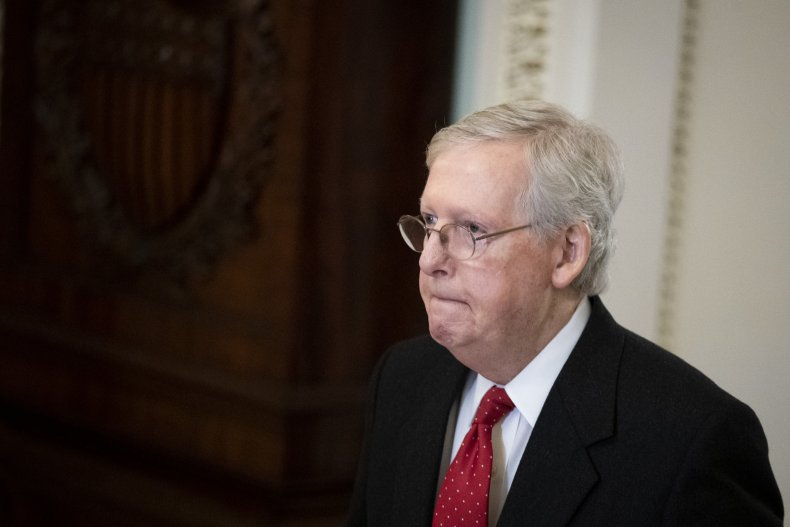 McConnell hinted that the Senate would soon vote on the stimulus package last Tuesday.
"Unless Democrats block this aid for workers, we will have time to pass it before we proceed as planned to the pending Supreme Court nomination as soon as it is reported by the Judiciary Committee," McConnell said at the time. "Republicans do not agree that nothing is better than something for working families."
This is not the first time McConnell has attempted to bring the $500 billion "mini-stimulus" to the floor of the Senate. A similar proposal was blocked by Senate Democrats in September. That version of the bill also included funding for the U.S Postal Service and legal liability protections for businesses.
It is likely that the latest package will meet a similar fate in the Senate, with Senate Democrats expected to block it from a vote via a filibuster. On Tuesday, Senate Minority Whip Dick Durbin (D-Ill.) pointed out that McConnell's package appears to be at odds with President Donald Trump's wishes.
"What I hear from Senator McConnell is, once again, 'Take a little piece and be satisfied,' and what I hear from the president is just the opposite," Durbin told reporters. "If the two of them sit down and agree, wouldn't that be a breakthrough?"
In a Tuesday tweet, Trump pushed for a larger stimulus, writing: "STIMULUS! Go big or go home!!!" In the past, however, the president has chastised Pelosi for her stimulus proposal of $2.4 trillion. The White House and Treasury Secretary Steven Mnuchin had countered Pelosi's proposal with a $1.6 trillion package.
McConnell's proposal has also received pushback from Senate Republicans. Senator Lindsey Graham of South Carolina told reporters on Friday he would prefer a larger stimulus package—but not the package proposed by Pelosi.
"I'm with the president in terms of big—I think the bigger the package, as long as it's smart. The $2.2 trillion package that the House passed doesn't have a penny for small business. There's no PPP money in it. There's no requirement you have a Social Security number before you get a $1,200 stimulus check. So that will go to people here illegally, most likely," Graham said.