Senate GOP to Vote on More Small-Business Relief Next Week Despite No Stimulus Deal
As Congress and the White House continue their stalemate over another pandemic stimulus package, Senate Majority Leader Mitch McConnell plans to hold another vote next week on a "targeted relief" measure that focuses on replenishing the Paycheck Protection Program (PPP) for small businesses.
The move will come despite the lack of a bipartisan agreement, just days before the Nov. 3 election and amid a fierce political debate over confirming Supreme Court nominee Amy Coney Barrett.
While Democrats will almost certainly block the legislation from advancing to a final vote by filibustering it—as they did with a previous piecemeal bill by Republicans—it will offer vulnerable GOP senators last-minute political ammunition as voters prepare to cast their ballots.
"Unless Democrats block this aid for workers, we will have time to pass it before we proceed as planned to the pending Supreme Court nomination as soon as it is reported by the Judiciary Committee," McConnell, a Kentucky Republican, said in a statement. "Republicans do not agree that nothing is better than something for working families."
McConnell said it would be similar to the $500 billion proposal that was blocked by Senate Democrats in September, which included funding for PPP loans, testing and tracing, vaccines, schools, the U.S. Postal Service, enhanced unemployment benefits and legal liability protections.
"So far, [Democrats] have said, 'if we can't do everything we want to do, we won't do anything,'" McConnell later told local reporters in Kentucky. "That doesn't solve the problem."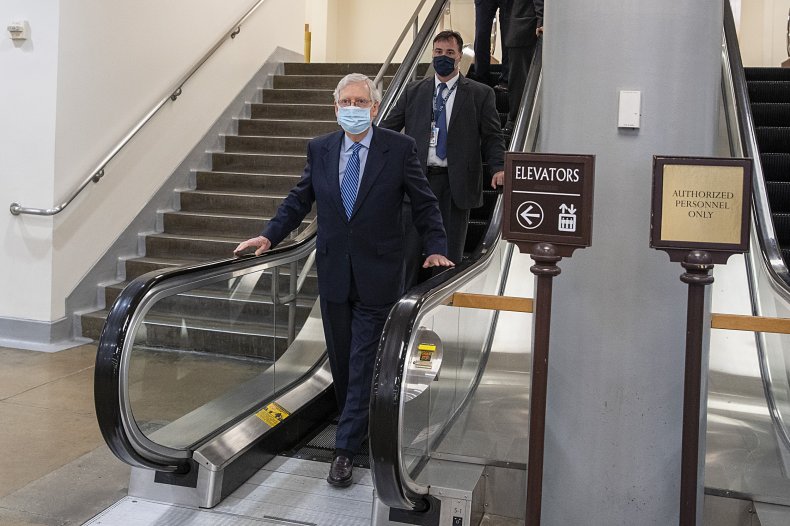 The office of Senate Minority Leader Chuck Schumer (D-N.Y.) did not immediately respond for comment.
"What I hear from Sen. McConnell is, once again, 'take a little piece and be satisfied,' and what I hear from the president is just the opposite," Senate Minority Whip Dick Durbin (D-Ill.) told reporters. "If the two of them sit down and agree, wouldn't that be a breakthrough?"
The new push for additional pandemic relief also comes amid erratic positions by President Donald Trump on the matter. Originally killing the prospect for another deal until after Election Day, the president has since pushed hesitant conservatives on Capitol Hill to "Go big or go home!!!" as he tweeted on Tuesday.
Democrats and Republicans have so far rejected a proposal offered last week by the White House for a $1.8 trillion package. Many Democrats, most notably leadership members, say it still falls short of their $2.2 trillion proposal. They continue to flatly reject any piecemeal proposals.
House Speaker Nancy Pelosi addressed the push from some members of her party that they should accept the White House's proposal on Tuesday during a private caucus call. The California Democrat argued that, "I don't our leverage has ever been greater than it is now."
"I appreciate the, shall we say, a couple people saying, 'Take it, take it, take it.' Take it? Take it?" Pelosi said during the discussion, according to a source on the call. "Even the president is saying, 'Go big or go home.' And it's not just about the money, it's about how it is spent."
Of her conversations with Treasury Secretary Steven Mnuchin, who has been negotiating with Pelosi on behalf of the White House, Pelosi described her talks with the Trump official on the latest $1.8 trillion proposal as this: "Just show us where you're cutting. Are you giving haircuts or are you just chopping off heads?"
Republicans, meanwhile, largely oppose any measure the further it creeps above $1 trillion.
"The American people need Democrats to stop blocking bipartisan funding and let us replenish the PPP before more Americans lose their jobs needlessly," McConnell said.
This story was updated to include quotes from Pelosi during a private Democratic caucus call.