73 Tornadoes Touched Down in Alabama in 2020, at Least 26 Have Already Hit This Year
As much of the South continues to battle severe weather, Alabama reported that at least a third of the total number of tornadoes that struck the state last year have touched down in just the first few months of 2021.
The National Weather Service (NWS) in Birmingham, Alabama, told Newsweek Friday that the state has already tracked at least 26 tornadoes as of March 25. By comparison, the state reported 73 tornadoes throughout all of 2020.
But the NWS said that figure doesn't include the tornadoes that struck the state on Thursday, when severe weather left at least five people dead and tens of thousands without power.
According to the NWS, teams are still out tracking the damage and doing a tornado count from Thursday's storms. But a NWS spokesperson told Newsweek that as many as seven tornadoes could have hit the state on Thursday, which would bring Alabama's total tornado count up to 33 this year.
Thursday's tornadoes caused significant damage across the state, with multiple deaths, injuries and property destruction reported.
"Significant and dangerous weather continues to impact portions of Alabama, and I urge all folks in the path of these tornadoes and storm systems to remain on high alert," Alabama Governor Kay Ivey said Thursday evening.
"Tragically, we are receiving reports of loss of life. I offer my sincerest prayers to all impacted. Unfortunately, the day is not over yet. Y'all, please stay safe and vigilant!" she said.
The NWS issued a "tornado emergency" for areas just south and east of the city on Thursday and warned individuals to take immediate shelter.
"Tornado safety plans, everyone," the Birmingham office said on Twitter. "Get low, get in the middle of the building. DON'T WAIT TO THE LAST MINUTE. TAKE COVER NOW!"
A coroner in Calhoun County, told The Birmingham News Thursday that five people had died as a result of the storms in that county alone, which is located in the central-eastern part of the state.
Multiple injuries were also reported in the area, with the Calhoun County Emergency Management Agency conducting search and rescue operations.
Curfews were in effect in parts of Alabama Thursday night, including the city of Pelham, located about 20 miles south of Birmingham, where Police Chief Pat Cheatwood told the News that the damage from the storms was "devastating."
"When you drive through these areas, it's very devastating," Cheatwood told the paper. "It broke my heart to see the amount of damage that these homes have sustained. These are well-established homes that have been a part of our community for many, many years."
The weather reportedly caused damage to least 60 homes in Pelham, including 22 that sustained "major damage," although no injuries or loss of life were reported.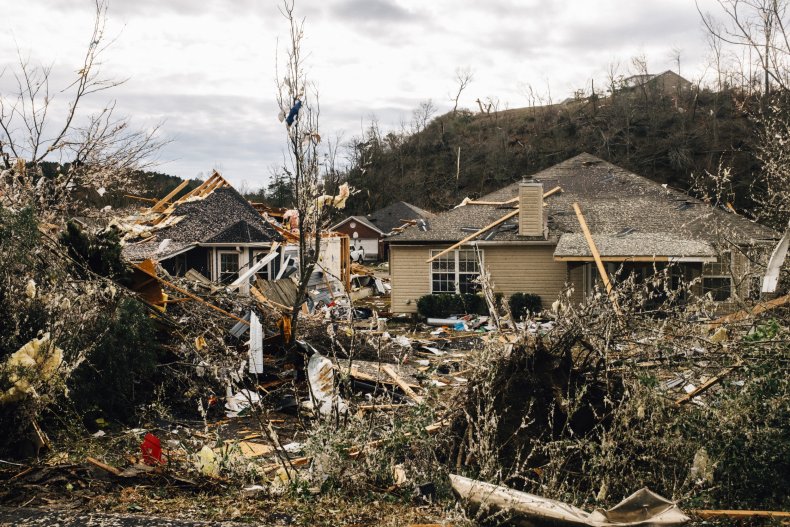 The severe weather continued throughout much of Thursday evening, but the NWS said the threat was "rapidly declining" in some areas after 10 p.m., as storms began moving into Georgia.
On Friday, the NWS tweeted that conditions remained relatively calm and dry, adding that authorities will track lingering showers and thunderstorms.
"A frontal boundary is draped near the I-85 corridor this morning & is providing focus for lingering showers & thunderstorms. Conditions north of here thankfully remain calm & dry today. However, this front will lift back north later tonight w/ increasing rain chances," the service said.
Additional projections from the National Oceanic and Atmospheric Administration's Storm Prediction Center show that Alabama could see a few strong storms over the next few days. But Thursday's severe weather will not be repeated, the center said.
By Friday morning, 24,312 homes across Alabama were still without power from Thursday's damage, according to PowerOutage.US.