75% of Portland Residents Don't Want Decrease in Law Enforcement Presence Despite Calls to Defund the Police
A new poll found that, despite a summer of protests against the police last year, a vast majority of residents in Portland, Oregon, don't want to see a decrease in law enforcement presence.
According to a survey commissioned by The Oregonian/OregonLive, 75 percent of Portland-area residents said they don't want policing in the city to dip below its current levels. Half said they want more cops on the streets, while 24 percent said they want policing levels to remain the same.
Less than a quarter of Portland-area residents believe there should be fewer cops on the streets. Just 15 percent of respondents living in the city proper said they wish to see a decrease in police presence.
The findings come after a year of local protests during which "defund the police" became a major rallying cry. The protests were sparked by the death of George Floyd, who died at the hands of police during an arrest in May 2020.
The city of Portland responded by reducing its police spending by $16 million in August. The move dissolved the area's Gun Violence Reduction Team, School Resource Officers and Transit Division Program and redirected the funding to social services programs.
But in March, Mayor Ted Wheeler called for nearly $2 million in additional funding for the police force and other agencies, citing a rise in homicides and other violent crime in 2021. At the time of his request, there had been 20 homicides in Portland and more than 200 shootings.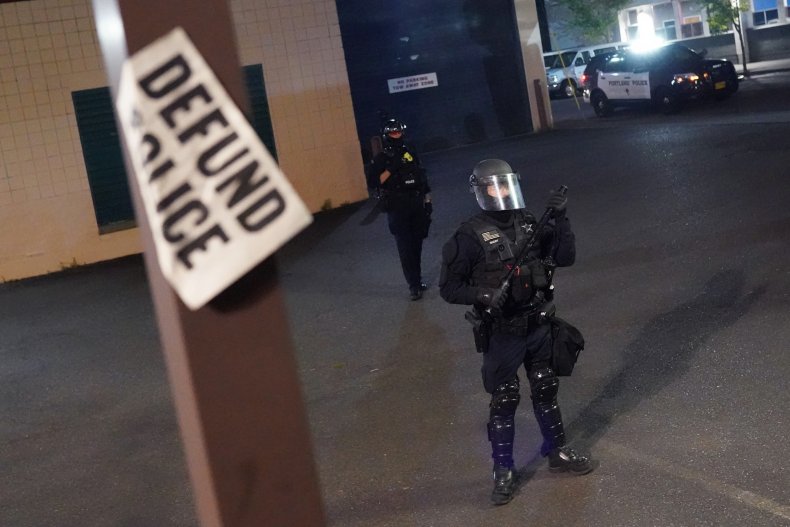 Wheeler's proposal would use the additional funding to bring back a uniformed team of officers to seize guns and work to prevent shootings. The team would also respond to and investigate shootings.
The team was reestablished, but no new funding was given to the Portland Police Bureau. Instead, the mayor and city council approved roughly $6 million for community organizations to do anti-violence work and authorized the addition of two dozen unarmed rangers to patrol parks and neighborhoods.
The new poll found that most residents, 42 percent, think downtown Portland is "much less safe" today than it was one year ago. Twenty-one percent of respondents said the area was "somewhat less safe" while 27 percent said it was "about the same."
Just 2 percent of respondents described downtown Portland as "much safer" and 4 percent thought it was "somewhat safer." More than half of respondents—53 percent—described feeling "very unsafe" in downtown Portland at night.
The poll surveyed 600 adult residents in the Portland metro region, half of them in the city of Portland, between April 30 and May 6. The poll's overall margin of error is plus or minus 4 percentage points. The margin of error for results among Portland residents is plus or minus 5.7 percentage points.