8 Dead in 2 States From Suspected Carbon Monoxide Poisoning After Hurricane Laura
A total of eight people in Texas and Louisiana were reported dead Friday following their use of portable generators during Hurricane Laura, leading to suspected carbon monoxide poisoning.
In Port Arthur, Texas, authorities discovered three people dead at Bida Vinh Pool Hall Friday morning, Port Arthur Police Department Chief Tim Dursio told KFDM. Preliminary information indicated that several shrimpers were staying inside the business, and a portable generator had been placed outside to provide electricity, he said.
But when someone went inside to check on the shrimpers Friday morning, they discovered that the generator had been moved inside the business. Brad Burnett, a Justice of the Peace in Jefferson County, ordered autopsies to confirm the cause of death of the three victims, but carbon monoxide poisoning is suspected. Additionally, four of the shrimpers were hospitalized in critical condition and two in stable condition.
Newsweek contacted the Port Arthur Police Department for comment, but did not hear back in time for publication.
Additionally, a family of five in Lake Charles, Louisiana, were reported dead from carbon monoxide poisoning. They were reportedly using a portable generator to provide them electricity during power outages caused by the hurricane, 1200 WOAI News Radio tweeted. Lake Charles has incurred much of the damage caused by Laura, as the storm made landfall as a Category 4 in nearby Cameron Parish.
Newsweek contacted the Lake Charles Police Department for further comment on the case, but did not receive a response prior to publication.
Portable generators are a popular tool used during storms to power necessities like air conditioners or refrigerators, but experts warn against certain dangers. Their engines can emit carbon monoxide, an odorless, colorless gas that can lead to deadly poisoning in humans if they are exposed to it for too long in an enclosed area. For this reason, it is recommended that generators be used only outdoors.
The City of Port Arthur released a public safety announcement Friday alerting residents of the three recent deaths caused by improper use of a generator. Additionally, more than 22 people have been transported to local hospitals with possible carbon monoxide poison because of portable generators, according to the announcement.
It is unclear what day local hospitals began seeing this increase in numbers, however. Newsweek reached out to the city's health department for comment.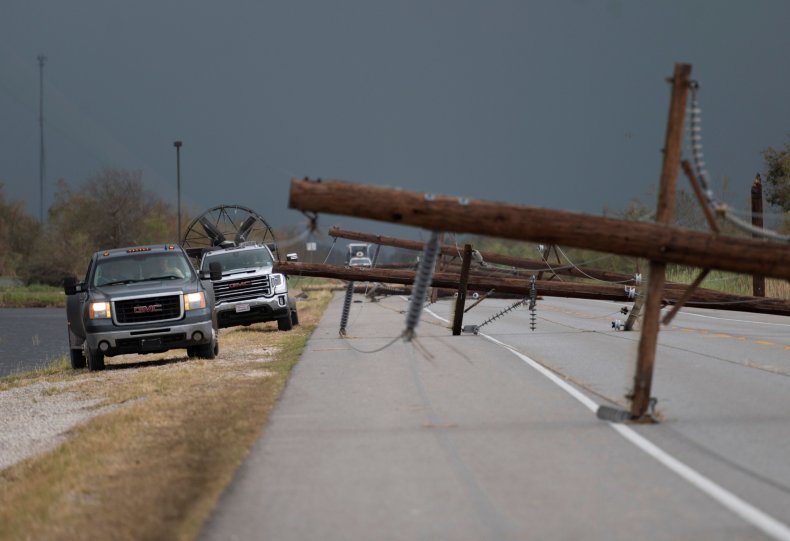 Many people in Texas and Louisiana turned to using portable generators this week as Hurricane Laura tore through both states, causing massive power outages and damage. Around 800,000 residents of both states were left without power after Laura made landfall as a Category 4 hurricane.
The state has reported at least six deaths as a result of the storm, including one 24-year-old man who died from carbon monoxide poisoning from a generator inside his home, according to The Associated Press.
Port Arthur's public safety announcement included tips on generator safety. They should be used only in well-ventilated, outdoor locations where exhaust fumes cannot enter the home through a door or window. To refuel a generator, allow it to cool down first. Additionally, ensure that carbon monoxide alarms are installed throughout the home, the announcement read.