Legal authorities have named the eight victims killed in a mass shooting at a FedEx facility in Indianapolis, Indiana.
The people include Matthew R. Alexander, 32; Samaria Blackwell, 19; Amarjeet Johal, 66; Jasvinder Kaur, 64; Jaswinder Singh, 68; Amarjit Skhon, 48; Karlie Smith, 19 and John Weisert, 74. The Indianapolis Metropolitan Police Department (IMPD) released the names on Friday evening.
Four of the victims—Johal, Kaur, Singh and Skhon—were members of the Indianapolis Sikh community, according to the local Sikh Coalition. Followers of the Sikh religion mostly come from India and Indian families.
Johal was a mother, grandmother and member of Indianapolis' Sikh community, according to IndyStar. Her family members told the publication that she had gone to the facility to pick up her paycheck. They say she still had it in her hand when authorities found her body after the shooting.
"We are deeply saddened to learn that Sikh community members are among those injured and killed by the gunman in Indianapolis last night," coalition Executive Director Satjeet Kaur said in a statement released Friday afternoon. Kaur said they hope that police will examine bias as a possible factor in the shooting.
The suspected 19-year-old gunman also took his own life in the shooting. Indianapolis Emergency Medical Services transported five people with gunshot wounds to local hospitals for treatment. Medics treated two victims at the scene and released them.
Paul Keenan, a special agent in charge of the FBI's Indianapolis field office, said that agents who interviewed the shooter last year did not identify him as advocating racist ideologies. The shooter's mother had previously reported her son to authorities, worried that he might commit violence.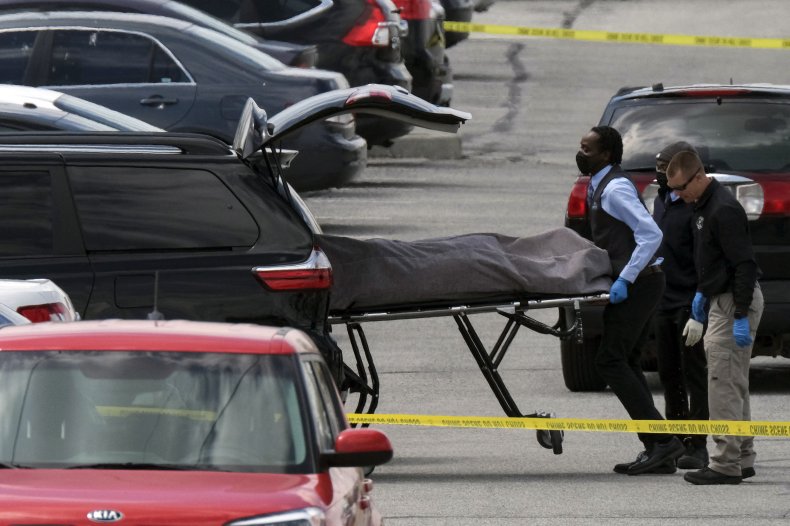 On the night of the attack, the gunman allegedly got out of his car and opened fire in the parking lot before entering the FedEx facility, according to IMPD. Though the shooter was a former FedEx employee, police still haven't identified a motive for the attack.
"There was no confrontation with anyone that was there," Deputy Police Chief Craig McCartt told a news conference. "There was no disturbance, there was no argument. He just appeared to randomly start shooting."
In a statement, FedEx said: "We are deeply shocked and saddened by the loss of our team members following the tragic shooting at our FedEx Ground facility in Indianapolis. Our most heartfelt sympathies are with all those affected by this senseless act of violence. The safety of our team members is our top priority, and we are fully co-operating with investigating authorities."
The Indianapolis shooting was just one of four that took place on Thursday, according to a gun violence tracker.
Newsweek contacted the IMPD for comment.