84 Percent of Louisiana ICU Beds Already Full From COVID as Hurricane Ida Threatens
Hurricane Ida is approaching Louisiana as roughly 84 percent of all ICU hospital beds in the state are full due to the COVID-19 pandemic—causing fears that health care systems could become completely overwhelmed amid devastating weather.
The potential Category 4 storm is expected to hit across much of the state after making its way from Cuba into the Gulf of Mexico this Sunday.
According to the National Hurricane Center, Ida is expected to intensify over the next 24 to 36 hours prior to landfall across the Louisiana coast, bringing life-threatening winds, rain and flooding.
"Ida is expected to be an extremely dangerous major hurricane when it approaches the northern Gulf Coast on Sunday," the National Hurricane Center said Saturday, noting that winds could reach up to 140 miles per hour and bring a dangerous storm surge.
The major hurricane is expected to hit as Louisiana is grappling with a recent coronavirus outbreak due to the highly contagious Delta variant.
By Saturday, approximately 68 percent of all hospital beds in the state are filled, including 84 percent of all ICU beds, Business Insider reported. More than 3,400 new cases were confirmed as of Friday, according to the Louisiana Department of Health, and at least 2,684 people are hospitalized in the state with COVID.
New Orleans is currently in the midst of a "severe outbreak" with a seven-day average of 220 new infections, according to its coronavirus dashboard.
"Once again we find ourselves dealing with a natural disaster in the midst of a pandemic," Dr. Jennifer Avengo, New Orleans public health director, told CNBC. "Our plea and our hope is that everyone will prepare for both very seriously and very thoroughly."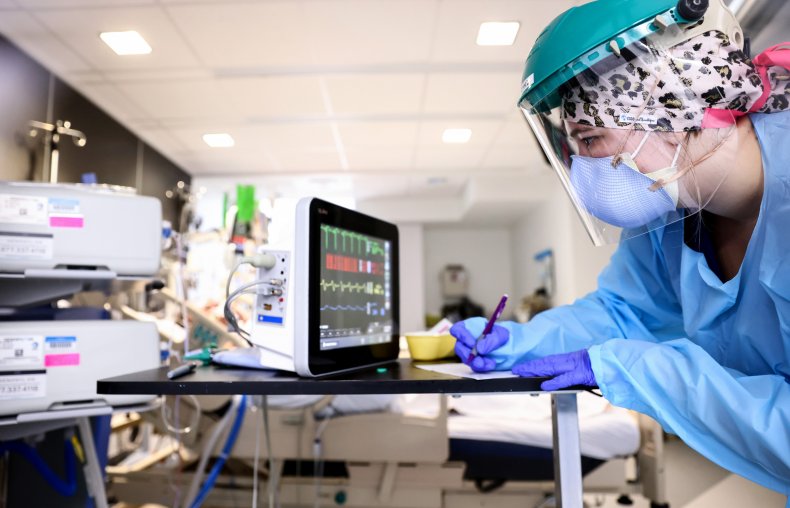 Health care systems across New Orleans have begun preparing for the hurricane by bringing on more staff members, ordering a surplus of supplies, and minimizing the amount of patients admitted to hospitals for non-emergency care, according to CNBC.
"We definitely were in full disaster mode and getting ready for this storm," Warner Thomas, president and CEO of Ochsner Health, told the news outlet. "This is just something that, being in Louisiana, we're used to and we're in that mode today."
Earlier this month, Louisiana Governor John Bel Edwards warned that the state is "rapidly getting to the point where we could have a major failure of our healthcare delivery system." On Thursday, Edwards declared a state of emergency ahead of the hurricane, and warned residents to shelter in place beginning on Saturday evening.
"This will be a life-altering storm for those who aren't prepared," National Weather Service meteorologist Benjamin Schott added during a Friday news conference with Edwards.
Ida is expected to make landfall on the exact date that Hurricane Katrina rocked Louisiana as a Category 3 storm with 125 mph winds 16 years earlier. Katrina is responsible for an estimated 1,800 deaths from central Louisiana coast to the Mississippi-Alabama state line, and resulted in catastrophic flooding across nearly 80 percent of New Orleans.
New Orleans Mayor LaToya Cantrell called for a mandatory evacuation of any area in New Orleans outside of the city's levee system on Friday—but said that the city does not plan to evacuate any of its hospitals and that patients will remain in place.
"Hurricane Ida represents a dramatic threat to the people of the city of New Orleans," Cantrell said during a news conference Friday. "Time is not on our side... the city cannot issue a mandatory evacuation because we don't have the time."
President Joe Biden has approved a federal emergency declaration for Louisiana, with FEMA expected to send nearly 150 medical personnel and almost 50 ambulances to the Gulf Coast to assist strained hospitals if necessary.
Newsweek contacted Edwards' office for additional comment.