89 Percent of Oregon County's Coronavirus Cases Linked to Church Outbreak
An outbreak of coronavirus cases linked to a church in northeast Oregon is responsible for almost 90 percent of diagnoses identified in its surrounding county.
According to reports from local news outlets, which cite comments from State Health Officer and Deputy State Epidemiologist Thomas Jeanne, at least 236 people who contracted the illness in Oregon's Union County were connected to the Lighthouse Pentecostal Church's virus outbreak.
Although Union County was not permitted to transition into Phase 2 of the state's reopening plan, which loosened public gathering restrictions, until June 5, the church reportedly held in-person services before the end of May.
A video deleted from the church's Facebook page earlier this month reportedly showed several hundred congregation members standing close together while attending a service on May 24, according to The Oregonian.
Union County, with a population of roughly 26,800, has confirmed 263 virus cases as of Tuesday, according to data published by the Oregon Health Authority (OHA). Cases reportedly associated with the Lighthouse Pentecostal Church account for 89 percent of the total figure. The recent surge in Union County's virus cases prompted local officials to recommend that the region re-implement Phase 1 restrictions last Wednesday.
Union County, located in northeast Oregon, has diagnosed more positive virus cases per 10,000 people than any other state region as of Tuesday morning. Union County's per capita case ratio, at 98 diagnoses per 10,000 residents, substantially exceeded those reported by other jurisdictions. Western Oregon's Lincoln County, with the second highest case rate, confirmed 60.5 diagnoses per 10,000 people on Tuesday.
More than 7,000 people have tested positive for the novel virus across Oregon since the start of the pandemic, according to OHA's latest data. Of those who contracted the virus, 192 people have died and roughly 2,500 have recovered.
Oregon's overall virus case count has increased by roughly 40 percent since June 1, when OHA reported a state total of 4,302 diagnoses. Health officials have confirmed record single-day increases in new cases identified statewide several times throughout the month. On June 16, Oregon saw its highest daily increase in cases to date, with 278 new confirmed and presumptive cases reported. Union County reported 119 of those cases.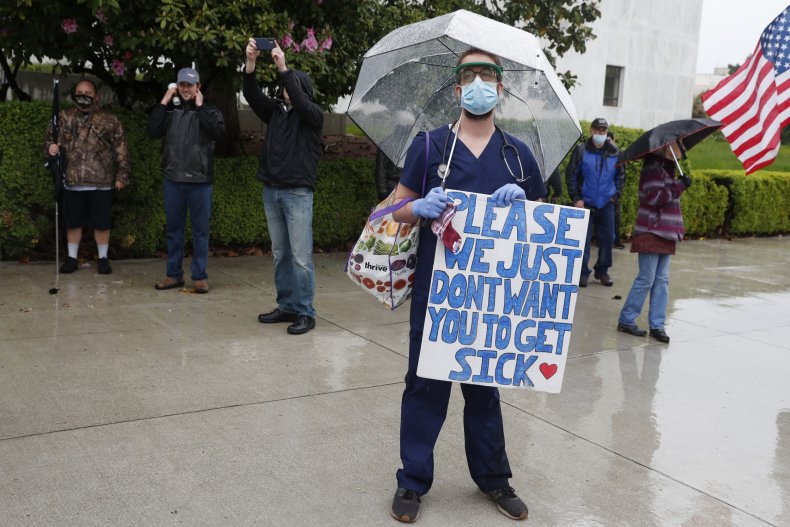 The figure surpassed Oregon's previous single-day record of 184 new infections, reported by the OHA one day earlier. More than 50 percent of those cases were diagnosed in Union County, which reported 99 new cases on June 15. One day earlier, the county had confirmed 22 virus cases in total.
"OHA is coordinating with Union County public health authorities to respond to an outbreak of COVID-19," the state health department said in its June 15 case report. "The outbreak explains the high number of cases today in Union County."
Newsweek reached out to the OHA for updates regarding Union County's outbreak but did not hear back before publication.