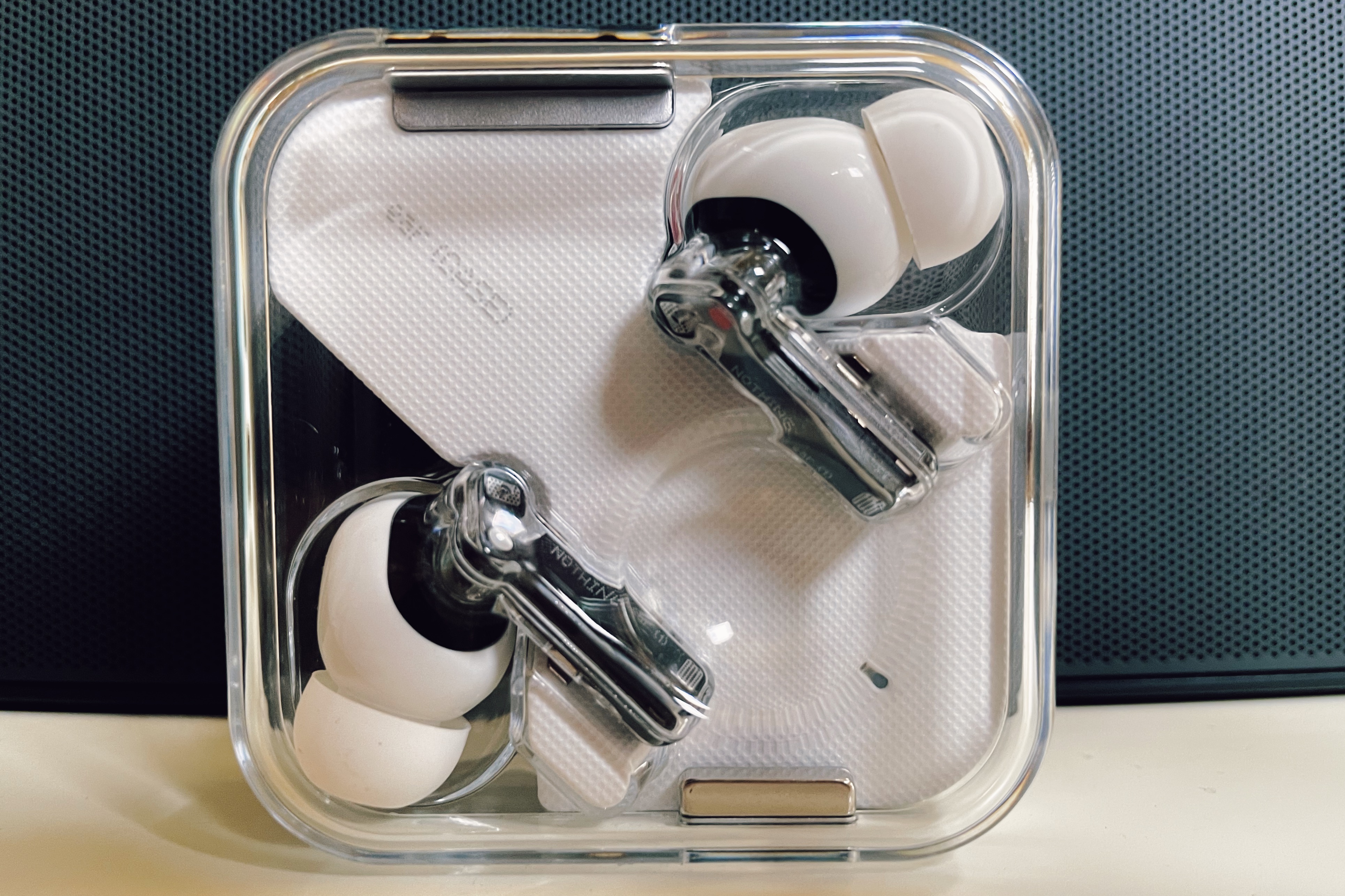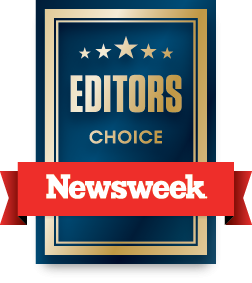 The exterior plastic of the Ear (1) wireless earbuds is clear. The company's name is Nothing. Even the product name, Ear (1), is painfully simple. The shtick around the product's essence provides a clever marketing narrative, but it wouldn't be enough to cover a lackluster device. Luckily, these earbuds are able to stand on their own. The Ear (1) have great bass reproduction, even scarily good with the right songs playing. The earbuds are comfortable and the touch controls work better than most other competitors. The best part is that these features all come together for $99.
There are so many audio products available that it's hard for new ones to cut through the noise unless your name is Apple. Companies jumping into the fold now need to execute all the specs perfectly to plan to have a shot at garnering attention. Here, Nothing has managed to at least meet the hype it has created for itself.
These Ear (1) could easily be your next pair of earbuds. And if they are, I have little doubt you'll love them.
The Sound of Nothing
One of the first songs I played using the Ear (1) was Leon Bridges' "Magnolias." It starts with soft, delicate strumming, which helps demonstrate the clarity of the earbuds. But then, around the 37-second mark, the bass drops. It has the potential to rattle your whole body—it's intense. First, the bass hits and then shakes itself out, down into your core. This is with the default, balanced EQ setting, too. Internally, the earbuds each have an 11.6 mm dynamic driver to push the sound. It's not the biggest one available, but it's effective here and a fair tradeoff between size and sound.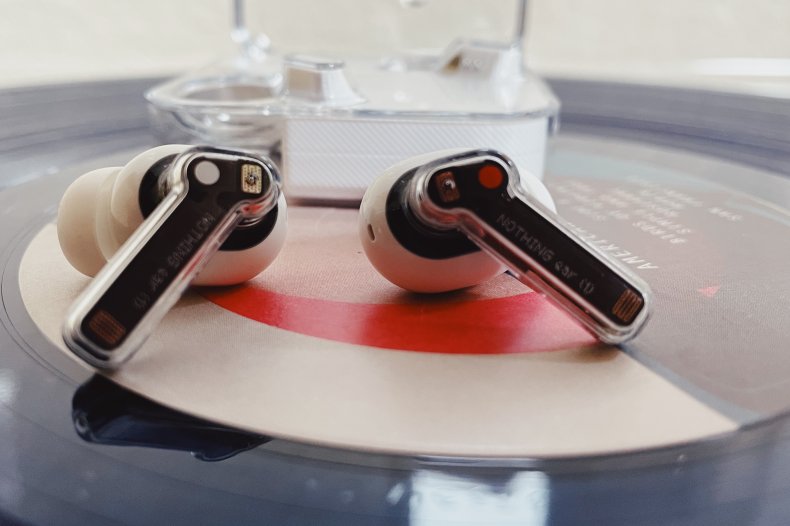 There are three listening modes: two distinct ones, in ANC and transparency, and then off being the third. Of course, music sounds a little richer with outside noise tuned out.
The sound quality found in this product won't rival Sony's latest WF-1000XM4 earbuds, but it does get close to the AirPods Pro that retail for double the Ear (1)'s price. At a lower price point, I really like the Soundcore Liberty Air 2 Pro from Anker, but I do think Nothing's Ear (1) outdoes all other wireless earbuds in its price class. I would also say that unless you're planning on spending $200 or more, Ear (1) might be sufficient and save you some money.
Beyond music, I took a few calls and recorded audio to hear the microphone quality. I was told my voice with the earbuds sounded fine, and my recordings verified that the mics were providing clear enough audio.
Ear (1): Fit, Feel and Features
The clear plastic battery case that houses the earbuds when they're not in use invokes gadgets of the 90s. The look isn't an accident and was modeled on those products now wrapped in nostalgia. Interestingly, because of the Ear (1)'s design, there are little quirks, like its square shape not being as pocket-friendly as another design could be, though it still fits.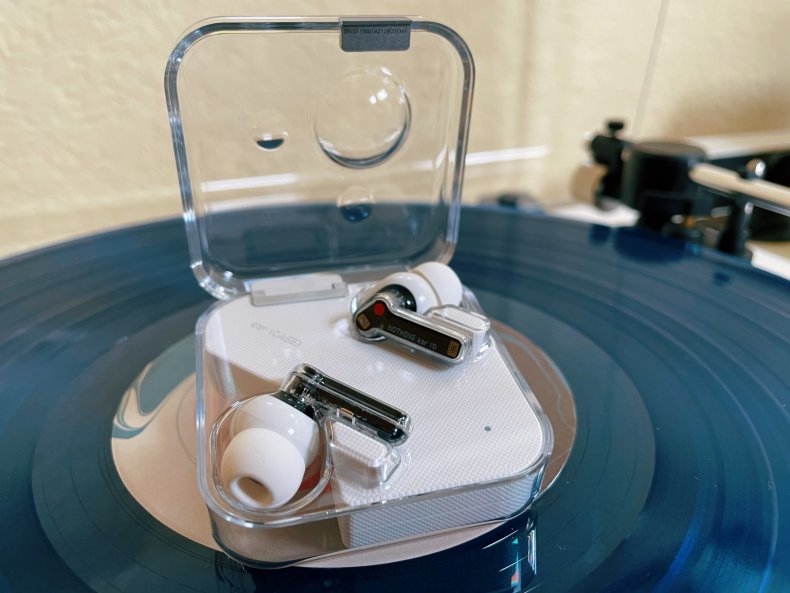 The clear and white case doesn't hide dust or ear wax well. The case will, however, provide plenty of extra battery life. With ANC on, it's an extra 24 hours and with it off, it's 34 extra hours.
Slipping the earbuds out of the case and into your ears is natural. The earbuds are very similar to the shape and size of AirPods Pro, if you've tried those. There are three size rubber ear tips for adjusting and personalizing that come with the Ear (1).
The companion app from Nothing is slick and helpful. Within the mobile app, you can turn on and off ear detection, update the firmware, change the EQ and tweak touch controls. You can use the app to find misplaced earbuds, too. There's a Find My Earbud button that makes both of the earbuds emit a sound. This is helpful for people who lose small things in couch cushions.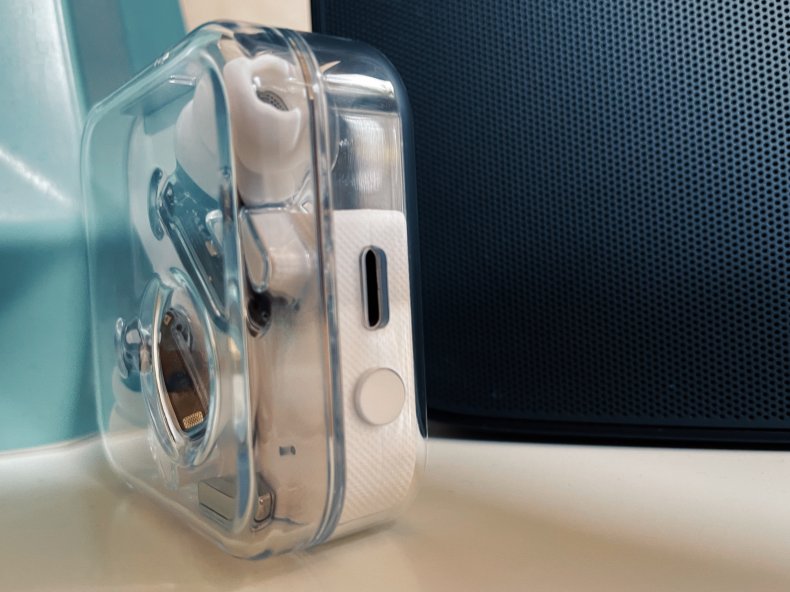 While nearly every aspect of the product is solid, it's not all perfect. I found ear detection to be hit or miss. It worked roughly 80 percent of the time, but on occasion it would miss detecting whether an earbud was removed from my ear. Sometimes the music stopped when I took one bud out of my ear, and sometimes it didn't. Additionally, the touch controls are really good compared with other brands', but not flawless. For example, on a run, my sweaty hair twice activated the transparency and ANC modes by hitting the touch areas. Double tapping seems to register each time, with an audible beep, but occasionally it wouldn't start or stop the audio.
There are minor things you could nitpick—the battery life for each listening session could be longer—but nothing that really compromises the Ear (1)'s value. Plus, the fast-charging case makes battery life almost not worth mentioning.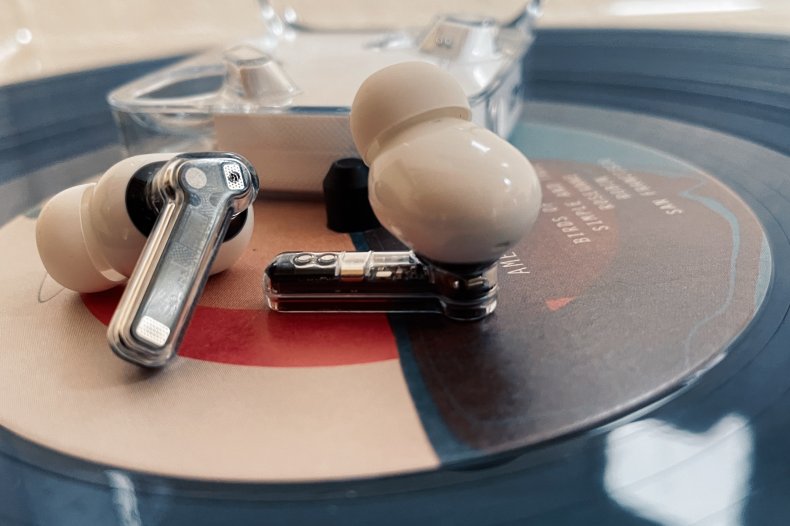 Should You Buy the Ear (1)?
There are plenty of wireless earbuds to choose between—too many in fact—but the Ear (1) from Nothing are probably the best-sounding ones for the lowest price. They include all the modern features and sound brilliant. In this instance, it's the value that's so exciting—along with a solid design. There's nothing budget about the Ear (1)—except their price.
Buy at Nothing.
Newsweek may earn a commission from links on this page, but we only recommend products we back. We participate in various affiliate marketing programs, which means we may get paid commissions on editorially chosen products purchased through our links to retailer sites.