NFL Star Aaron Donald Slams Plans to Play Behind Closed Doors: 'You Need Fans to Play a Game'
Los Angeles Rams star Aaron Donald slammed plans of playing games behind closed doors, suggesting fans are a non-negotiable component of live sports.
Despite the coronavirus pandemic, the NFL plans to begin the season as scheduled on September 10 and earlier this month released a full 256-game schedule for the regular season.
If football does begin in September, games may be played behind closed doors and without fans as the 32 NFL franchises will have to adhere to social distancing measures.
Donald, however, isn't a fan of the proposal.
"You need fans to play a game," the two-time NFL Defensive Player of the Year told reporters on a conference call on Thursday, according to ESPN. "I don't see how you could play a game without no fans, I feel like that takes out the excitement and the fun out of the game... I feel like the fans is what pick you up."
Earlier this week, California Gov. Gavin Newsom said he expected professional sports to make a return in the first week of June but without spectators.
"Sporting events, pro sports, in that first week or so of June without spectators and modifications and very prescriptive conditions also can begin to move forward," Newsom said at a press conference on Tuesday.
However, he ruled out the prospect of allowing fans inside venues.
"The prospect of mass gatherings is negligible at best until we get to herd immunity and get to a vaccine," he said.
While social distancing measures may be relaxed in the coming months, in all likelihood the Rams' home opener in Week 1 against the Dallas Cowboys on Sunday Night Football on September 13 will be played behind closed doors.
The Rams are scheduled to move into SoFi Stadium this season but, like other NFL venues, the new state-of-the-art facility may not welcome fans for the foreseeable future.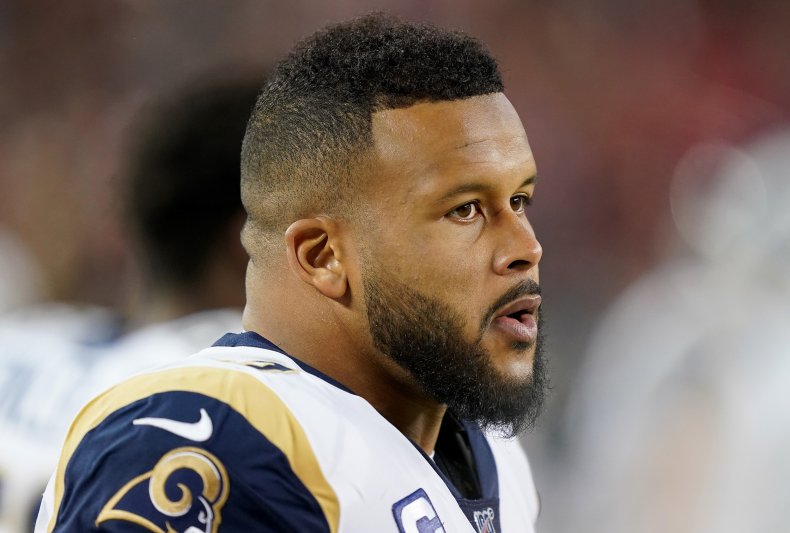 Last week, FOX Sports play-by-play caller Joe Buck hinted that the NFL and TV networks have already drawn up contingency plans to mitigate the lack of fans in the stadiums.
Speaking on Sirius XM's Andy Cohen Live show, Buck suggested FOX Sports would add imitation crowd noises to its broadcast to give games at least a resemblance of atmosphere.
"I think FOX and these networks have to put crowd noise under us to make it a normal viewing experience at home," Buck said.
"It's pretty much a done deal. I think whoever is going to be at that control is going to have to be really good at their job and be realistic with how a crowd would react depending on what just happened on the field. So it's really important."
For Donald, however, technological gimmicks can't replace having real fans in the stadiums.
"The fans is what makes the game exciting," he said. "The fans will give you that extra juice when you're tired and fatigued, when you make that big play and you hear 80,000 fans going crazy. That just pumps you up."
Social distancing measures are expected to remain top of the agenda over the coming months, amid fears of a potential second spike in coronavirus cases.
On Tuesday, Dr. Robert R. Redfield, the director of the Centers for Disease Control and Prevention, said that while states were ready to reopen, the threat of a second wave of infection coinciding with the traditional flu season in the fall loomed large.
As shown in the Statista graphic below, as of Friday morning over 1.57 million cases of coronavirus have been reported in the U.S., by far the highest tally of any country in the world.
Almost 94,800 deaths have been recorded in the U.S. and over 298,400 people have recovered, according to Johns Hopkins University, which has been tracking the outbreak using combined data sources.
More than 333,000 people have died globally since the outbreak of coronavirus was first identified in Wuhan, a city located in China's central Hubei province, late last year. There have been over 5.1 million confirmed cases globally.