Aaron Hernandez Was a Bloods Gang Member Before His Prison Suicide: Police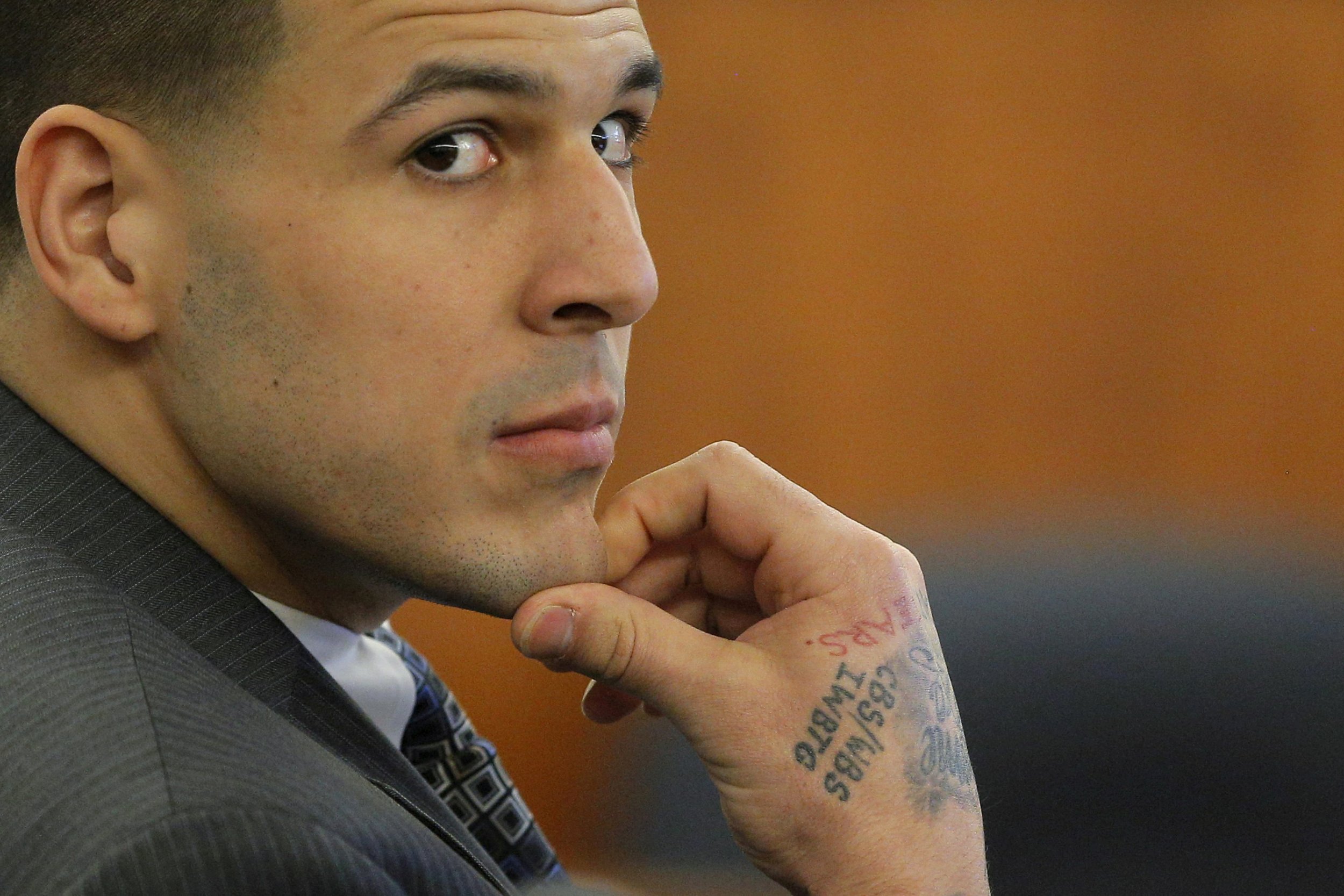 Aaron Hernandez, the late New England Patriots player and convicted murderer who recently took his own life, was confirmed Friday to have belonged to a gang. Authorities in Massachusetts released records that showed police had a gang profile on Hernandez, 27, according to the Associated Press. Under "area frequented," Hernandez was listed as a "Bloods Street Gang member."
It wasn't the first time Hernandez had been identified as such. In December 2015, after Hernandez was found guilty for the first-degree murder of Odin Lloyd and before he was acquitted in connection with the deaths of Daniel de Abreu and Safiro Furtado, he appeared in court with a new tattoo. The ink on his neck showed a five-point star with the words LIFETIME LOYALTY—a common image used by the Bloods, according to Deadspin.
Hernandez was linked to the Bloods in 2013, as well, when Rolling Stone published an in-depth profile on him that included descriptions of Hernandez in college taking "selfies in the mirror while a) wielding a .45 and b) swathed from head to toe in Bloods regalia." Later in the article, an anonymous source says that Hernandez had become paranoid about people killing him, possibly due to addiction or "trying to leave the gang."
Details about Hernandez have been trickling out since his death last month at the Souza-Baranowski Correctional Center. On Friday, the former football player's suicide note to his fiancée, Shayanna Jenkins, was publicized.
"You have always been my soul-mate and I want you to live life and know I'm always with you," he wrote. "Your characteristics is that of a true angel and the definition of God's love! Tell my story fully but never think anything besides how much I love you."
Meanwhile, attorney Jose Baez—who famously represented Casey Anthony in her 2011 murder trial—vowed to continue with his investigation into Hernandez's death.
"Now that the state authorities have completed and closed their investigation into the death of Aaron, we owe it Aaron and his family to conduct a thorough and independent investigation into this tragic death," Baez said in a statement shared with NBC Sports, going on to criticize government officials for leaking documents to the press. "We intend to fully, completely and impartially review all of the evidence in this matter."