People Were Bidding Six Figures on Aaron Hernandez's SUV Before eBay Took Down Auction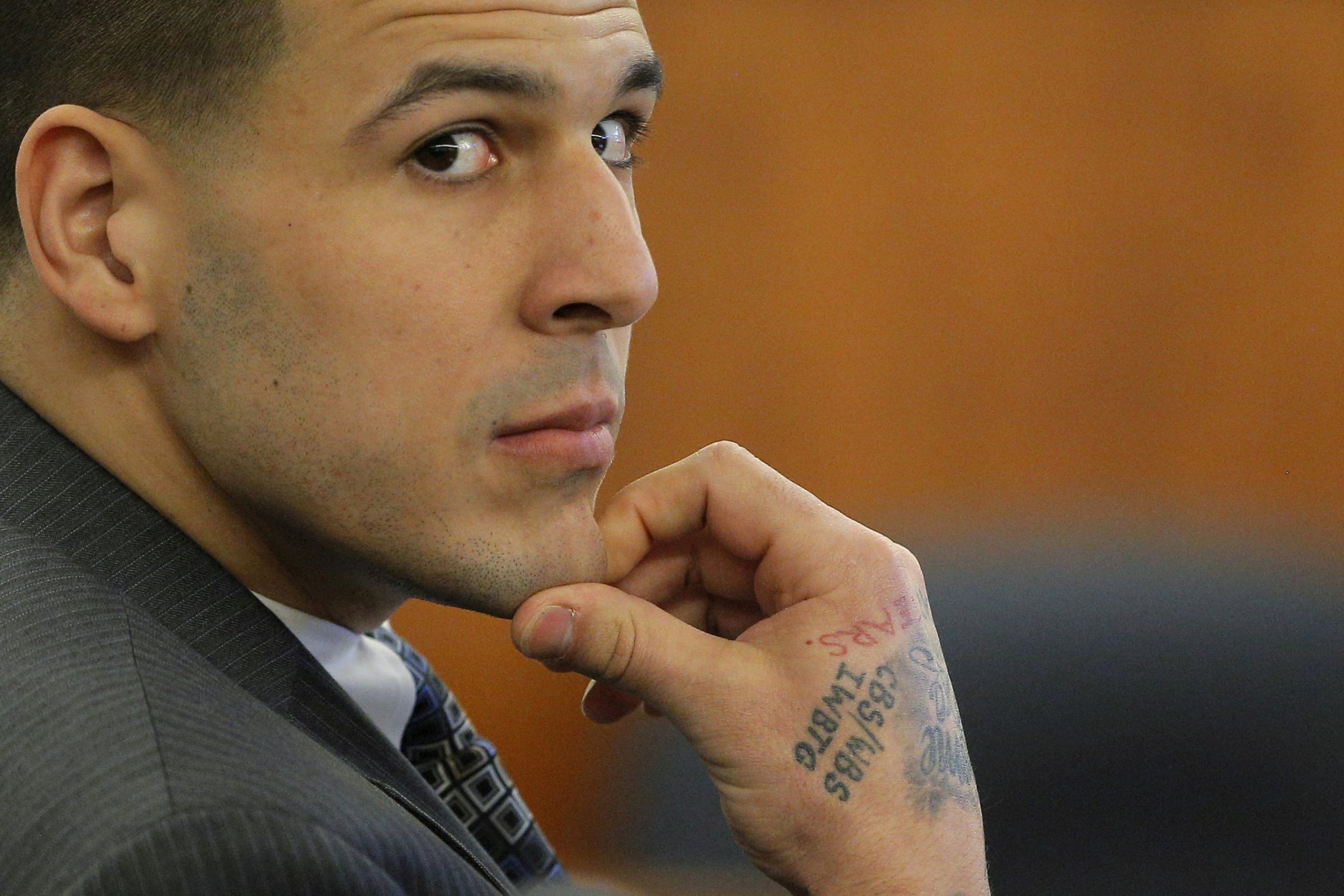 Updated | Five days before Aaron Hernandez hanged himself in his prison cell on April 19, the former NFL player was acquitted of charges related to the 2012 double murder of Daniel de Abreu and Safiro Furtado. On Tuesday, the Toyota 4Runner in which Hernandez was accused of committing the murders went up for auction on eBay, but it was later taken down. Before the listing was removed, more than 100 bids were placed for the silver SUV, with the highest coming in at $101,005.
Related: A timeline of the rise and tragic fall of Aaron Hernandez
The SUV belongs to Jack Fox, a Rhode Island car dealer who had leased the vehicle to Hernandez as part of a promotional deal. Buddy Clair, who is handling the sale of the SUV for Fox, told the Boston Globe that eBay did not provide a reason the listing was removed. The listing read:
This is the REAL DEAL !!! Aaron Hernandez' infamous silver Toyota 4-runner. As seen in the New York Times, we're auctioning off this piece of Patriots football memorabilia ... The Toyota is just the way it came from the [Boston police] impound yard, and still has the black soot on the map lights, and sunroof switch where the police dusted for finger prints!! The SUV has 53,000 miles on the odometer, and runs great !! The winner of the auction will also receive a framed jersey autographed, by Hernandez himself.
Get your unlimited Newsweek trial >
Clair told the Globe he is not sure what is going to happen to the SUV now, but the intention remains to sell it. "It's valuable to somebody and somebody should have the right to own it without being criticized,'' he said. "If we got lucky on this and sold it, we had talked about donating to the people that were involved in the history of it."
If you think the $101,005 bid is a lot of money to offer for a relatively inexpensive car just because it was involved in a high-profile crime, consider the infamous white Ford Bronco that was broadcast carrying O.J. Simpson before he was arrested. While that former NFL star's trial was still ongoing, Al Cowlings agreed to sell it for $75,000, but when it was revealed that the buyer planned to use it on a famous-grave tour that would visit Nicole Brown Simpson's resting place, the deal was canceled. Cowlings eventually sold it to three people for $75,000, and since then its whereabouts have largely remained a mystery.
In 2012, ESPN spoke with Mike Gilbert, one of the Bronco's three owners—and Simpson's former agent. According to Gilbert, the car has mostly been in storage since they acquired it—and they once received an offer of $275,000 for the vehicle. Considering the recent resurgence in interest in the O.J. Simpson murder case, Gilbert and his partners would likely be able to sell the Bronco for many times the previous highest asking price. They have no plans to, though. "If we don't sell it, my stake in it will go to my kids and my grandchildren," Gilbert told ESPN.
Hernandez's silver 4Runner is not likely to appreciate as much as the white Bronco, which is probably why Fox and Clair are so intent on selling it now. They will have to find another avenue than eBay to do so.
Get your unlimited Newsweek trial >
When asked for comment, eBay explained that the item was removed because it violated the site's policy of not hosting items that are related to violent felons.
This post has been updated.
People Were Bidding Six Figures on Aaron Hernandez's SUV Before eBay Took Down Auction | Sports