Can Yankees' Aaron Judge Upstage Bryce Harper in 2017 All-Star Game?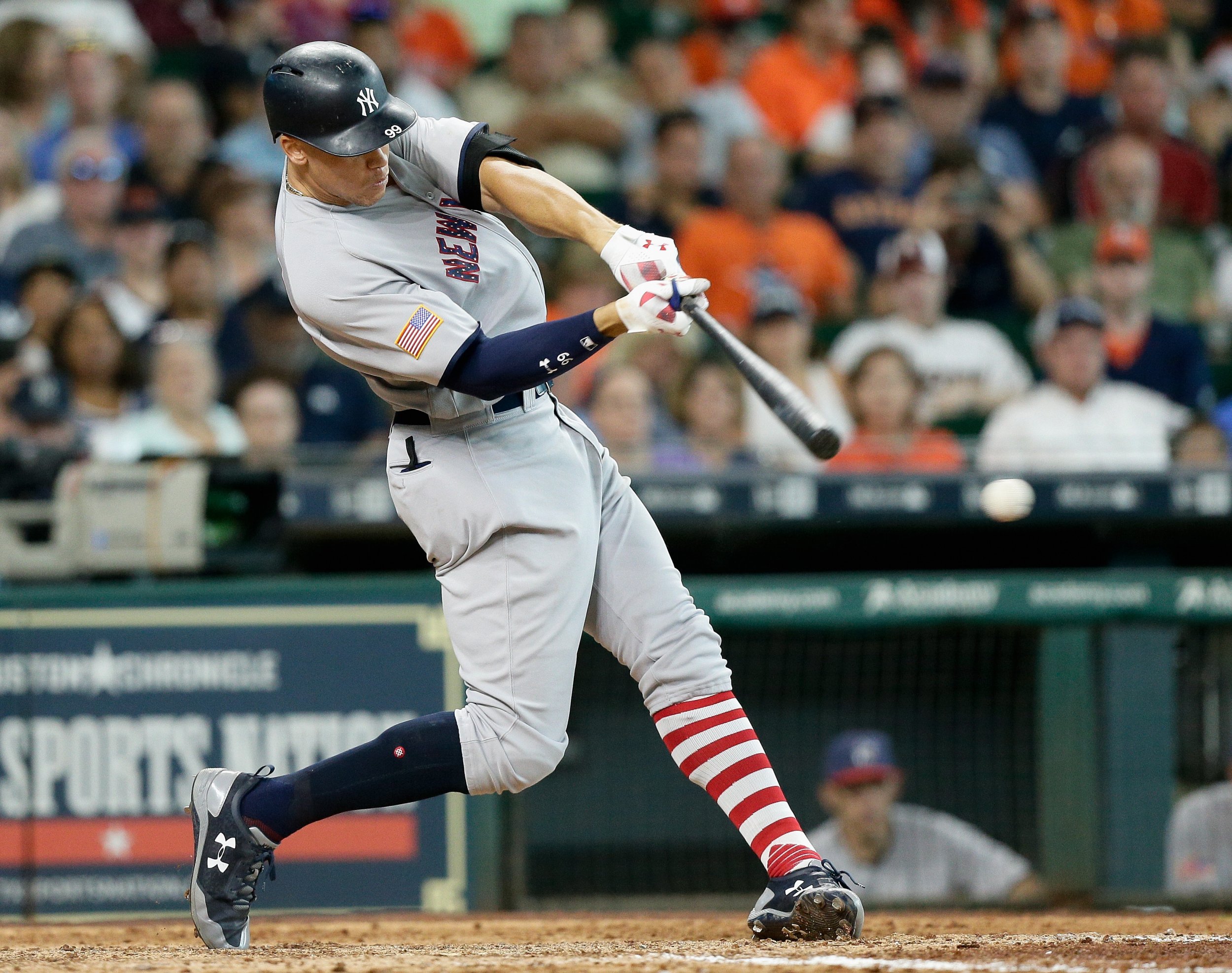 Aaron Judge is heading to the 2017 Major League Baseball All-Star Game as a starter.
Well, of course he is.
Judge, the 25-year-old New York Yankees rookie sensation, will represent the American League after a startling beginning to his first full season as a major leaguer.
The 6-foot-7-inch outfielder leads all players with 27 home runs for a Yankees team chasing the Boston Red Sox in the American League East.
Judge, who will be joined by four other Yankees in Miami, garnered the most votes of any player in the American League, including Mike Trout, the Los Angeles Angels' perennial All-Star center fielder. Trout, 25, was picked as a starter alongside Judge in the outfield despite still recovering from surgery on a torn thumb ligament.
Bryce Harper will start in the outfield for the National League after the Washington National was named to his fifth All-Star game. Harper led fan voting for the National League with 4.63 million, according to ESPN.
It's good timing for Harper. The 24-year-old hammered two two-run homers in the Nationals' 7-2 blowout of the St. Louis Cardinals on Sunday evening at Busch Stadium.
Harper has been an All-Star every year of his pro career apart from 2014. He rebounded the next year with 42 home runs, a career high. His pace this year puts him on course for 41 home runs.
Unfortunately, it looks like there won't be an opportunity for Judge and Harper to face off in the Home Run Derby. Judge has been invited but Harper says there is "no chance" he will appear. Harper said in 2015 he wouldn't participate until 2018, when the All-Star game heads to Nationals Park.
The 2017 MLB All-Star Game will be played on July 11 at Marlins Park in Miami, Florida.
National League starters: C: Buster Posey, Giants; 1B: Ryan Zimmerman, Nationals; 2B: Daniel Murphy, Nationals; SS: Zack Cozart, Reds; 3B: Nolan Arenado, Rockies; OF: Charlie Blackmon, Rockies; OF: Bryce Harper, Nationals; OF: Marcell Ozuna, Marlins.
NL reserves: C Yadier Molina, Cardinals; 1B Paul Goldschmidt, Diamondbacks; 1B Joey Votto, Reds; 2B Josh Harrison, Pirates; 2B DJ LeMahieu, Rockies; SS: Corey Seager, Dodgers; 3B Jake Lamb, Diamondbacks; OF Cody Bellinger, Dodgers; OF Michael Conforto, Mets; OF Ender Inciarte, Braves; OF Giancarlo Stanton, Marlins; RHP Wade Davis, Cubs; RHP Zack Greinke, Diamondbacks; LHP Brad Hand, Padres; RHP Greg Holland, Rockies; RHP Kenley Jansen, Dodgers; LHP Clayton Kershaw, Dodgers; RHP Corey Knebel, Brewers; RHP Carlos Martinez, Cardinals; RHP Pat Neshek, Phillies; LHP Robbie Ray, Diamondbacks; RHP Max Scherzer, Nationals; RHP Stephen Strasburg, Nationals.
NL final-vote candidates: 1B Justin Bour, Marlins; 3B Kris Bryant, Cubs; 3B Anthony Rendon, Nationals; 1B Mark Reynolds, Rockies; 3B Justin Turner, Dodgers.
American League starters: C: Salvador Perez, Royals; 1B: Justin Smoak, Blue Jays; 2B: Jose Altuve, Astros; SS: Carlos Correa, Astros; 3B: Jose Ramirez, Indians; OF: Aaron Judge, Yankees; OF: George Springer, Astros; OF: Mike Trout, Angels; DH: Corey Dickerson, Rays.
AL reserves: C Gary Sanchez, Yankees; 1B Yonder Alonso, Athletics; 2B Starlin Castro, Yankees; 2b: Jonathan Schoop, Orioles; SS Francisco Lindor, Indians; 3B Miguel Sano, Twins; OF Mookie Betts, Red Sox; OF Michael Brantley, Indians; OF Avisail Garcia, White Sox; DH Nelson Cruz, Mariners; RHP Dellin Betances, Yankees; RHP Yu Darvish, Rangers; RHP Michael Fulmer, Tigers; LHP Dallas Keuchel, Astros; LHP Craig Kimbrel, Red Sox; RHP Corey Kluber, Indians; RHP Lance McCullers Jr., Astros; LHP Andrew Miller, Indians; LHP Chris Sale, Red Sox; RHP Ervin Santana, Twins; RHP Luis Severino, Yankees; LHP Jason Vargas, Royals.
AL final-vote candidates: SS Elvis Andrus, Rangers; SS Xander Bogaerts, Red Sox; SS Didi Gregorius, Yankees; 1B Logan Morrison, Rays; 3B Mike Moustakas, Royals.