A Brief History of Derek Jeter and Alex Rodriguez's Roller Coaster Relationship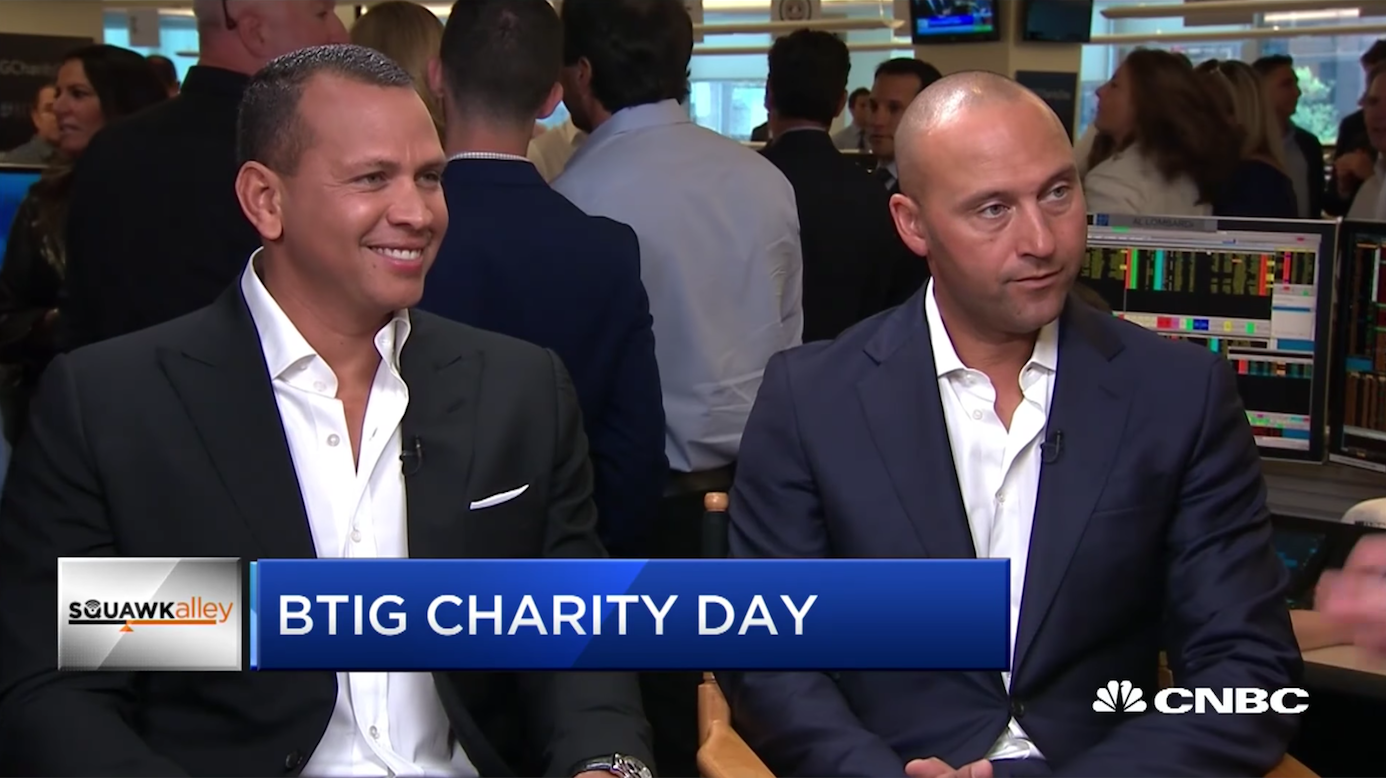 When Derek Jeter and Alex Rodriguez sat down for a joint interview with CNBC recently, interviewer Bob Pisani seemed more interested in the former Yankees' personal lives than the official occasion, the BTIG Charity Day. He asked about Jeter's plans to buy the Miami Marlins, A-Rod's relationship with Jennifer Lopez and even old reports of tension between the two stars. "You're bringing up stories from about 20 years ago," responded a bewildered Jeter. "History Channel," said Rodriguez, with an uncomfortable laugh.
The interview only grew more awkward from there. While both appeared confused by Pisani's line of questioning, A-Rod handled it like the polished media professional he has become since retiring, while a surly Jeter appeared offended. But the soon-to-be Hall of Fame shortstop, who will have his number retired by the Yankees on Sunday, might have been frustrated by more than just the questions Pisani asked. According to ESPN's Dan LeBatard, Jeter's relationship with Rodriguez might still be on the rocks.
"I actually learned, factually, that Jeter was beside himself angry at that interview he had to do with Alex Rodriguez, first and foremost, because nobody told him he'd have to be sitting there next to Alex Rodriguez," LeBetard said Tuesday on his radio show.
Why would Jeter have a problem sitting down next to A-Rod? Let's go all "History Channel" on their relationship, shall we?
Related: Summer of Judge? The Yankees have the best record in baseball
For most of baseball history, shortstop was the weakest-hitting position on the field. In the late '90s, however, the position experienced something of a hitting renaissance, prompting this photograph, which hit its 20th anniversary this year.
The unquestioned leaders of this boom in offensive production from the shortstop position were Rodriguez and Jeter. Both players broke out in 1996. Rodriguez put up a gaudy stat line for the Seattle Mariners, hitting .358 while slugging 36 home runs en route to finishing second in the AL MVP voting. Jeter won the AL's Rookie of the Year Award, but more importantly, he hit .417 in a postseason that ended in the Yankees' first World Series championship since 1978.
Rodriguez and Jeter's first full seasons would serve as microcosms for the bulk of their careers. Rodriguez routinely filled up the stat sheets on average teams, while Jeter routinely came through in the clutch as the Yankees continued to win championships. Because they were valuable in different ways, it was hard to say definitively which player was better. Nevertheless, Jeter received more attention, which caused their relationship to fracture.
The Early Years
Jeter and Rodriguez first met in 1993 at a college baseball game between the University of Michigan (Jeter went to high school in Kalamazoo) and the University of Miami (Rodriguez went to high school in Miami). Rodriguez was allegedly fascinated by Jeter at the time. Top draft picks in 1992 and 1993 respectively, each player broke through as superstars in 1996, and in 1997 appeared together on the cover of Sports Illustrated, As friends, they were inseparable. According to The Captain, a 2011 book about Jeter by Ian O'Connor, players on the Yankees and Mariners would tease each player about his affinity for the other. It looked to be baseball's greatest bromance.
A-Rod's Error
Despite his numbers, Rodriguez didn't garner as much media attention as Jeter. After all, he was playing in Seattle as opposed to New York City. Though the Mariners were competitive, they couldn't approach the allure of the mid-dynasty Yankees. The allure A-Rod's personal life couldn't approach that of Jeter's either, as the pinstriped shortstop quickly became known for his string of high-profile girlfriends. Many feel this instilled a jealousy in A-Rod that would lead to a series of comments that would inflict irreparable damage to his relationship with Jeter.
The first came after Rodriguez signed a historic 10-year, $252 million deal with the Texas Rangers in 2000. "He just doesn't do the power numbers," he told ESPN in reference to why he deserved a bigger contract than Jeter. "And defensively he doesn't do all those things."
Then, in April 2001, he spoke to Esquire:
Alex is unsmiling, hard-faced. "The thing about Mike Lupica that pisses me off," he says, "is that he makes me look like the biggest dickhead in the world, and then he takes a guy like Jeter and just puts him way up there."

So much for the brotherhood of shortstops united under the fatherhood of Honus Wagner.

"There's a big difference," says Boras. "Jeter had seventy-one RBIs and fifteen home runs. Jeter and Nomar last year had fifteen and twenty-one home runs. You can have a golden bulldozer, but if there's no dirt to push..."

"Jeter's been blessed with great talent around him," Alex says. "He's never had to lead. He can just go and play and have fun. And he hits second -- that's totally different than third and fourth in a lineup. You go into New York, you wanna stop Bernie and O'Neill. You never say, Don't let Derek beat you. He's never your concern."
This effectively ended their friendship. Rodriguez drove to Jeter's house in Tampa Bay during spring training to apologize, but things were never the same. "If you do something to hurt [Jeter], that's it, you're done," Mike Borzello, a Yankees player close with Jeter, told O'Connor. "You had your chance."
Not Quite Co-Existing on the Yankees
In 2004, the Rangers traded A-Rod and his astronomical contract to the Yankees. With Jeter entrenched at shortstop, Rodriguez would move over to third base, and the two superstars would struggle to co-exist on the left side of the Yankees infield for the next decade. As we learned in The Captain, their relationship in New York may have been even worse than fans were led to believe.
After Jeter glared at A-Rod following a missed pop fly in 2006, general manager Brian Cashman had to step in and remind the shortstop that everyone can see his resentment. Cashman also told Jeter to "fake" a congenial relationship with Rodriguez. So acrimonious were Jeter's feelings toward A-Rod that the Yankees were afraid to even broach the subject with him. "It would've been the last conversation I ever had with Derek," a Yankee official said in The Captain of bringing up A-Rod to Jeter. "I would've been dead to him. It would've been like approaching Joe DiMaggio to talk to him about Marilyn Monroe."
In 2007, Rodriguez admitted that his relationship with his old best friend wasn't what it used to be. "People start assuming that things are a lot worse than what they are, which they're not," Rodriguez said. "But they're obviously not as great as they used to be. We were like blood brothers."
Yankees fans sided with Jeter, of course. He represented what it meant to be a Yankee in the purest sense, to the point where opposing fans had to acknowledge his greatness and tip their caps (which they did literally in a commercial commemorating the end of his career). Rodriguez, on the other hand, came to emody everything everybody loved to hate about the team. He was overpaid, he was soft and, ultimately, he was a cheater.
Not Quite Making Amends
It appears that Jeter and Rodriguez's relationship softened after Rodriguez admitted that he used performance enhancing drugs. There were reports of the two talking in the clubhouse, and at one point Jeter and then-girlfriend Minka Kelly went out to dinner with Rodriguez and then-girlfriend Kate Hudson.
There have been lingering signs of turmoil, though, or at least frustration at the media's insistence on covering their relationship. In a New York magazine story about Jeter's retirement, the shortstop curtly said, after his longtime counterpart was mentioned, "This is not an Alex story."
In 2016, when Rodriguez was retiring, Jeter reportedly reached out, but A-Rod didn't immediately repsond, saying "his inbox is completely full." Once again, the media began to speculate about the health of their relationship.
Which bring us to Tuesday's report that Jeter was angry he was forced to do an interview while seated next to Rodriguez. Regardless of whether the story was overblown, which is always a possibility when dealing with A-Rod and Jeter, it lends credence to the idea that the gap between the former best friends ultimately will not be bridged. It seemed like they had worked things out as their careers were winding down, but more and more it's looking like Jeter, as Cashman suggested, just got really good at faking it.