Summer of Judge? The Yankees Have the Best Record in Baseball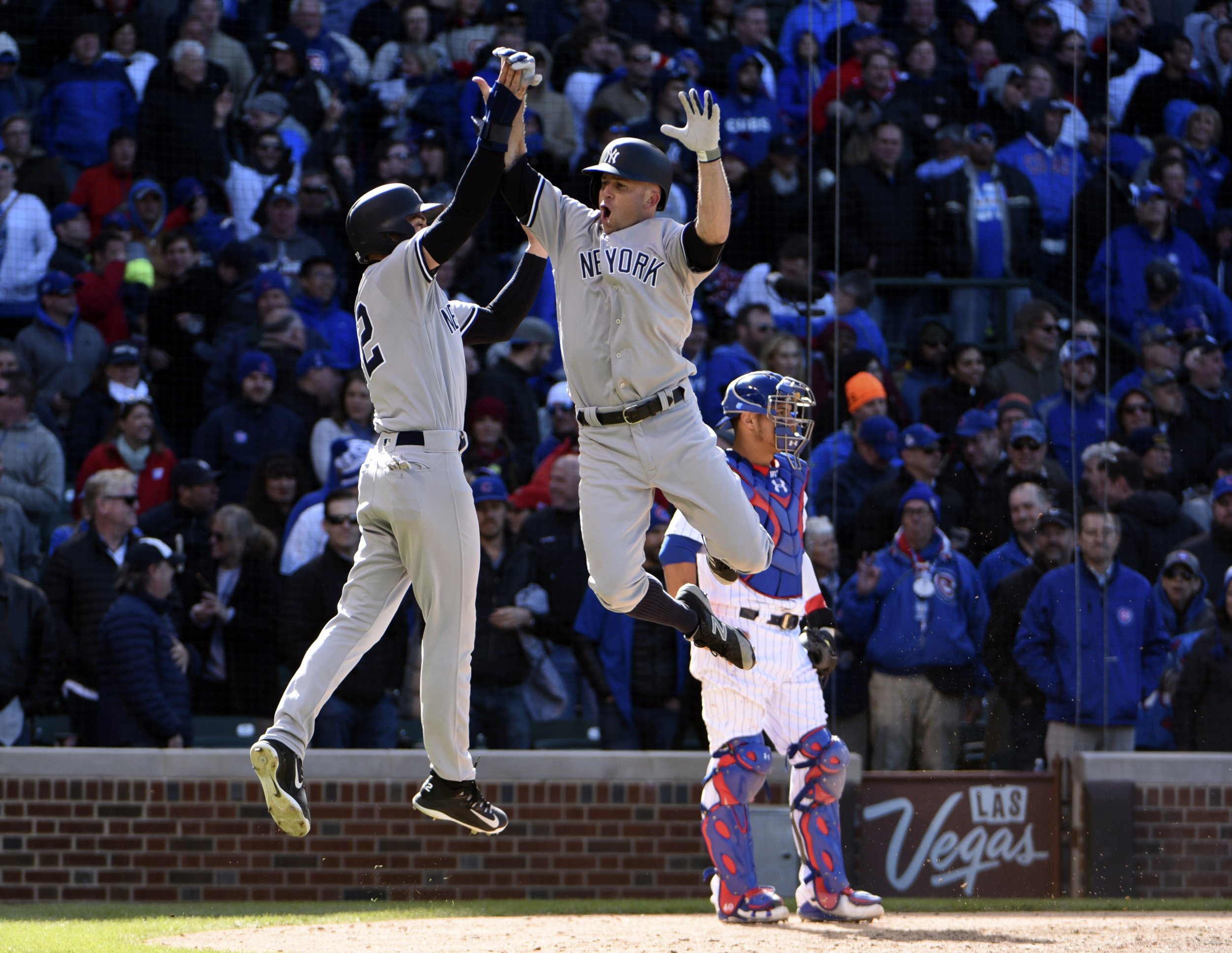 Wake George Costanza! Phone Mr. Wilhelm! The best record in Major League Baseball belongs to the New York Yankees! Those lovable Steinbrenner brothers, the progeny of late owner George Steinbrenner and the current stewards of the franchise, are, at least in terms of sports, making America hate again.
Earlier Monday, in an 18-inning contest that lasted six-plus hours and ended shortly after 1 a.m. in Chicago, the Yankees defeated the world champion Cubs to complete a three-game sweep. The victory pushed the Pinstripers' record to 20-9, or .013 ahead of the Washington Nationals (21-10); that marks the first time time they've owned baseball's best record since September 2010.
It was not easy. In a game that featured a Major League-record 48 strikeouts—a quintet of Cubs whiffed three times while a pair of Yanks took the golden, but not urban, sombrero, striking out four times—the Yankees plated the go-ahead run on a fielder's choice in the top of the 18th. The batter who drove in the winning run, cleanup hitter Starlin Castro, went 0-for-8. Yankee shortstop Didi Gregorius also finished 0-for-8. Castro and Gregorius were New York's two most productive hitters last season.
Related: Derek Jeter with Babe Ruth's swing
But it is no longer 2016. Oh no, Jerry! On the same weekend that the Yankees revival hit its apex, highlighted by a two-out, two-strike, ninth inning go-ahead three-run blast by Brett Gardner on Friday, the New York Mets suspended staff ace Matt Harvey for three days. The Dark Knight failed to report to Citi Field on Saturday, citing a golf outing that led to a migraine earlier that day, but only after the team phoned him at 3 p.m. to inquire as to his whereabouts. At the Major League level, teams only phone pitchers on game day if that hurler is seated in the bullpen.
Shortly before the season began, a Quinnipiac University poll found that the Mets, only 17 months removed from a World Series appearance, had overtaken the Yankees as New York's most popular team. File that away as fake news. The Yanks, who in the past 10 games have overcome a 9-1 deficit against the Baltimore Orioles and now swept the World Series champs, are more popular than the Soup Nazi's cream of mulligatawny.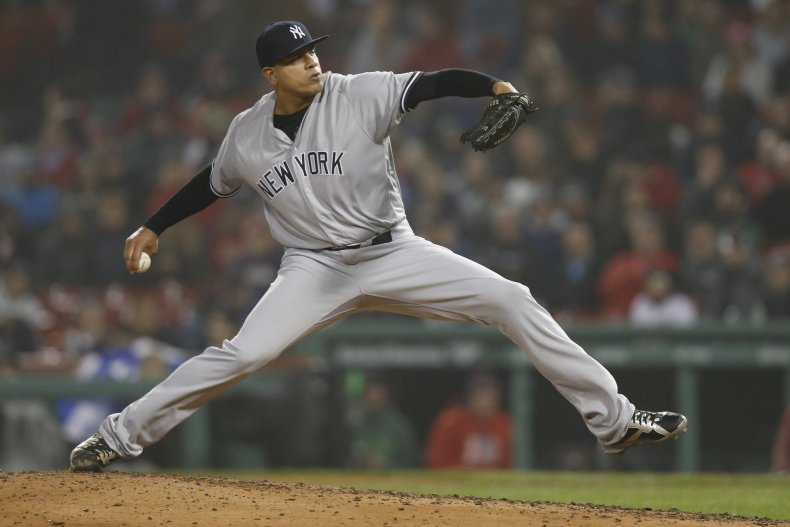 How are they doing it? Partly in an obvious fashion, and partly in an overlooked manner. The obvious part is hitting: Only the Nationals, who boast 2015 Most Valuable Player Bryce Harper and resurgent 13-year veteran Ryan Zimmerman, who is leading the National League in all Triple Crown categories (batting average, home runs and RBI), have scored more runs than the Yanks. New York has the American League leader—outright or tied—in all three of those measures, as Castro is batting .355 (despite Sunday's 0-for-8) and Aaron Judge has 13 home runs and 28 RBI. Summer of George, meet Summer of Judge.
The more subtle, and decidedly less sexy, aspect of New York's hot start has been middle relief. Relievers Chasen Shreve, Adam Warren, Dellin Betances, Tyler Clippard and the aptly named Jonathan Holder have, in that order, the staff's five lowest ERAs. Shreve has yet to allow a run in seven innings, while Betances is averaging a loopy 16 strikeouts per nine innings. Sandwiched around closer Aroldis Chapman blowing a three-run ninth inning lead at Wrigley Field last night, the aforementioned quintet of middle relievers pitched 10 ⅓ innings of shutout ball against the Cubs in their own ballpark. Yankees manager Joe Girardi, a Northwestern alum and former Cubs player and manager, enjoyed his homecoming weekend.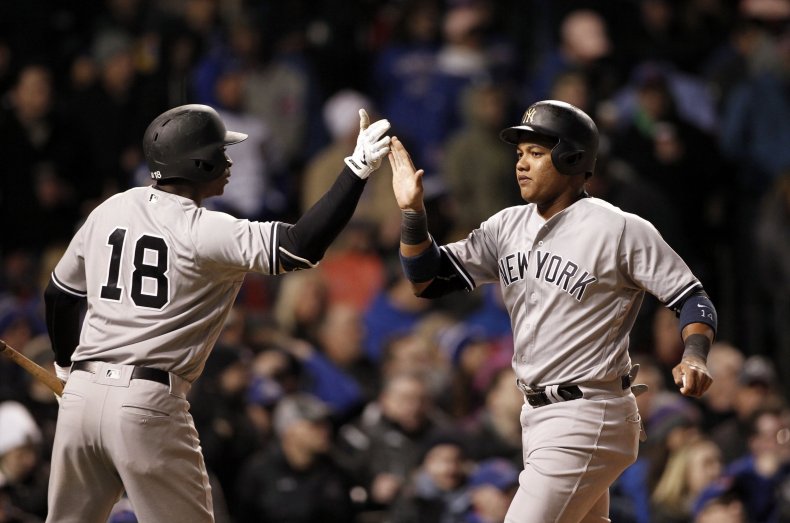 Meanwhile, the Yankees will welcome back The Captain, aka Derek Jeter, on Sunday, Mother's Day, to retire his number. When the shortstop beat out an infield hit for the final time in 2014, it felt as if his mandatory five-year waiting period to be enshrined in Cooperstown would expire before his former team returned to glory. Suddenly, the Yankees are both feared and fun again. Sort of like the late Mr. Steinbrenner once Larry David assumed his bombastic persona.