Answer: This NFL player made top headlines in the sports world last week for nothing that happened on the field.
Question: Who is Green Bay quarterback Aaron Rodgers?
Now, he's making more off-field news. But first, here's the back story.
Hours before the 2021 NFL Draft began on April 29, news broke that Rodgers was unhappy in Green Bay and wanted to play for another team. And minutes before the draft, it was reported that a deal between the Packers and Denver Broncos was "as close to a done deal as it can get."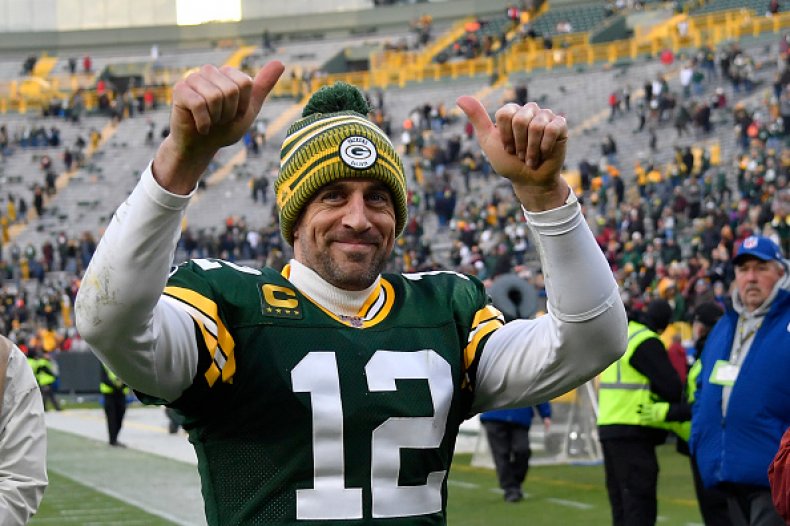 Nothing has happened with Rodgers leaving the Packers, but there's more off-field news about the Green Bay signal-caller. Rodgers, who was a guest host on Jeopardy! in April, has brought the third-highest ratings among the six guest hosts so far.
Rodgers drew a 5.6 rating during his first week, followed by a 5.5 rating the next week. Former Jeopardy! champion Ken Jennings has brought the highest ratings at 6.0 for his six-week stint (Jan. 11 — Feb. 19), and Jeopardy! executive producer Mike Richards followed that with a 5.9 rating.
TV news personality Katie Couric had similar numbers to Rodgers, drawing a 5.5 rating for her time. Dr. Oz, who's a TV doctor, drew a 5.1 rating over his two weeks, but his first week was better than that of news personality Anderson Cooper, who drew a 5.1 rating his first week.
Here are the next Jeopardy! hosts:
May 3-14: Bill Whitaker, 60 Minutes correspondent
May 17-28: Buzzy Cohen, former Jeopardy! champion
May 31-June 11: Mayim Bialik, actress and neuroscientist
June 14-25: Savannah Guthrie, NBC News' TODAY co-anchor
June 28-July 9: Dr. Sanjay Gupta, CNN chief medical correspondent
July 12-16: George Stephanopoulos, ABC's Good Morning America co-anchor
July 19-23: Robin Roberts, ABC's Good Morning America co-anchor
July 26-30: LeVar Burton, actor and former host of Reading Rainbow
Aug. 2-6: David Faber, co-host of CNBC's Squawk on the Street
Aug. 9-13: Joe Buck, Fox sportscaster
The reason for multiple Jeopardy! hosts is because longtime host Alex Trebek passed away at age 80 last November after a lengthy battle with stage-4 pancreatic cancer.
As for Rodgers, he stated it's been a lifelong dream of his to host the popular, and tough, quiz show.
"When I came on the show in 2015 and got to do Celebrity Jeopardy!, I just saw how special this environment was," Rodgers said on the show's website prior to his host gig in April. "I remember thinking, this would be like a dream job."
Rodgers said he remembers watching the show as a child, and that in 2015 he was in awe when he first saw Trebek.
"There's a lot of nostalgia, I think, wrapped up in this show for me because I used to watch it when I was kid. The voice of Alex, it was one of those voices of my youth," Rodgers said. "When he came into the room it was like everything kind of got quiet. It was like 'oh my God, there's Alex Trebek.'"
Rodgers is a three-time MVP in the NFL, including the 2020 award. He's a Super Bowl champion, three-time all-Pro and nine-time Pro Bowl selection. He was drafted in Green Bay as the heir apparent to replace Brett Favre. Then, in the 2020 NFL Draft, the Packers traded up to draft Utah State quarterback Jordan Love in the first round.
Despite a newly-drafted quarterback nipping at his heels, Rodgers completed 70.7 percent of his passes for 4,299 yards and 48 touchdowns against just five interceptions during the 2020 regular season. He also rushed for three touchdowns.
Rodgers led the Packers to an NFC-best 13-3 record last season and home-field advantage throughout the playoffs. The Packers fell to eventual Super Bowl champion Tampa Bay Buccaneers in the NFC Championship game at Lambeau Field.
The Packers have stated they intend on Rodgers being back with the team this season, insisting they haven't lost their quarterback to Jeopardy!, or any other NFL team for that matter.