A couple uncovered a pool in the new house they bought that had been abandoned for more than 20 years, and painstakingly restored it themselves.
Sabrina Pougnet and her husband, Andrew, have been sharing the incredible transformation to their TikTok page, @aspenackley, since they pulled up decking in their backyard to reveal the murky water.
The pair, from Canada, shared a montage restoration video to their page on Sunday, as they condensed months of hard work into one clip. "Saving our abandoned pool from start to finish," they captioned the video.
The video has already amassed more than 2 million views, and can be seen here, with the clip of them initially pulling up the wood to see the pool's condition racking up an impressive 22 million views.
Talking to Newsweek, Sabrina Pougnet said: "We knew the pool was there when we bought the house, but we were unsure of the state of the pool until we removed the deck and drained the water. The fact that this house had a pool closed for so many years didn't affect us wanting to buy it. My husband and I dreamed of having a pool as neither of us had one growing up.
"Uncovering and emptying the pool happened so fast, I don't think we had time to process what was even happening. We knew it was going to be a gross job to clean it out, but we dove right into it, so much so that my husband wore his Nikes to start cleaning it out!
"We didn't stop to think, maybe we should be wearing hazmat suits or protective gear to do this job. After draining the water and removing the sludge to expose the surface rust, we were relieved to learn that the structural damage was very mild and able to be treated"
Recalling what they were initially faced with, Sabrina continued: "The state upon removing the deck was cloudy, dark water and some rust showing on the sides.
"We drained the water to expose a black, thick sludge and the remnants of some little critters and frogs. Unfortunately this pool had been a death trap to so many critters over the years as they would fall through the deck into the rain water that had collected inside."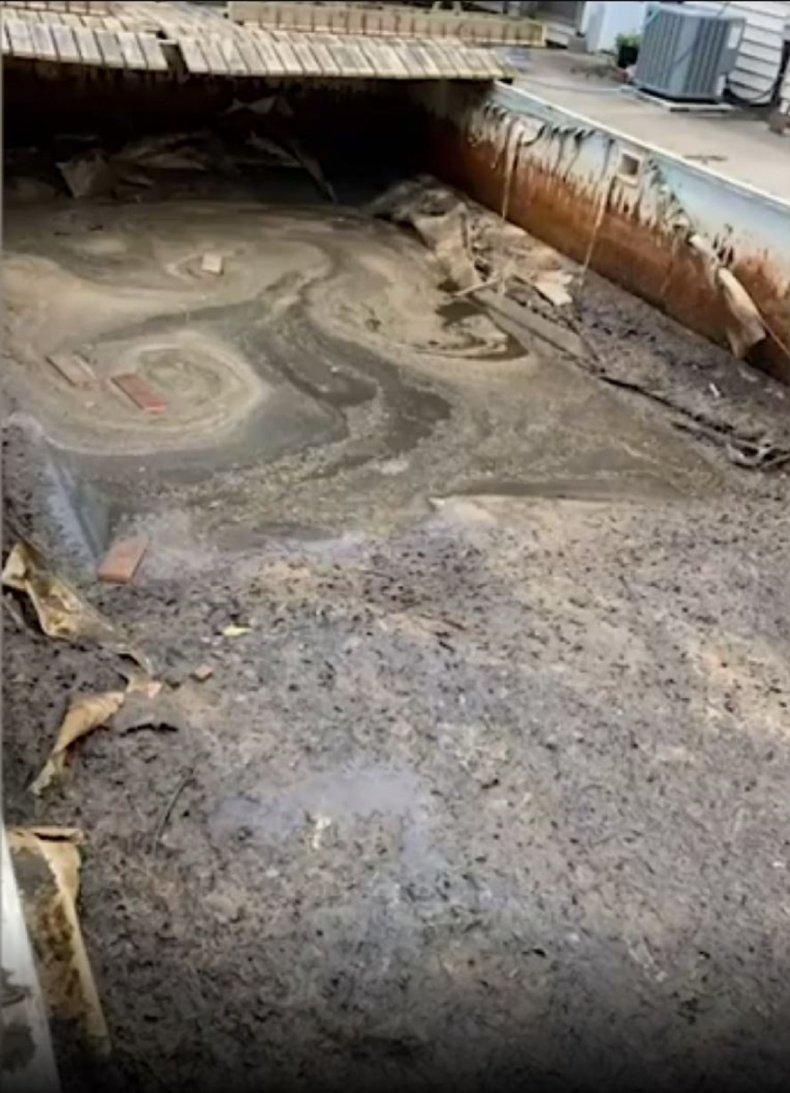 She confirmed all the work was done by the pair of them, apart from installing the liner and stamping the new concrete.
But in the end she was proud of what they'd achieved, confirming they officially went for their first dip on September 1, as she joked: "We are looking forward to this spring when we can open the pool again!"
Sabrina added: "This was definitely the biggest project we've ever taken on, but the only time we wished we had hired someone to do it for us was during the deck removal.
"We cut the deck into smaller sections to remove it but it was so heavy and took about 4 hours in the summer heat to discard.
"The finished product is better than we had ever hoped for! We put so much work into restoring this pool and look forward to enjoying it for many years to come."
In another video, Pougnet summarized the work they did, saying: "We bought this house last year, and for over 20 years the pool has sat with a deck on top of it, so we're completely re-doing it ourselves as a summer weekend project.
"We removed the deck and drained the water from the inside, and scooped out the debris, and at this point we weren't even sure if the pool was salvageable, but thankfully it only had some minor structural damage and rust, which we treated and painted to prep for a new liner.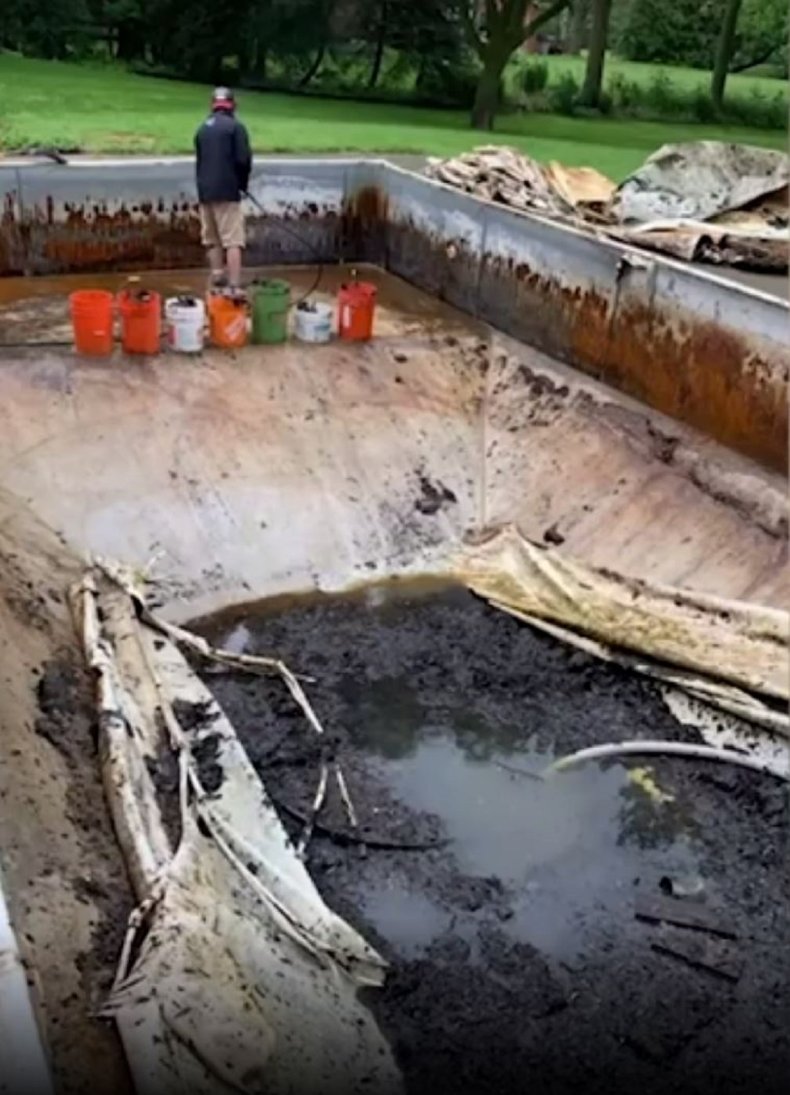 "My superhuman husband removed all the concrete surrounding the pool by hand, which had sunk and cracked over the years. And because we're doing all new lines and plumbing we also re-dug all of the trenching ourselves.
"We poured a concrete pad for our new pool equipment, and have prepped the area for our new concrete which is happening this weekend."
The last jobs were installing the liner, before filling it with water and chemicals, as the pair gleefully jumped into their new, clean, pool to celebrate.
In total, the project cost them $20,000 CAD, as they broke down the costs as $1,000 for new plumbing skimmer jets, pool coping $700, formwork and concrete $7,400, liner $1,800, equipment $2,000, heater and gas line $4,000, water $800, salt $120, fencing $1,700, miscellaneous $500.
Thousands of people have commented on their videos of the pool project, asking everything from how it smelled to how they financed it.
Regarding the stench, Pougnet responded: "Honestly it wasn't THAT bad. A little swampy but I've smelt worse."
While she added: "We honestly just work hard and put any money we save into our projects. We budget for everything."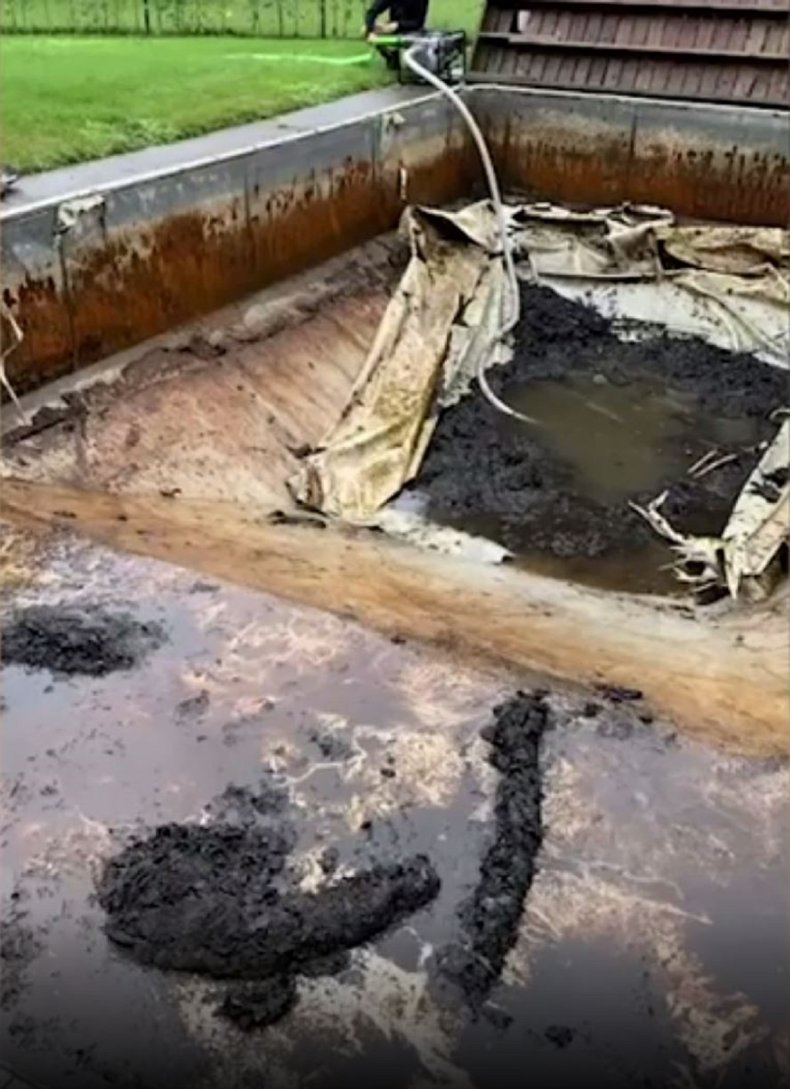 The incredible makeover has been praised online, as people were in awe over the state of the pool when it was first uncovered.
Mike Green asked: "What kind of people would build a deck over an open pool and leave it. SMH. looks awesome!"
Ishandra Reese thought: "I just know the smell coming out from under that deck was NASTY! So glad y'all made it awesome!!!"
Kiralee reckoned: "That's some poltergeist movie pool situation."
Skyla commented: "Imagine if you didn't know it was there and fell through the deck."
While Gerrel added: "that ain't a pool bro that's a nuclear waste disposal."
The duo have been sharing their house renovation online as well, posting to their Instagram, @sabrinapougnet, and YouTube, @SabrinaAndrewPougnet, after buying their home in 2020, as they tackled the interiors before getting started on the pool.
It's likely the pool was a selling feature of the house, as building one from scratch is costly, with website HomeAdvisor.com estimating it can cost between $17,463 and $45,554.
They said: "In-ground pools cost anywhere from $20,000 to $100,000 or more. However, you can expect to pay an average of $39,000 to $70,000. The excavation represents a large percentage of the price."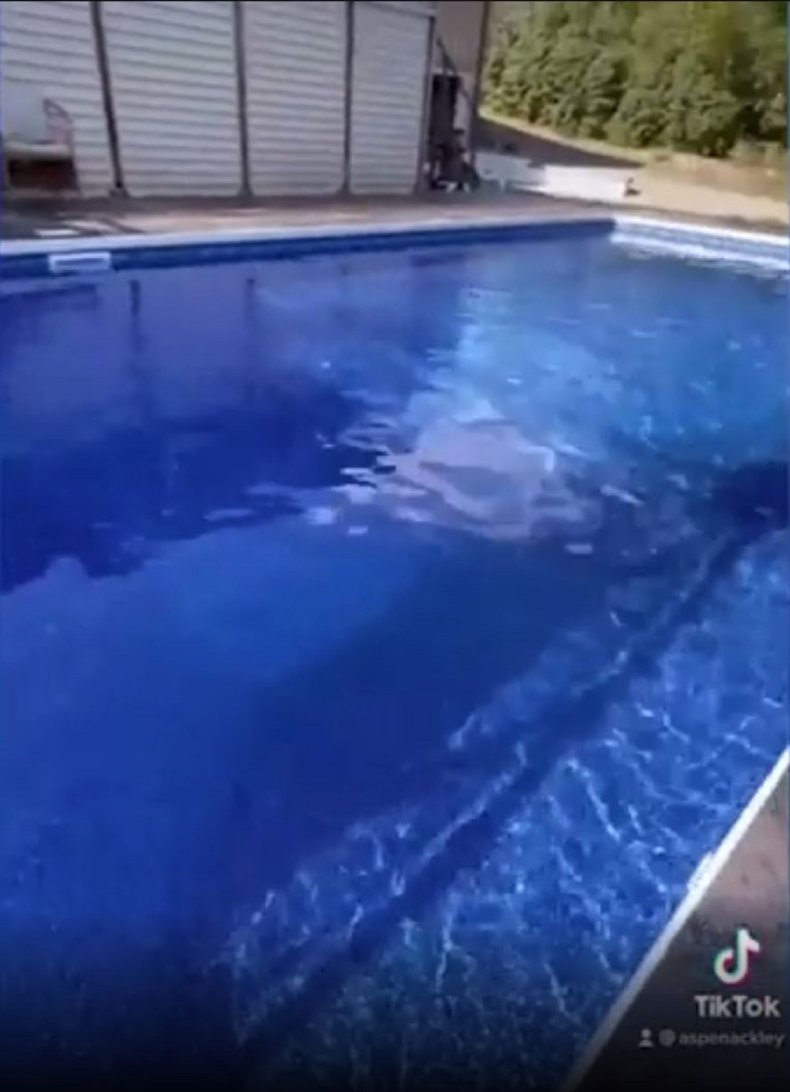 Update 2/2/22, 9:55 a.m. ET: This article was updated with comment, photos and video from Pougnet.