Man Slammed for Throwing Water Over Edge of High-Rise Infinity Pool
A man has been criticized for appearing to splash water onto unsuspecting bystanders on the sidewalk, while swimming above them in an infinity pool.
The man, Zack Fairhurst, who posts under @maddzak, shared a series of clips from the outdoor pool of a high-rise building, thought to be in Philadelphia.
The 21-year-old held his phone over the edge, drifted perilously close to the side while in an inflatable, and precariously sat on the ledge. But it was him intentionally splashing water over the sides that irked followers.
Fairhurst alluded members of the public several stories below were getting soaked from the pool water, as he uploaded several videos from various perspectives, all while chucking water over the edge.
"I hope they have a umbrella!" he joked, in the clip, as he responded to a comment from Fluffysoupacc, who said: "The people getting water dropped on them."
Fairhurst, who confirmed to Newsweek the footage was shot in a "private residence," said: "The water cycles over the edge and sometimes may go all the way over down to the people below."
The 10-part series from the infinity pool, with the most recent shared last month, amassed millions of likes and comments. The most popular video racked up more than 44 million views, and can be seen here.
"Those poor people who got splashed with the water," @_juli3._.n0t._.f0und_ wrote.
Tan_ok said: "No one will know that he splashed them."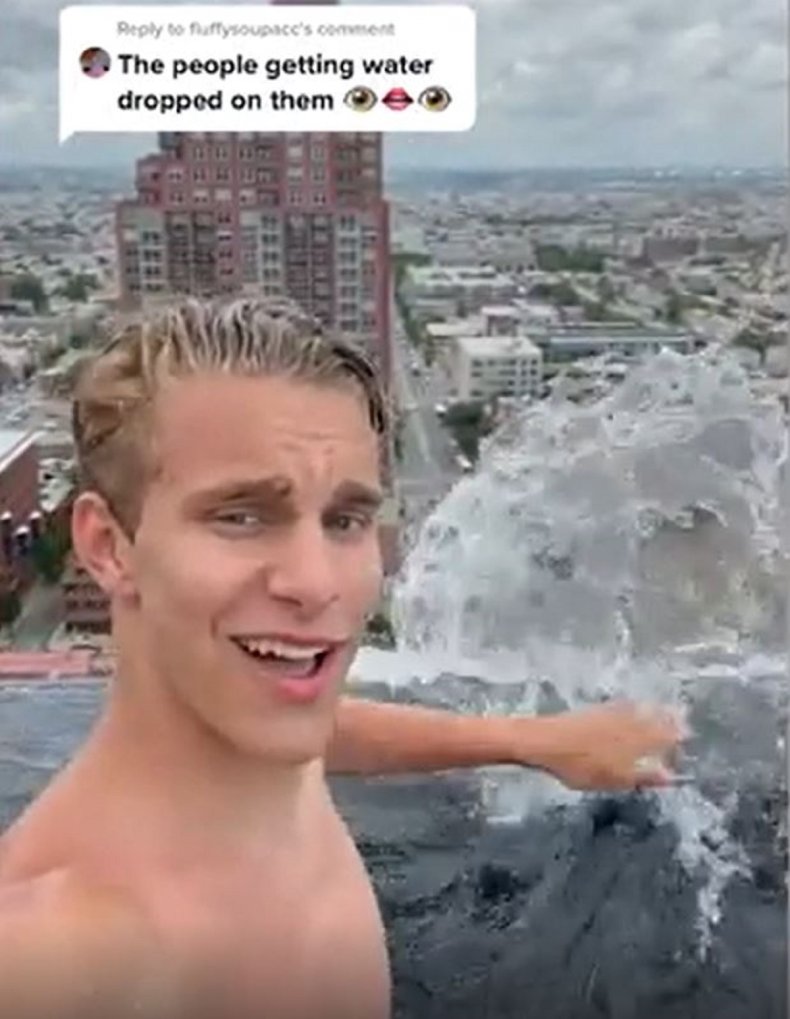 "That's just mean," Kyler wrote, while @_charlidunkin.sussybaka_ said: "Omg this is so wrong"
Jafrmdabrixks thought: "I bet somebody gonna make a vid of water getting dropped on them."
Lexi reckoned: "People below him be like: oh it's raining."
Sean added: "The people at the bottom have to be so confused."
"Imagine someone was ready for an interview and you just ruined their chance, Ayanna Stark commented.
Although The T-Mo joked: "Free car wash."
Maddzak shunned multiple requests to film over the edge, to reveal if the water was actually falling to street level.
But numerous people pointed out the design of infinity pools means it's unlikely water is plummeting to the ground, as these types of pools have a second ledge, to catch water.
Website Ikescarterpools explained: "An infinity pool is a reflecting or swimming pool and typically have one or more exposed walls built a fraction of an inch shorter than the water level, so water overflows into a catch basin below. From there, water is pumped back up to the pool to create a continuous overflow. Infinity pools are designed without a visible cap."
That was echoed by some people in the comments, who claimed Fairhurst wasn't really drenching residents.
Fernanda said: "It's either a drain, basin, or a balance tank over the edge that catches it and goes back in."
Lejob Brames reckoned: "There has to be a balcony or something under because if there was just water falling on people the police would go to his house and talk to him."
Update 9/9/21, 9:16 a.m. ET: This article was updated with comment, video and pictures from Fairhurst.