Abbott Border Order Sparks Fears of 'Invasion' Rhetoric, Racial Profiling
Texas Democrats and activists are warning that Governor Greg Abbott's executive order on immigration offers dangerous echoes of the hardline SB-1070 Arizona law that led to racial profiling of Latinos and was overturned by the Supreme Court in 2012.
Announced on Thursday, Abbott's executive order is the latest in a year of controversial high-profile border policies meant to blunt what he and other Republicans say is the failure of the Biden administration to stem a growing border crisis.
The order authorizes the Texas National Guard and the Texas Department of Public Safety (DPS) to apprehend undocumented immigrants who cross the border between ports of entry and return them to the border. It also seeks to get Texas in the business of immigration enforcement, which is the purview of the federal government, and was at issue when Arizona tried to make its own immigration law with SB-1070.
Abbott said that by failing to faithfully execute the immigration laws enacted by Congress, Biden has "abandoned the covenant" in Article IV, section 4 of the Constitution, that the U.S. "shall protect each [State in this Union] against Invasion."
The order, and Abbott's comments about it, drew strong rebukes from Democrats.
"This is unconstitutional, dangerous, and irresponsible," tweeted Democratic Representative Veronica Escobar, who represents El Paso. "This isn't an invasion and he knows it."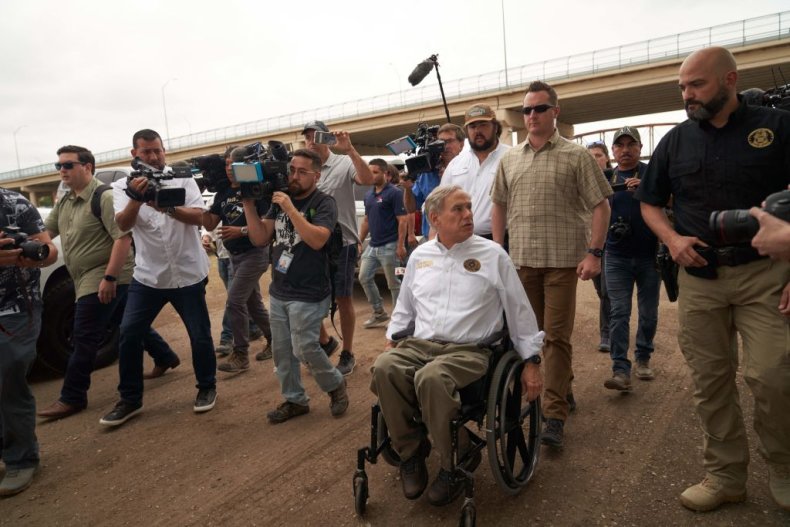 Mario Carrillo, the campaigns manager for the immigration advocacy organization America's Voice, told Newsweek that the order recalls the racial profiling of SB-1070, and could make his parents who are U.S. citizens that live in El Paso a target.
"They don't really speak English," he said. "They thankfully live in a city where they're not going to be subjected to discrimination because of it."
Carrillo is concerned that Abbott's order could lead to his parents being removed from their home.
"But executive orders like this, where Texas DPS [Department of Public Safety] is deputized to do immigration enforcement, my parents might not have ID, they might not understand the questioning," he said. "Does that mean they're going to be sent to a port of entry in El Paso?"
Angelica Razo, the Texas state director of Familia Vota, a national grassroots organization, called Abbott's executive order a "horrifying political stunt."
"This is a terrifying development for all Texas families, given that law enforcement or any individual is now able to target someone because of the color of their skin or their accent," she told Newsweek. "We demand to hear from the governor how he expects to enforce this law, as it will be very difficult to enforce without racially profiling people."
Democrats plan to continue to criticize the "invasion" rhetoric on Wednesday, with Escobar joining Greg Casar, an Austin City Council member and candidate for Congress, on an America's Voice call along with other groups.
America's Voice will include tracking of Republican ads and social media that it says "deploy hate speech that fans racism and encourages violence."
Democrats and advocates are stunned by the continued use of the language of "invasion" around immigration, because the shooter who drove 10 hours to El Paso in 2019 was motivated by invasion fears, and set out to deliberately kill Mexican-Americans and Latinos in a hate-crime shooting that left 23 dead.
"We're mindful that there's a target on our backs again," Carrillo said. "Being from El Paso, there's an added element of fear and uncertainty that he's not the only one pushing invasion rhetoric and replacement theory, and it seems they haven't learned any lessons from the El Paso shooting."
John Wittman, a former Abbott spokesman, said the governor is frustrated by federal inaction.
"The Biden administration has had ample opportunity to step up and do their job and secure the border," he said, "but the governor has run out of patience."
Yet even Texas Republicans who agree with Abbott's view share the concerns of Democrats and Latino activists that the language of Abbott's executive order could lead to overreach and profiling.
Artemio Muñiz, the chair of the Texas Federation of Hispanic Republicans, said Abbott's "language is a bit dangerous."
"Lost in the chaos is the perspective of the Mexican immigrant who has been here for 15 years, works as a roofer, has earned equity and qualifies as an American," he said, pointing to longtime Texas residents as the kind of "hardworking" immigrants for whom he advocates. "I understand Governor Abbott needs to execute the law, but the rhetoric needs to be clarified, because there could be incidents of good, hardworking immigrants being targeted."
Democrats and Republicans both think immigration issues could be helpful to their side in the close governor's race between Abbott and former congressman Beto O'Rourke.
Former Abbott spokesman Wittman said immigration and the border are "top of mind" for Texas voters, and O'Rourke doesn't have good answers for the problems at the border.
The O'Rourke campaign has focused primarily on power grid failures, expanded gun control after the Uvalde school shooting, and the end of Roe v. Wade federal abortion protections. But there is hope on the left now that he will lean into contrasts with Abbott on immigration.
"Beto is especially well-positioned because he was born and raised in El Paso," Carrillo said, "and he understands border communities really well, and that Abbott is going to extremes on immigration, abortion, and with attacks on DACA [the Deferred Action for Childhood Arrivals, created with an executive order by President Obama in 2012]."
"Hopefully Beto can tap into people who are weary of the extremist direction our state is going," he added.