Abortion Clinics Experiencing Surge in Death Threats, Harassment Under Trump, Study Finds
Before Laura Laursen drives to work at a women's health clinic in southern Illinois, where she provides abortions about once a month when she isn't performing them as an OBGYN on the University of Chicago's campus, she first must do some mental preparation. She knows that when she drives up to the clinic, she'll be met with anywhere between two and two dozen anti-abortion protesters. Some of them will be holding signs with blown-up photos of fetuses, while others may be silently praying, letting it be known that they think Laursen, who's been an abortion provider for the last two years, will go to hell.
Either way, Laursen knows what to do: She avoids the physicians-only parking spaces and makes sure she pulls into a spot different from the one where she parked last time, just in case.
"I've gotten used to it by now," Laursen, a fellow at the pro-choice organization Physicians for Reproductive Health, told Newsweek on Tuesday. "But if I were any other kind of physician, this kind of violence and harassment wouldn't be part of my daily job of providing patients with medical care."
Anti-abortion harassment has become more pronounced under the Trump presidency, according to new findings from the National Abortion Federation. In 2017, abortion providers reported 62 death threats or threats of harm, a number that has nearly doubled since 2016. Instances of trespassing more than tripled in 2017, while incidents of obstruction—protesters blocking providers and patients from entering a clinic—rose from 580 to more than 1,700 in the space of 12 months.
Last year also brought the first attempted bombing of an abortion clinic in years, when local police found an "incendiary device" at an Illinois practice in November. (In March, an Illinois attorney charged three men who were also suspected of a Minnesota mosque bombing of the attempted clinic bombing.)
"The protesters are feeling emboldened by the political environment and seeing what they could get away with," Vicki Saporta, the federation's president, told the Associated Press. "They want to make it more difficult to provide care, without going to very extreme forms of violence."
Over the past year, Laursen has noticed the escalation in violence. A few months ago, she said she checked her office mailbox to find a letter directly addressed to her calling her a "baby killer"—the first time she's received direct harassment from anti-abortion activists.
"I was really taken aback," Laursen said. "There wasn't anything violent in the letter, but it was very nerve-wracking to realize that people know I'm an abortion provider and can reach me if they want."
There were 287 more instances of hate mail, like the letter Laursen received, and harassing calls in 2017, according to NAF's report.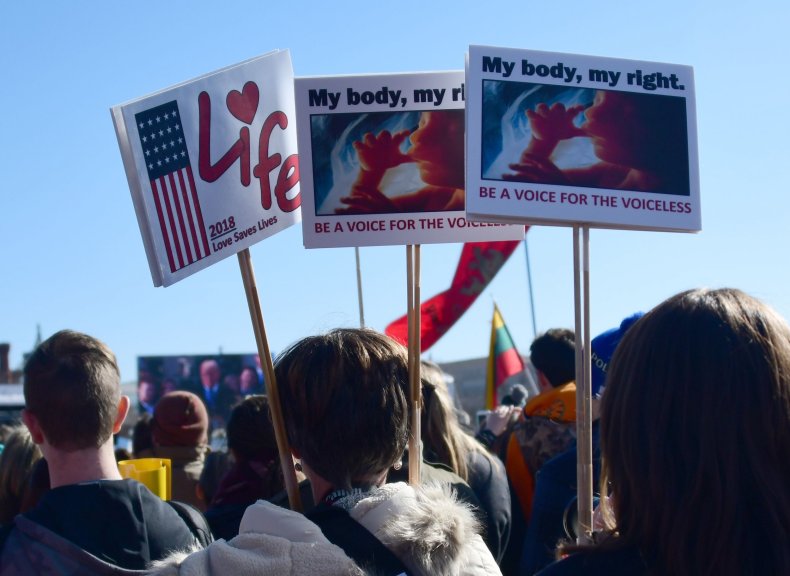 Laursen and NAF's president don't see it as a coincidence that anti-abortion activism is on the rise amid a pro-life presidency.
"We know that hostile rhetoric, including rhetoric from anti-abortion elected officials, can incite some to take the law into their own hands by threatening abortion providers and committing acts of violence," Saporta said in a statement.
During his 2016 campaign, Trump pledged to appoint pro-life Supreme Court justices who would overturn Roe v. Wade, and raised the specter of third-trimester abortions—which are typically performed only in the case of a medical emergency—to argue that repealing the landmark abortion rights decision was a moral imperative.
"In the ninth month, you can take the baby and rip the baby out of the womb of the mother just prior to the birth of the baby," Trump said at the time.
Since taking office, Trump has continued to portray abortion as outright murder, most recently when he became the first sitting president to speak at the annual March for Life in January. "Right now, in a number of states, the laws allow a baby to be born [torn] from his or her mother's womb in the ninth month," he told the crowd via video screen from the White House Rose Garden. "It is wrong; it has to change."
Vice President Mike Pence, who has dubbed Trump the most " pro-life president in American history," has fueled the anti-abortion rhetoric in his own right. At a luncheon for anti-abortion groups in February, Pence said he believes Americans could see an end to abortion rights "in our time."
"Anti-choice people and especially anti-choice extremists are feeling more supported by the president and vice president," Laursen said. "This continued hostile rhetoric from anti-abortion politicians and officials is really emboldening people and taking autonomy away from patients trying to access health care."