On Abortion, the GOP is the Dog that Caught the Car | Opinion
The voters of Kansas, a ruby red Republican stronghold, just soundly rejected a ballot initiative that would have removed abortion protections from their state constitution. What's more, the turnout in that election dwarfed that of prior primary elections, coming closer to rates seen in presidential elections. In short, the Kansas election results ought to send shivers down the spines of Republican election strategists. What was shaping up to be a tsunami of a wave election for them is now showing signs of potentially being little more than a red ripple if not an outright historic failure on their part to take back at least one house of Congress.
Abortion has become a top-tier concern for Americans, with inflation and the economy still leading it by a healthy margin. However, should the economy begin to stabilize and gas prices continue their tumble downward, it is entirely conceivable that by the time November rolls around abortion could well supersede the economy as the top issue on the minds of voters. That's all the more plausible as horror story after horror story circulates of women who needed abortion services but were denied due to the stringent new laws Republicans have rolled out.
Even if abortion were to remain in its current place of importance in the minds of Americans, Kansas has made clear that it's important enough to animate the electorate into delivering a shocking rebuke of the Supreme Court's Dobbs decision which stripped abortion as a right from tens of millions of American women. Relatedly, voters know full well that this was a decision Republicans fought hard for over the course of decades. The notion that they will turn out in droves to vote down an abortion ban but not to punish the party that has been erecting them is increasingly looking like fanciful thinking.
Democratic leaders recognize the outrage over this issue and have been skillfully angling to use it to their political advantage. They have started to press their Republican colleagues on this and related issues in Washington by holding votes on protection for contraception, getting all but eight House Republicans on record as not supporting what an overwhelming majority of Americans view as routine and common sense health care.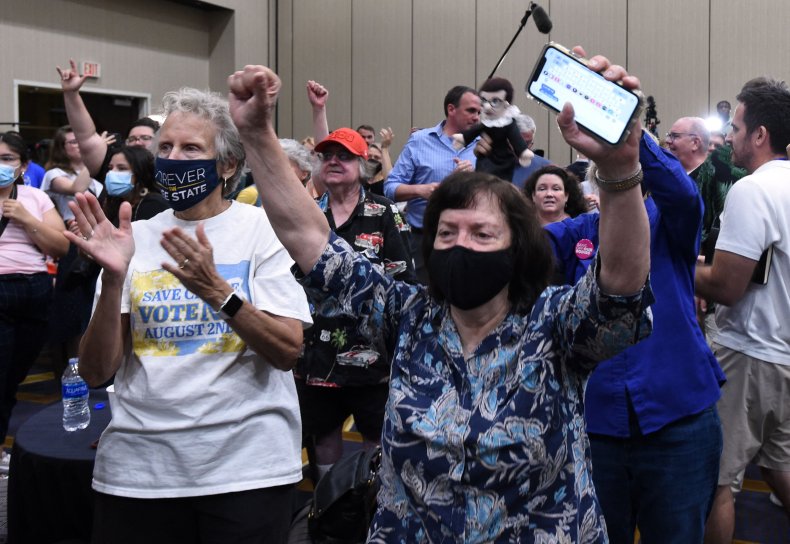 Meanwhile, Republicans are busy churning out party platforms that explicitly disallows abortion to save the life of a mother, even in the case of ectopic pregnancies, which can likely never lead to a child being born and will kill the pregnant woman if not treated with abortive drugs. The GOP is seemingly doing everything it can to show the American public that it isn't just out of touch on this issue, but that they aren't even engaging with incredibly basic medical realities. This hasn't been lost on voters, women especially.
It's been long established that the Republican Party already had something of a gender gap long before Dobbs was decided. However, that gap is growing, and in so doing it is threatening to become a canyon that could serve as a graveyard to the GOP's hopes of leaving Joe Biden without a congressional majority in either house after the midterms. That Democrats could well see one or both houses stay in their column, particularly the Senate, is astounding.
As a general rule, midterm elections almost always go against the president's party. Given that the economy is on shaky ground with inflation at 40-year highs, their majorities were razor thin to begin with, and Biden's approval numbers are at historic lows, the recipe for a Democratic wipeout is met with near perfection. However, some of the most respected election forecasters actually now give Democrats better than even odds of retaining the Senate, and about a 1 in 5 chance of keeping control of the House.
Explaining this confounding situation Republicans find themselves in is rather simple. When it comes to abortion, Republicans are the dog that caught the car. The GOP is a party built on an identity of victimhood, they don't know how to win just like a dog doesn't know what to do with a car it catches up to.
Nicholas Creel is an assistant professor of business law at Georgia College and State University.
The views expressed in this article are the writer's own.