Abortion May Be Deciding Factor in Texas Cuellar-Cisneros Democratic Runoff
During the night of their March primary, progressive challenger Jessica Cisneros was leading Representative Henry Cuellar in their race for the 28th congressional district seat for much of the night before Cuellar overtook her. That set up up a May 24 runoff election, as neither candidate cleared the 50% threshold.
While Cisneros had a shot to win without a third candidate in the race, political observers still saw the election as Cuellar's to lose, with little chance of a race shakeup on the horizon.
But in the wake of the blockbuster Politico report of a draft opinion circulating among the Supreme Court judges which would strike down Roe v. Wade and end federal constitutional protection of abortion rights, a newly emboldened Cisneros and allies believe the time has finally come for the nine-term congressman — and only anti-choice Democrat in the House — to lose.
"Henry's been against a woman's right to choose for a long time, and that may finally catch up with him," a senior Democrat told Newsweek, "because Republicans have gone to the extreme and are disallowing abortion even in the cases of rape and incest."
"And it's getting harder for Democratic leadership to justify supporting a Democrat who is going to allow women to suffer under that kind of Republican rule," the source added.
Tory Gavito, the president of the progressive donor network Way to Win, which helped raise $110 million during the 2020 election and is a Cisneros ally, said the abortion news had not just a practical effect, but also one about what is right and wrong for Democrats as well.
And a May election presents challenges of its own.
"When you think of a runoff at the end of May, it's a sleepy time when we start planning our summer vacations," Gavito said. "She needed to break through and make people understand what's at stake."
Gavito sees choice as a mobilizing issue for the left and a bedrock principle among Democratic base voters, and expects Cisneros to take full advantage of it in order to illustrate the gulf between Cuellar, the longtime centrist incumbent, and herself as a progressive insurgent whose campaign was buttressed by high-profile Texas visits from Senator Elizabeth Warren and Representative Alexandria Ocasio-Cortez.
"Everyone has an independent streak in their relationship to reproduction," Gavito said. "It's a decision you're making with family, clergy, a personal doctor."
She sees the reported Alito opinion as a wakeup call.
"The leak from the Supreme Court has made so real how close we are to women losing rights," Gavito said.
She characterized the momentous report "as one of the first times we're moving backwards on rights," and said it would make voters take stock of whether they think it is the right direction for the country.
After the report, Cuellar sought to stress the nuances of his position rather than reiterate his strong anti-abortion bonafides as he has in the past.
In a statement after the report, Cuellar said the decision was "not based on precedent," and would "further divide the country during these already divisive times."
A lifelong Catholic, he said he had "always been pro-life," but there "must be exceptions in the case of rape, incest and danger to the life of the mother."
Cuellar was the lone Democrat to vote against the Women's Health Protection Act bill, which sought to codify abortion rights into federal law regardless of the fate of Roe v. Wade.
The report and its thrusting of abortion to the forefront of the race was an unexpected variable for the Cuellar campaign, which has seen its advantage over Cisneros erode over time.
After beating Cisneros by 4 points in 2020, when the electorate typically expands in a presidential election year, Democrats working races in Texas expected Cuellar's voters to make up a larger percentage of the electorate in the primary, but he only led Cisneros by 1.5% when the runoff was triggered.
In fact, Cuellar's campaign sent an email blast promoting a visit from the third-ranking Democrat Jim Clyburn last week, only to have the Politico report upend the race just 30 minutes later.
During his visit to a San Antonio barbecue restaurant in support of Cuellar, Clyburn said he doesn't believe in Democratic litmus tests, and that the party is stronger when it has a diversity of opinion within it.
"I'm a Democrat," Cuellar said at the event with Clyburn, "but I follow the words of [Lyndon B. Johnson], who said many years ago, 'I'm an American, I'm a Texan and then I'm a Democrat — in that order.'"
Seizing on the issue, Cisneros has already called for Democratic Party leadership to withdraw their support of Cuellar.
"With the House majority on the line, he could very much be the deciding vote on the future of our reproductive rights," she said, "and we cannot afford to take that risk."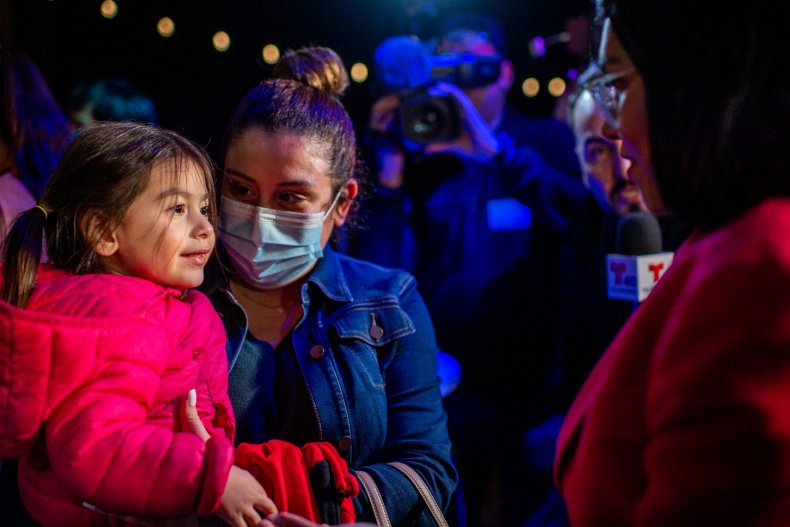 Cuellar came under further fire this week after a Jezebel report that he tried to discredit a staffer he fired who was 28-weeks pregnant and had requested maternity leave.
One of the reasons given by Democrats for supporting Cuellar before the Supreme Court news broke was that he was the most electable candidate running against a Republican in the general election in November, when they believe Cisneros would be vulnerable.
A Cuellar ally told Newsweek that is still the case after the Supreme Court leak, citing private polling they've seen that says he would win, but Cisneros would not.
While they've been on the receiving end of phone calls from Democrats asking about their Cuellar support in light of the urgent news on abortion, they told Newsweek they still support him, because "at the end of the day I'm supporting the Speaker of the House and supporting incumbents."
The source said they believe the best way to defend the House majority is to protect Cuellar, citing his support on Biden's infrastructure law passed last year.
"We want to keep the majority," the source added. "Ultimately, we will leverage our relationships. He's on wrong side of the issue, and we hope that he comes around to the right side of it."
Gavito countered that when people say Cuellar is more electable they're making assumptions about the district in terms of the most likely voters being more conservative, but miss the point that the most likely voters are Democrats who are not going to switch sides.
"What a new champion like Jessica does is bring out base voters and add voters to build out that new coalition," she said. "Cisneros has a better chance of winning because it's such a clear contrast."
In a general election matchup, "Cuellar would be fighting on who is going to out-conservative the other," Gavito said, "when either way a Republican wins."