Abortion News Updates: CSU and UC Schools to Offer Abortion Pills on Campus
Republican Senators have blocked a bill to protect women who travel across state lines for abortions.
Democratic Senator Catherine Cortez Masto of Nevada asked her GOP colleagues to unanimously pass the bill, which aimed to outlaw restrictions on women who travel to another state to get a legal abortion.
Republican Senator James Lankford of Oklahoma blocked the request Thursday, noting that "there's a child in this conversation as well."
President Joe Biden said he would use executive action to protect a woman's right to seek reproductive care in another state after the Supreme Court overturned Roe v. Wade last month.
This comes as the story of a 10-year-old girl traveled from Ohio to Indiana to get an abortion after she was reportedly raped.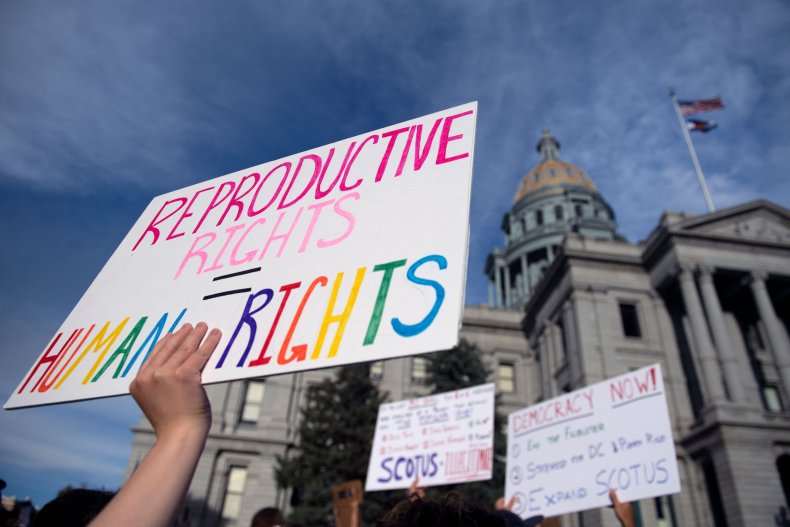 The live updates for this blog have ended.
Cal State and UC Schools to Offer Abortion Pills on Campus
The University of California and California State University campuses will soon offer more access to abortions, freeing up off-campus clinics to offer abortion services to women coming from other states.
The UC and CSU are working to provide abortion pills on all of their campuses by January 1.
Currently, none of the Cal State campuses offer medication abortions and access within the UC system varies by campus.
The university systems said they will implement a 2019 law that requires student health centers to provide abortion pills.
According to Advancing New Standard in Reproductive Health, up to 6,228 students could seek medication abortions on UC and Cal State campuses each year.
Between 322 and 519 students at Cal State or UC schools seek medication abortion, according to a 2018 report. About two-thirds of those students travel at least 30 minutes to reach the closest off-campus clinic.
Offering abortion pills on college campuses will put less of a strain on abortion clinics across California. Those clinics will have more appointments for people seeking care in areas where abortion access is limited and for people coming from states where abortion is illegal.
"Because there is going to be this increase in people coming to California, all of the clinics are going to have, you know, additional demand and kind of struggle with capacity," Cathren Cohen, a reproductive rights expert at the UCLA Center on Reproductive Health, Law and Policy, told CalMatters. "While it's not necessarily going to help all the people coming from out of state, it's just generally going to increase the number of abortion providers."
UCLA's Center on Reproductive Health, Law, and Policy estimates that as many as 8,000 to 16,100 people could come to California for abortions each year.
Planned Parenthood 'Grateful' for Proposed Travel Bill
The Planned Parenthood Action Fund (PPAF) said the organization is "grateful" to the U.S. senators who proposed legislation that would have protected women who need to travel across state lines for abortion services.
Sen. Catherine Cortez Masto of Nevada introduced the bill earlier this week alongside Sens. Sheldon Whitehouse of Rhode Island, Patty Murray of Washington and Kirsten Gillibrand of New York. The "Freedom to Travel for Health Care Act" sought to allow civil action to be taken against those who try to block a woman from traveling to another state to get an abortion.
The proposed legislation was blocked from moving forward by Senate Republicans on Thursday.
The PPAF commented on the blocked legislation on Twitter, saying the organization was "grateful" to the four Democrats who brought it forward for consideration.
In a second tweet, the PPAF went on to thank other Democrats—including Sens. Amy Klobuchar of Minnesota, Michael Bennet of Colorado, Ron Wyden of Oregon, John Hickenlooper of Colorado, Maria Cantwell of Washington and Sherrod Brown of Ohio—who spoke in support of the bill. The PPAF thanked them, as well as Whitehouse and Murray, for their "passionate speeches about the heartbreaking reality of this abortion crisis and fighting to protect the critical right to abortion."
As the proposed legislation was discussed and ultimately blocked in the Senate, Planned Parenthood took action to assist with abortion-related travel between Wisconsin and Illinois, the latter of which Planned Parenthood of Illinois President and CEO Jennifer Welch described as "an oasis for care as millions of patients are stranded in a vast abortion desert," according to the Associated Press.
Klobuchar Makes Plea for 10-Year-Old Rape Victim
Democratic Senator Amy Klobuchar of Minnesota made an impassioned appeal to Republicans Thursday to pass a bill that would allow women to travel across state lines to obtain a legal abortion.
She asked her colleagues to think about the "heartbreaking and enraging" story of a 10-year-old girl from Ohio who went to Indiana to get an abortion after she was rapped.
The girl was six weeks and three days pregnant, making her ineligible to receive and abortion in Ohio based on the newly imposed state ban on abortions at the first detectable "fetal heartbeat."
"This man raped a 10-year-old girl and she got pregnant," she said. "She couldn't even get the care she needed to get an abortion at age 10. She had to go across state lines to the state of Indiana just to get her care."
"Should the next little 10-year-old's right to get the care she desperately needs be put in jeopardy?"
Several Republicans doubted the validity of the of this story. The story was recently confirmed once court documents showed a man was charged with felony rape of a minor under age 13 in Ohio were published.
In addition to calling for the unanimous passage of the Freedom to Travel for Health Care Act, Klobuchar also called on Congress to codify Roe v. Wade to ensure federal protections for abortions.
Lankford Says Biden White House is 'Most Pro-Abortion' in History
Oklahoma Senator James Lankford objected to proposed legislation that would protect abortion-related travel across state lines in a speech he delivered Thursday on the Senate floor.
Lankford's office referred to the legislation as a bill that promoted "abortion tourism" in a statement on his website. Lankford and other Senate Republicans blocked the bill from moving forward on Thursday.
The debate among legislators about the bill "is not just about the right to travel, and the right to health care," Lankford said. "It's deeper than that. It's the right to live."
Lankford said there were "two people in this conversation" and criticized how a pregnancy is viewed as "just tissue" by some of his colleagues. "There's a child in this conversation," he said.
Lankford then criticized the extent to which President Joe Biden's administration has supported abortion legislation.
"This administration has quickly become the most pro-abortion administration in American history, and has rapidly moved to accelerate abortions across the country," Lankford said. "While millions of other Americans just asked a simple question: 'Does that child in the womb have the right to travel in their future? Do they get to live?' Some would say, 'No, they're terribly inconvenient. They need to die.' Others would say, 'Why don't we actually live by our values, including the right to life?'"
Lankford questioned the need for the bill, saying abortion-related travel between states is not currently against the law.
"I look forward to the day when we're talking more about that little girl, and less about misinformation," he concluded. "I object."
Pelosi Says She Knows More About Childbirth Than the Pope
House Speaker Nancy Pelosi said Democrats will not negotiate with Republicans on women's reproductive rights.
"It's not up for negotiation," she told reporters Thursday. "What are you going to negotiate? Whether a woman can have contraception? Is that cause for negotiation? Whether people can have birth control?"
Pelosi said reproductive care is her "wheelhouse" because she had five children in six years and one week.
"Republicans have sometimes said on the floor that Nancy Pelosi thinks she knows more about having babies than the pope," Pelosi said. "Yes, I do. I think any pope would agree."
Pelosi said this issue is about respect and freedom of reproductive health for women.
"It's not about politicians and negotiating that," she said.
Biden Disappointed After Republicans Block Abortion Law
President Joe Biden expressed his disappointment after Senate Republicans shot down a bill that would protect women who travel across state lines for abortions Thursday.
"Immediately after [Roe v. Wade] was reversed, I laid out how our Administration would use executive action to protect a woman's right to travel across state borders to get the care she needs," Biden said in a tweet.
"Today, Senate Republicans blocked a bill that would make that right a law."
The bill, proposed by Democratic Senator Catherine Cortez Masto of Nevada, would outlaw restrictions on women traveling to receive legal in other states.
After the Supreme Court overturned the landmark abortion case Roe v. Wade last month, trigger laws went into effect, putting near-total bans on abortions in several states. Many women will now be forced to travel out of their state to get reproductive health care in places where abortion is legal.