Abortion Rights Advocates Alarmed As SCOTUS Signals Possible End to Roe v. Wade
The U.S. Supreme Court's conservative majority indicated on Wednesday that it may overrule Roe v. Wade, the court's landmark decision that legalized abortion nationwide almost 50 years ago.
During almost two hours of oral arguments in Dobbs v. Jackson Women's Health Organization on Wednesday, questions from the six conservative members of the court hinted that they were inclined to uphold a Mississippi law that would ban most abortions after 15 weeks of pregnancy.
The ruling in the Mississippi case could decide the fate of Roe, along with the decision in Planned Parenthood v. Casey which reaffirmed Roe in 1992.
The court's decision isn't expected until June or July. But following the arguments, pro-choice organizations shared their alarm at the prospect of a ruling that could lead to abortion becoming illegal or severely restricted in about half of the country, according to the Guttmacher Institute, a research organization that supports abortion rights.
"During today's arguments, it was alarming, though not surprising, that the majority of the Supreme Court justices appeared prepared to allow politicians to control what we can do with our bodies," Alexis McGill Johnson, president and CEO of Planned Parenthood Federation of America, said in a statement.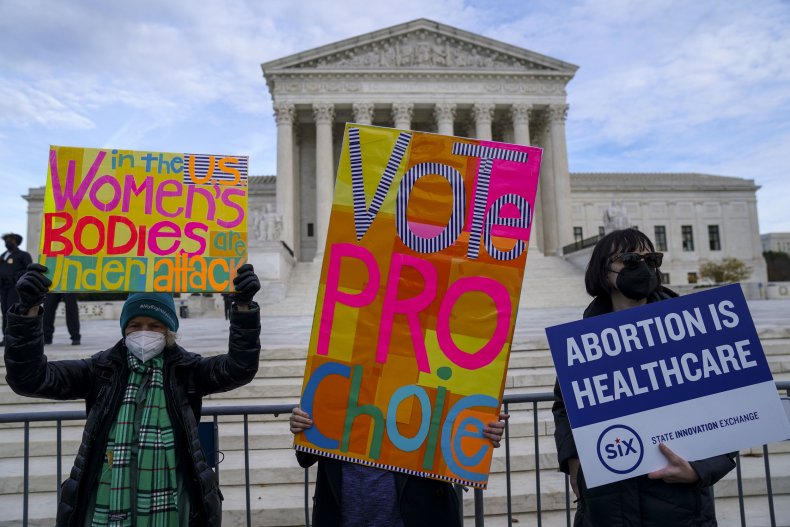 "Let's be clear, if the Supreme Court allows Mississippi's ban to stand, it will erase nearly 50 years of precedent, put abortion access at risk across the country, and, in the words of Justice [Sonia] Sotomayor, create a 'stench' in the public perception of the Court and its legitimacy."
Johnson added: "While we cannot predict how the Court will rule in this case—or in the case on Texas's radical abortion ban, which has now been in effect for three full months—it's clear we cannot rely on the courts to protect our rights. This fight is at everyone's doorstep, and we must all show up for our communities and take proactive measures to protect abortion access, including passage of the Women's Health Protection Act by Congress. Know this: Planned Parenthood will continue to do everything we can to provide and protect your access to health care—no matter what."
In a tweet, Johnson added: "We're at a crisis point—and we refuse to just stand by. Together, with all of our partners across the country, we will once again deliver a clear message on this day of action: Keep your #BansOffOurBodies."
Nancy Northup, the president and CEO of the Center for Reproductive Rights, said: "Today, both inside and outside the Supreme Court, it was abundantly clear that taking away the constitutional right to abortion would be a travesty of justice.
"One in four women in the United States has an abortion during her lifetime. The Supreme Court has long recognized that because of the impact on her life, health and future, this decision is a protected liberty right under the Constitution. Nothing in law or fact warrants taking this right away."
Shannon Brewer, the clinic director of Jackson Women's Health Organization, added that the energy outside the court on Wednesday was "overwhelming."
"It gave me some sense of hope that we will and must win. The ability to control your own body and future should not depend on where you live," Brewer said.  "We have fought for so long and so hard to keep our clinic doors open and the fight is not over."
Meanwhile, anti-abortion activists appeared confident the court's decision in the case would hand them a win.
Speaking outside the court, March for Life president Jeanne Mancini said she was speaking "on behalf of the millions of Marchers calling for the Supreme Court to protect the inherent dignity of the human person and to empower women to choose life."
She said: "Much to the dismay of abortion activists pro-life Americans have not become desensitized to abortion, in fact, just the opposite has occurred. The March grows every year and I can't think of a more tangible or hopeful sign that Roe and Casey are not settled law."
Brent Leatherwood, acting president of the Ethics & Religious Liberty Commission of the Southern Baptist Convention, tweeted: "Today was a good day for the pro-life movement at #SCOTUS."
In a statement, Leatherwood added: "While it is difficult to predict the ultimate outcome in any case by simply listening to oral arguments, the Court has before it a once-in-a-generation opportunity to dismantle the abortion framework that has built up following the decisions in both Roe and Casey. The Court should not hesitate to do so."