Abortion Rights Are About Human Rights, Not Politics | Opinion
Everyone should have the freedom to make personal decisions with those they love and trust, especially when it comes to reproductive health care, without interference from politicians. Abortion rights—guaranteed across the nation since 1973 by the Supreme Court's landmark Roe v. Wade decision—are now threatened by new cases before the high court, endangering the reproductive freedom of all women and girls.
Abortion restrictions harm everyone, but Black Americans would be especially hard-hit by new restrictions or outright bans on abortion that the conservative majority on the Supreme Court may allow states to impose later this year. That's because of the numerous inequities that continue to unjustly penalize our Black population after hundreds of years of systemic racism.
Black people on average have lower incomes and less access to affordable health care than other groups and as a result are hit particularly hard by restrictions that further limit the accessibility of reproductive health care, including abortion.
States could still choose to permit abortions even if the right to terminate a pregnancy that was upheld in Roe v. Wade is severely restricted or eliminated by the Supreme Court. But states could also choose to limit abortions to the first few weeks of pregnancy—before many women even realize they are pregnant—and impose other restrictions, perhaps going as far as banning abortions entirely.
Congress can't tell the Supreme Court what to do, but lawmakers can pass legislation to protect the rights of Americans in many areas, including the right to decide their future.
A law protecting abortion rights is urgently needed today.
The House of Representatives passed the Women's Health Protection Act last September to preserve abortion rights. However, the bill is stuck in the Senate, where the opposition of Republicans and a few Democrats makes achieving 60-vote supermajority needed to overcome the filibuster rule a challenging proposition.
The legislation is needed not just in anticipation of a possible new Supreme Court decision against abortion rights, but to overturn nearly 500 state laws that have been passed since 2011 to restrict the right to choose an abortion.
These laws have forced many clinics providing abortion care to close, leaving 90 percent of U.S. counties without any abortion providers and five states with only one abortion clinic. Some of the laws ban abortion so early in pregnancy—about six weeks in Texas, for example—that they make it almost impossible for women to learn they are pregnant and schedule an abortion in time.
The Women's Health Protection Act would give people throughout the nation the right to get abortions without medically unnecessary restrictions and would uphold the right of health care professionals to provide abortion services without fear of lawsuits or prosecution. This would be welcome guarantee of reproductive autonomy for all.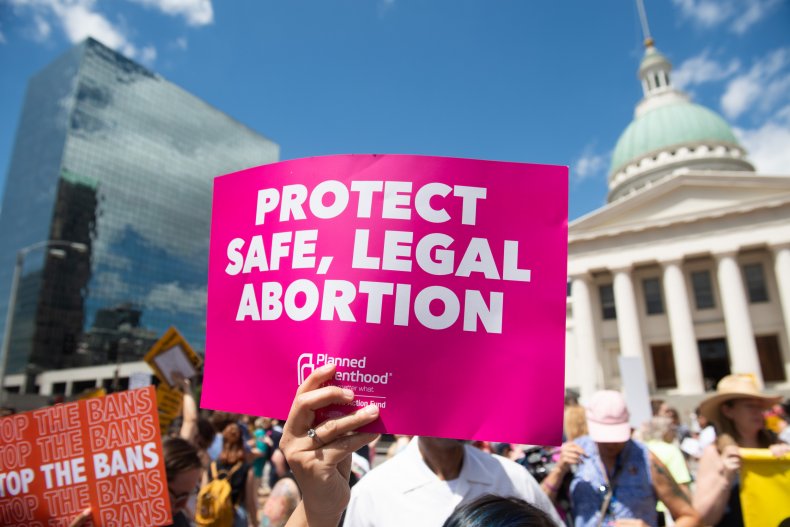 It's important to understand that outlawing or severely restricting abortions never has and never will end abortions. Individuals with the financial means can simply travel to other states for abortions if their home states don't offer the procedure.
At the same time, pregnant individuals with low incomes, child-care responsibilities, or jobs they are unable to leave for days—who are disproportionately Black—are forced to turn to illegal and unsafe abortion providers when safe and legal abortions become unavailable. These individuals sometimes suffer grievous injuries and even death from illegal abortions. The Women's Reproductive Health Act gives individuals the right to decide to have an abortion if they wish. It's long past time that we recognize this ability to control one's own reproductive destiny as a basic human right.
In the days of slavery, enslaved African Americans were denied all human rights. Black women and girls were often raped and beaten and required to give birth to children who would become enslaved themselves. Children were cruelly taken from their mothers to be sold as property.
For generations, Black women have been leaders in the fight for human rights and justice. As we transition from Black History Month into Women's History Month, it is an appropriate time to reflect on the accomplishments and courage of these women.
To cite just one example: The late Representative Shirley Chisholm (D-N.Y.), who in 1968 was elected as the first Black woman to serve in Congress and in 1972 became the first to seek a major-party nomination for president, sponsored abortion rights legislation in the House. She also served as the honorary co-president of the National Abortion Rights Action League (now known as NARAL) and co-founded the National Organization for Women.
In 1994, a group of Black women calling themselves the Women of African Descent for Reproductive Justice published a groundbreaking statement that became the backbone of the reproductive justice movement. Reproductive justice—defined by SisterSong as "the human right to maintain personal bodily autonomy, have children, not have children, and parent the children we have in safe and sustainable communities"—is born out of the lived experiences of Black women in this country.
Today, Black women head major reproductive rights organizations including Planned Parenthood, the National Women's Law Center, Power to Decide, Physicians for Reproductive Health and the Guttmacher Institute, and continue to lead the fight for reproductive health and abortion access. And we may soon witness the first Black woman serve on the United States Supreme Court. It couldn't come at a more crucial time.
We should heed the call of these leaders that taking away the reproductive freedom women achieved in 1973 would be a grave injustice. Politicians should be looking for ways to ensure access for all and to make the promises of Roe a reality for everyone—not attempting to roll back the clock. And politicians should understand that rolling back the clock would outrage millions of women and men and likely galvanize them to support pro-choice candidates in this year's elections.
In every state in the nation, Republicans as well as Democrats need abortions. Supporting the bodily autonomy of women and girls should be about freedom and human rights, not politics. There is no justification for any elected official to oppose the Women's Health Protection Act.
Donna Brazile is an ABC News contributor, veteran political strategist, an adjunct professor in the women and gender studies department at Georgetown University and the King endowed chair in public policy at Howard University. She previously served as interim chair of the Democratic National Committee (DNC) and of the DNC's Voting Rights Institute. She is the author of several books, including The New York Times' bestseller Hacks: The Inside Story of the Break-ins and Breakdowns That Put Donald Trump in the White House. Her Twitter is @DonnaBrazile.
Congresswoman Barbara Lee is co-chair of the Congressional Pro-Choice Caucus, a member of the House Appropriations Committee and chair of the Subcommittee on State and Foreign Operations. She serves as co-chair of the Steering and Policy Committee, former chair of the Congressional Black Caucus and chair emeritus of the Progressive Caucus. She also serves as chair of the Majority Leader's Task Force on Poverty and Opportunity. As a member of the House Democratic leadership, she is the highest ranking African American woman in the U.S. Congress.
The views expressed in this article are the writers' own.