A Fourth of July parade in Michigan's capital city ended early after its planned route was blocked by abortion-rights protesters.
An abortion-rights protest scheduled to take place near the parade route in Lansing on Monday was meant to be "peaceful" and had not set out with the goal of disrupting the parade, organizers wrote in recent days on the protest's Facebook event page.
The Fourth of July parade was slated to start at 11 a.m. local time, where it would travel "around the capitol loop," according to parade organizers.
Shortly after festivities began near the State Capitol building, the parade halted when abortion-rights protesters blocked its path, according to the Lansing-based television news station WILX.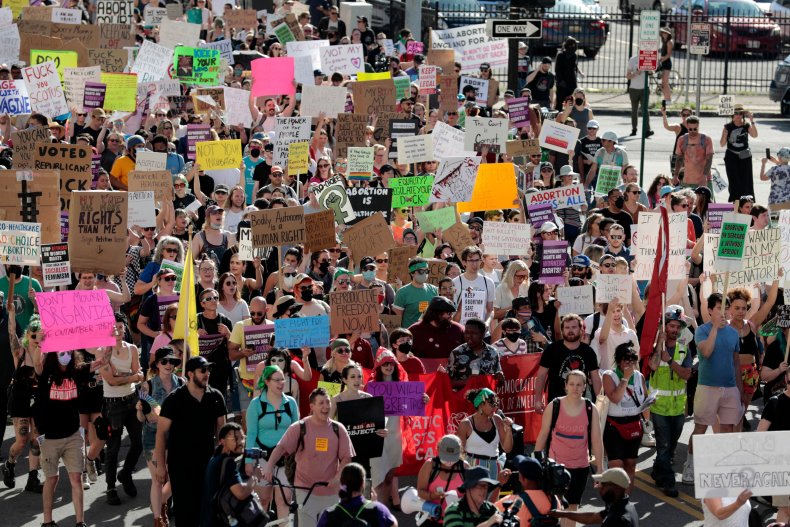 Local media outlets reported the parade had traveled less than one block of distance before it stopped.
The parade was rerouted behind the State Capitol, but protesters again blocked its path and the event ultimately ended early, according to 9 & 10 News in northern Michigan.
Thousands of people showed up to protest, 9 & 10 News reported.
Protest organizers planned Monday's protest in the wake of the U.S. Supreme Court's recent decision in Dobbs v. Jackson Women's Health Organization, which overturned Roe v. Wade and sparked a wave of abortion-rights and anti-abortion protests across the U.S.
For Monday's event, protesters planned to gather on the lawn outside the State Capitol at 10:30 a.m., shortly before the parade was to begin.
Protest organizers invited people "who feel we have nothing to celebrate as our rights were just stripped from us" to join. About 1,700 people responded to the Facebook event saying they planned to attend.
On Thursday afternoon, one of the protest organizers posted a message on the Facebook event page to "clear up any confusion or misunderstandings" about the protest. They wrote that its intention was not to disrupt the parade.
"We will not be getting in the way of their route or stopping the parade from taking place," the organizer wrote. "We will not be showing any aggression or violence toward the parade OR the people there to support the parade OR any counter-protestors who may be there."
The organizer discouraged attendees from using noisemakers while the National Anthem played, instead suggesting they "turn their back to the flag."
There was "misinformation" spreading leading up to the protest, the organizer added. They noted law enforcement officials were aware the protest would be taking place at the same time as the parade.
"I would like you to please reiterate the fact that this will be PEACEFUL, and we absolutely will NOT be blocking or disrupting the city-planned parade," the organizer wrote.
Newsweek reached out to the Lansing Parks and Recreation office for comment.