About 500 Passengers Now Banned From Flying on Delta for Refusing Masks: Report
Delta has banned nearly 500 passengers from future flights for refusing to adhere to the company's face mask requirements.
The company's CEO, Ed Bastian, revealed this number in an internal memo sent to employees on Thursday. The memo was obtained by Newsweek on Saturday.
"Throughout the pandemic, we have focused our efforts on protecting our people, our customers, and our communities," Bastian wrote in the memo. "Wearing a mask is among the simplest and most effective actions we can take to reduce transmission, which is why Delta has long required them for our customers and our people."
"As of this week, we've added 460 people to our no-fly list for refusing to comply with our mask requirements," the memo continued.
On May 4, JetBlue became the first major U.S. airline to require face masks on board, with Delta and other large airlines following shortly after. As of May 11, all passengers and crew members are required to wear a face covering when flying with any of the major U.S. airlines, including Delta, American Airlines, United Airlines, JetBlue Airways and Southwest Airlines among others.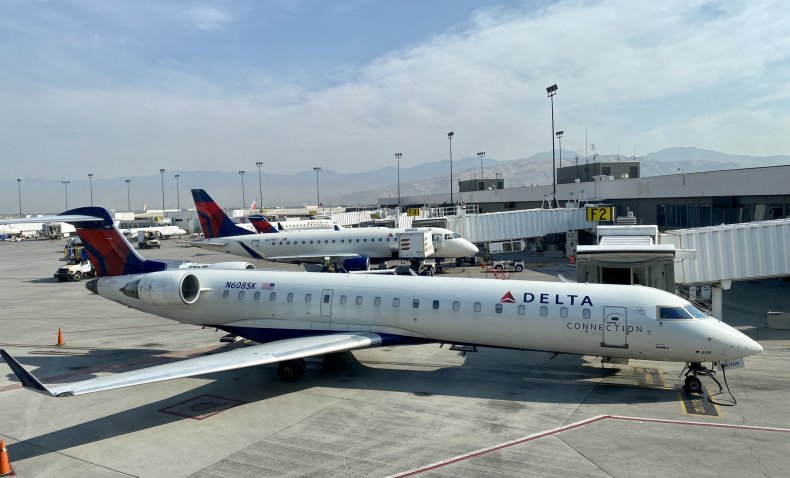 In June, Delta joined United Airlines and American Airlines in stating that the airlines could place travelers on an internal travel restriction lists if they violate safety policies, including not wearing a face covering. Placement on the list would result in taking away that traveler's privilege of using the airline in the future.
The number of travelers banned due to noncompliance with Delta's mask requirement has steadily increased since taking effect, according to a report by WSB-TV Channel 2 Action News.
Delta stated its policy on its website. Passengers and the airline's employees are mandated to wear a face covering "on board the aircraft for the duration of the flight – except limited time while eating or drinking," the company noted.
It further added: "Customers with unique mask requirements should bring the appropriate face covering that best meets their needs. Customers with underlying conditions that explicitly prevent the wearing of a face covering or mask are strongly encouraged to reconsider travel or should be prepared to complete a 'Clearance-to-Fly' process prior to departure at the airport. If you require this exemption, please arrive early to complete the process during check-in and avoid missing your flight – this process can take over one hour. Please arrive early to allow for additional time."
Delta also said that face coverings are required at the airline's lobby check-in, Delta Sky Clubs, boarding gate areas, and jet bridges.