Delta Airlines Will Ban Passengers Who Refuse to Wear a Mask
Delta has become the latest major U.S airline to say it will ban passengers from future travel if they refuse to wear a face covering while on board the aircraft.
In an internal memo obtained by Newsweek, Delta CEO Ed Bastian told all employees Thursday morning that customers who choose not to comply with the airline's mask mandate "risk losing their future flight privileges with Delta."
The airline has already had a few situations in which a passenger refused to follow safety requirements, Bastian wrote.
"We have already banned some passengers from future travel on Delta for refusing to wear masks on board," the memo stated.
On May 4, Jet Blue became the first major U.S airline to require face masks on board, with Delta and other large airlines following shortly after. As of May 11, all passengers and crew members are required to wear a face covering when flying with any of the five major U.S airlines.
But many passengers have reported seeing both uncovered travelers and flight attendants, leading to questions about how the policies are actually being enforced by the carriers.
Delta has now joined United Airlines and American Airlines in stating that they could place travelers on internal travel restriction lists if they violate safety policies, taking away their privilege of using the airline in the future.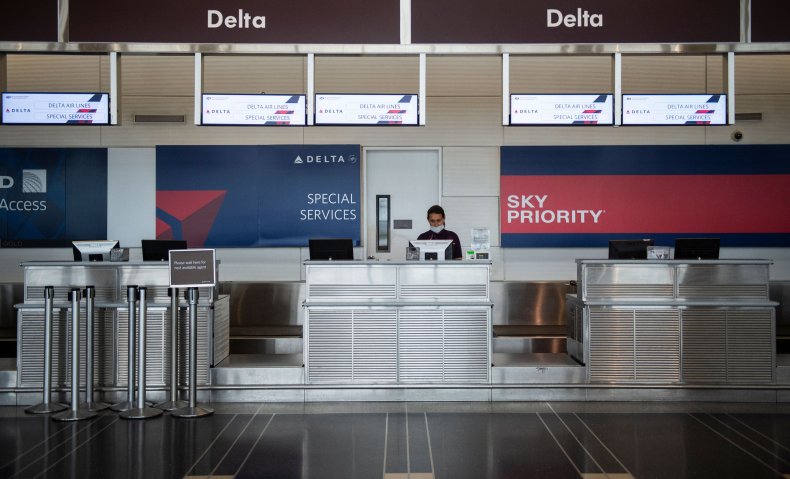 Jeffrey Knittel, CEO of Airbus Americas, said in an interview Thursday with CNBC that his job is to create the safest environment possible for passengers.
"Masks are important, we can't emphasize that enough. The airlines are requiring that," Knittel said. "I've had the opportunity to fly several times over the last few weeks and ... I have not seen one instance of a passenger pushing back, saying, 'I'm not going to wear my mask.'"
Last week, an American Airlines passenger was kicked off his flight for refusing to put on a mask while on board the plane.
After thoroughly reviewing the incident, the airline placed the passenger, Brandon Straka, on their list of banned travelers.
"American Airlines thoroughly reviewed an incident on June 17 involving one of our customers, Brandon Straka. As a result of this review, Mr. Straka will not be permitted to fly American, as he failed to comply with our stated policy and crewmember instructions," the airline said in a statement, according to USA Today.
Delta's decision to more strictly enforce its mask policy came shortly after news broke that approximately 500 of its employees had tested positive for coronavirus and 10 had died as a result of the disease.
In Thursday's internal memo, Bastian reminded everyone that the airline is ramping up its testing efforts for Delta employees, announcing that testing for both the virus and its antibodies would be available at the Minneapolis and Atlanta airports, with airports in Detroit and New York becoming available next week.