Abraham Accords Are Changing the Middle East 'Dramatically,' Bahrain Ambassador Says
Bahrain's ambassador to the U.S. says "extremely positive" developments in the Middle East as a result of the Abraham Accords are having a significant impact on the region.
"We're at a crossroads in history," Bahrain Ambassador Shaikh Abdulla Bin Rashid Al Khalifa said Monday. "Today we are seeing a region that is changing dramatically."
Al Khalifa discussed the Abraham Accords with Jason Greenblatt, the former White House envoy to the Middle East under former President Donald Trump, during a taping of Newsweek's podcast The Diplomat, which Greenblatt hosts. The taping was recorded live on Monday evening in front of a student audience at Yeshiva University in New York City and was presented by the university's Political Science Department and its Rabbi Arthur Schneier Program for International Affairs.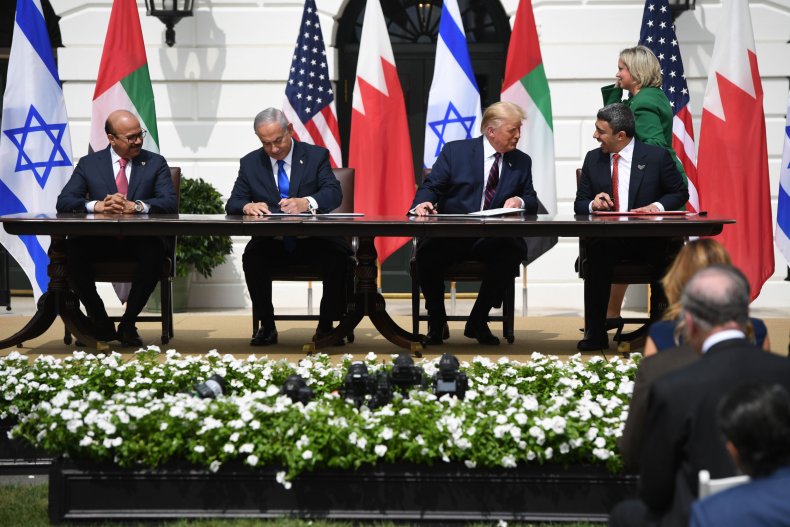 The event, which was titled "The Abraham Accords and the Changing Middle East," sought to explore "the road that led to peace and the Abraham Accords, and what's next," as well as what the future holds for Bahrain, according to Greenblatt. Al Khalifa and Greenblatt came together for the discussion as two of the individuals Greenblatt said had "a front row seat to the multiple years of conversations" that ultimately led to the Abraham Accords.
The Abraham Accords marked an acknowledgment of "the importance of maintaining and strengthening peace in the Middle East and around the world," a diplomatic declaration the Trump administration announced last summer. Bahrain and Israel signed their agreement of "peace, cooperation, and constructive diplomatic and friendly relations" on September 15, 2020.
This September, Secretary of State Anthony Blinken commemorated the one-year anniversary of the Abraham Accords with a virtual discussion about the agreements' continuing impact. Blinken said the benefits of the Accords "continue to grow" and noted "deepening diplomatic relationships" in the region.
On Monday, Greenblatt began his conversation with Al Khalifa by saying that, while he didn't know much about Bahrain growing up, he has come into "some really good insight" into the country. Greenblatt credited King of Bahrain Hamad bin Isa Al Khalifa with being "very courageous" in joining other political leaders in signing the agreements and said the ambassador had also "played a very, very important role."
Greenblatt said there appeared to be a "thirst for peace" and asked Al Khalifa how the students listening to their conversation could help diplomats continue making progress. The ambassador told him there is "a lot that can be done" moving forward.
"Paying close attention to what's happening within the Abraham Accords, looking at all the developments, getting insights on the latest and talking about it, getting the word out," Al Khalifa said. He added that every time he speaks publicly about the Abraham Accords, he has to "go back and get an update" due to all of the "positive news" he said is emerging from the region.
"All these updates are extremely positive. And I think keeping up with that, getting the word out, making sure that people understand how historic this moment is and how it defines the future of the region, is very important," Al Khalifa said. "I think that students can do much more than other entities—including governments, to tell you the truth—in spreading the word, and making sure that people really recognize what's happening in the Middle East."
The ambassador said the last year has been "very important" for Bahrain, with more than 30 memorandums of understanding with Israel already established and four others pending. Bahrain also has an ambassador in Tel Aviv, and Israel has an embassy in Bahrain, he said.
These developments were "a long time coming," he said.
"There were so many steps that were taken in the past 20 years or so to get us to the point where His Majesty could say, this is what we want to do. And then we got to the point where we were part of the Accords. And now what we have to do is build upon those successes," Al Khalifa said.
The ambassador noted that only about half of his country's population are citizens and added there is an indigenous Jewish society that has existed "peacefully" within the Muslim-majority country.
"Bahrain is an island country that has been always welcoming and opening for people, and so we've embraced different cultures, different people from different backgrounds. And that has really created the DNA of Bahrainis today," the ambassador said.
In his concluding remarks to the students in attendance, the ambassador said a country's geographic size or population is not what he thinks matters most.
"I think we have to look deep down inside and realize how much we have in common," he said. "Work on the commonalities, work on building relationships, and always keep a communications channel open. Without communication, there's nothing that we can do."
The ambassador said open communication has helped Bahrain with foreign and domestic policy "for many years" and encouraged students to "keep the same open-mindedness."
"The only way to learn more is to actually engage with others," Al Khalifa said. "So I would encourage more engagement. I would encourage more discussions. And I think that we all play an important role, one way or another, in creating an environment that is better for the coming generations."