Over 100 Absentee Ballots Found Discarded in Kentucky Dumpster, Investigation Launched
Dozens of absentee ballots intended for voters in Louisville, Kentucky, have been found abandoned in a dumpster.
Some 112 unopened ballots were found discarded by a construction worker in Jefferson County. The mail was reportedly intended for the 40299 zip code, which covers Jeffersontown, Hopewell and Seatonville.
U.S. Postal Service Office of the Inspector General special agents who responded to the incident also found two political flyers.
Special Agent Scott Balfour said in a statement to Newsweek that the ballots were returned to the Postal Service and were delivered to their recipients on Thursday.
Balfour added that his team had identified the employee responsible for discarding the mail and that the person was no longer employed with the USPS.
"When the investigation is concluded, the case will be presented for federal prosecution to the U.S. Attorney's Office," he said, adding that incidents of dumped ballots were "exceedingly rare."
Responding to the incident, Republican U.S. Representative Thomas Massie tweeted: "FACT: Voting by mail will never be as secure as casting your vote in person."
The Jefferson County clerk's office said voters who have not received an absentee ballot by October 28 can still go to any polling site, sign an affidavit saying they did not receive the ballot and vote in person.
Bobbie Holsclaw, the Jefferson County Clerk, urged residents to vote before November 3 if possible, saying in a statement that four early voting centers—Kentucky Exposition Center, KFC Yum! Center, Kentucky Center for African American Heritage and the Louisville Marriott East—had been set up.
"This will help alleviate long lines and waits on election day and safeguard both your and the election officer's safety," she said.
"Any voter who has requested a mail-in absentee ballot may not vote in person. However, if a voter has requested but not received their mail-in absentee ballot by October 28, 2020, the voter may vote in person."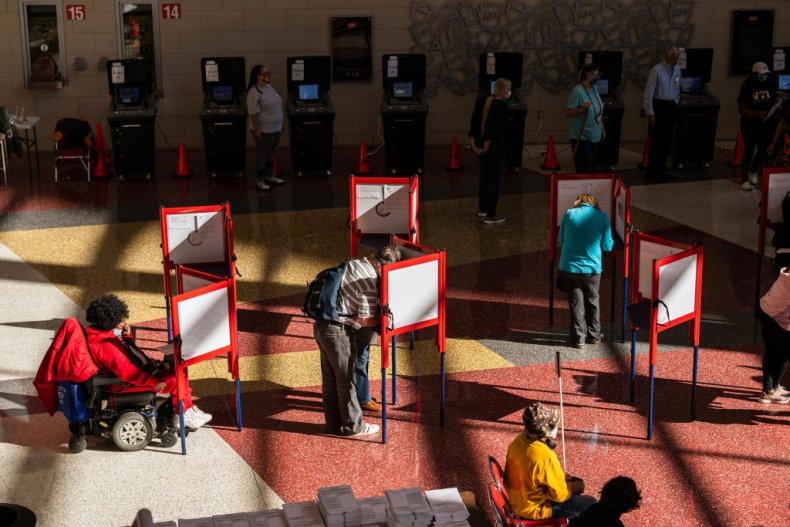 The incident comes a day after a United States Postal Service (USPS) worker in Pittsburgh, Pennsylvania, was charged with delaying or destroying mail.
Sean Troesch, 48, was one of two USPS workers accused of dumping undelivered mail by prosecutors.
According to the criminal complaint, an allegation was made that a mail carrier was seen taking bags of mail from his vehicle and placing them into trash bags on or around October 8.
The bags allegedly contained 314 items of First Class Mail—including a request for the delivery of a mail-in ballot—seven items of Certified Mail, one item of Priority Mail, and 1,311 political advertisements or similar items of campaign mail.
Prosecutors said the seized mail did not contain any mail-in ballots.
Donald Trump has described universal mail-in voting as "catastrophic" and claimed in August that 20 percent of mail-in ballots were being lost in the postal system.
"Absentee voting is great—I'm an absentee voter, because I requested, I got and then I sent in my vote. So that works out very well. That's what we've had. But now they want to send in millions and millions of ballots. And you see what's happening; they're being lost, they're being discarded, they're finding them in piles. It's going to be a catastrophe," Trump said.
Update 10/16/2020, 07:21 a.m. ET: This article was updated with a statement provided by Special Agent Scott Balfour.